---
Join our online SleepBlog community
Love to sleep? Got an opinion to share about sleep? Scratch that, do you live for finding better ways to get your #sleephack on?
If you read the above and wondered how we got our hands on the bio of your blog, we want to hear from you. We'd love to invite you join us as a guest blogger, as a regular columnist or maybe even a brand ambassador.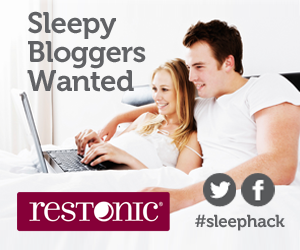 Tweet or Send Us A Message with why you're the perfect Sleep Blog ambassador – or our newest guest blogger. Don't be shy either – send us pics of you rockin' all things sleep. By the way, we love it when our sleep bloggers snap pictures of unsuspecting family members and friends sleeping too.
What can blogging on the Restonic Sleep Blog do for you?
Grow your online reputation as an expert in your field
Attract the attention of companies focused on building relationships with influential bloggers
Interact with our very active and growing social communities
Contributors & collaborators wanted
Like any organization, we have a few blogging guidelines we ask you to follow. They make our job easier and help us publish your work faster.
First and foremost, we need to know what you want to write about – it's all about the pitch. If you want to write a column, give us your BIG idea in a couple of sentences as well as a few headlines (story ideas). If you want to write a post, we need the info "quick and dirty" so we can let you know if it's something we can use on our site.
If you're just starting to blog, use these tips to help bulk up that courage to write your first post. You can do it!
Write with passion, humor and/or pizazz – and be critical. We want your opinion, not just the facts.
Hone in on your niche and stick to it. Learn as much as you can and be the subject matter expert. And don't be afraid to ask your readers for help. You're growing a community, remember?
Learn to explore a topic fully and adhere to minimum word counts (300 to make Google happy).
Add videos and pictures to your posts – and label them with keywords so Google can understand them too.
Write consistently. As our community gets to know you, they'll want more regular posts.
When sending us your stories, articles and ideas, please include a short bio (2-3 sentences) so we have it on hand if we publish your article. Please note, we publish photos with every tip/article/story. If you'd like us to use your images, feel free to submit them with your pitch via email. Send your pitches to us in the body of your email or as an attachment in a Word doc.
We respond to all emails, but please be patient. If you haven't heard from us within 1 week, feel free to follow up with an email.
If you're interested in being a brand ambassador for Restonic, shoot our editor, Julia Rosien, an email with as much information as possible, including your social media and website stats.
Eager for more sleep info you can really use?
Join our communities on Facebook and Twitter and let's continue the conversation.
We'd love to hear what you have to say!
This blog does not provide medical advice. It is intended for general informational purposes only and does not address individual circumstances. It is not a substitute for professional medical advice, diagnosis or treatment and should not be relied on to make decisions about your health. Never ignore professional medical advice in seeking treatment because of something you have read on Restonic.com. If you think you may have a medical emergency, immediately call your doctor or dial 911.
Get better sleep, today