---
Easy, big-batch breakfast dishes to feed family & friends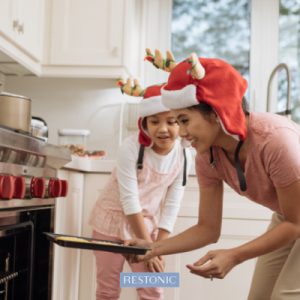 Not to be excruciatingly obvious, but the holiday season can be hectic. From shopping to parties, decorating to entertaining, there's a lot going on. And it can get overwhelming. Don't misunderstand, though. We love it all – especially hosting family and friends for big, boisterous meals. We absolutely subscribe to a 'more the merrier' philosophy, welcoming any and all last-minute additions to our table. Which means we've often got more mouths to feed than we planned for.
The keys to our stress-free holiday season success? Three important elements: plan well, keep it simple and always, always make sure there's extra.
Want to WOW your crowd and still enjoy yourself? Tall order? We think not. Especially when we've got a roster of big batch recipes like these. Let's get cooking!
Blueberry croissant breakfast bake recipe
Hoping for a quick and easy breakfast or brunch dish that's unique and impressive while also being super-easy? Look no further, because this mashup of fresh croissants, blueberries and eggs is exactly what you want. Imagine if an egg strata and blueberry danishes had a French baby… can you picture it? Oh, and also, it takes less than 45 minutes to prep and cook.  Almost too good to be true. Except it's not. Get the recipe: Tasty.co
Bacon, potato & egg casserole recipe
You know what's even better than an easy breakfast for a crowd recipe? One you can make the night ahead. This casserole has everything we love about our fave diner-style breakfast – eggs, potatoes and, of course, bacon. Lots and lots of bacon. Mix it up the night before, then bake just before you're ready to eat. We think – no, we're sure – this one is going to become a new family tradition. Get the recipe: TwoPeasandTheirPod.com
Apple-Sage sausage patties recipe
There are 3 things we're sure about when it comes to the holiday season: it's all about the food, it's even more about the family and there are bound to be surprises. Even when we've planned a meal for a crowd, sometimes extra guests just seem to turn up. And we don't want to run out, right? That's why these make ahead apple-sage sausage patties are just the ticket. Packed with festive flavors that remind us of family meals, they whip up in a flash and freeze just perfectly. More mouths than you planned for? Just pull them out of the freezer and add them to your table. Easy, peasy. Get the recipe: TasteofHome.com
Easy breakfast-board recipe
Sometimes the simplest meals are the most special. Take, for example, this easy breakfast board. Imagine a charcuterie spread. But with all your favorite breakfast or brunch items on it: eggs, bacon, fruit, different types of toasts. Start with the basics and then make it your own. This is hands-down the easiest, most fuss-free way to feed a crowd while at the same time being able to enjoy yourself. Happy entertaining. Get the recipe: SimplyDeliciousFood.com
Apple and maple baked oatmeal recipe
What could be better than waking up to the warming scents of maple syrup, cinnamon and baked apples? Well, doing so accompanied by the smiles of friends and family, that's what. Holiday time is chock full of indulgences, so this healthy and super easy to make oatmeal bake will fill bellies without loading you up with sugars and fats (save the treats for later!). Sweetened with just a kiss of maple syrup and loaded with fiber, protein and calcium, this is just the right day starter for the holiday season. The best part? It reheats well, making it the ideal make-ahead dish for busy days. Get the recipe: TheModernProper.com
The best cinnamon rolls you'll ever eat recipe
If the name of these cinnamon rolls is even remotely true, there was no way we weren't including them in this round-up. The perfect addition to any breakfast or brunch buffet, ooey, gooey, warm and delicious cinnamon rolls are always a crowd-pleaser. No jokes, we dreamed about eating these yeasty treats last night, and now… here they are. Big and fluffy, they're filled with brown sugar and cinnamon and topped with a dreamy cream cheese frosting that drips into all the nooks and crannies. You can prep them overnight and bake in the morning if you'd like. Take note: you're about to start a new Christmas tradition. Get the recipe: AmbitiousKitchen.com
One bowl spiced-gingerbread muffin recipe
Nothing says Holiday Season like gingerbread, right? So when we saw this recipe for warm and spicy gingerbread muffins, we had to try them. And boy are they good. Moist, flavorful with a hint of citrus and just the right amount of sweet from molasses and brown sugar. We are so in love. Plus, the batter mixes up in one bowl. Less mess makes us happy. Also, they freeze great for make ahead convenience and are easily modified to be dairy-free or vegan. Get the recipe: ForkKnifeSwoon.com
Rest well & wake up ready to go!
Better sleep gives rise to better mornings, bringing your goals into focus and dreams within reach. Hungry for more sleep info? Dig into these posts:

Eager for more sleep info you can really use?
Join our community Facebook and let's continue the conversation.
We'd love to hear what you have to say!
This blog does not provide medical advice. It is intended for general informational purposes only and does not address individual circumstances. It is not a substitute for professional medical advice, diagnosis or treatment and should not be relied on to make decisions about your health. Never ignore professional medical advice in seeking treatment because of something you have read on Restonic.com. If you think you may have a medical emergency, immediately call your doctor or dial 911.
Duerme mejor, hoy mismo