---
Got guests staying the night and need breakfast ideas? Try these stress-free, make-ahead meals…
One of the best parts of celebrating the holidays is filling your home with family and friends. Along with turkey dinners with all the trimmings, you may be planning breakfast or brunch for your guests. But as host, you've only got limited time so opt for easy, make-ahead or grab-and-go options to keep everyone's tummies happy.
Caleb Backe, a personal trainer and wellness expert with Maple Holistics, says that the secret to successful, stress-free entertaining is: Prep & Accept. "Prep beforehand so that you've got the least hassle when it comes to serving and accepts that things won't work out perfectly and that's okay!" he explains.
Check out these recipes and you'll be ready for your hungry holiday crowds, whether they include vegans, vegetarians, low-carb or low-fat diet devotees. Some dishes are ideal to pop in the freezer way ahead of time, while others can prep the night before. For the grownups, add mimosas, Bloody Mary's or spiced egg nog for an extra festive brunch. We've got you covered!
Grab & go: Easy egg & crab muffins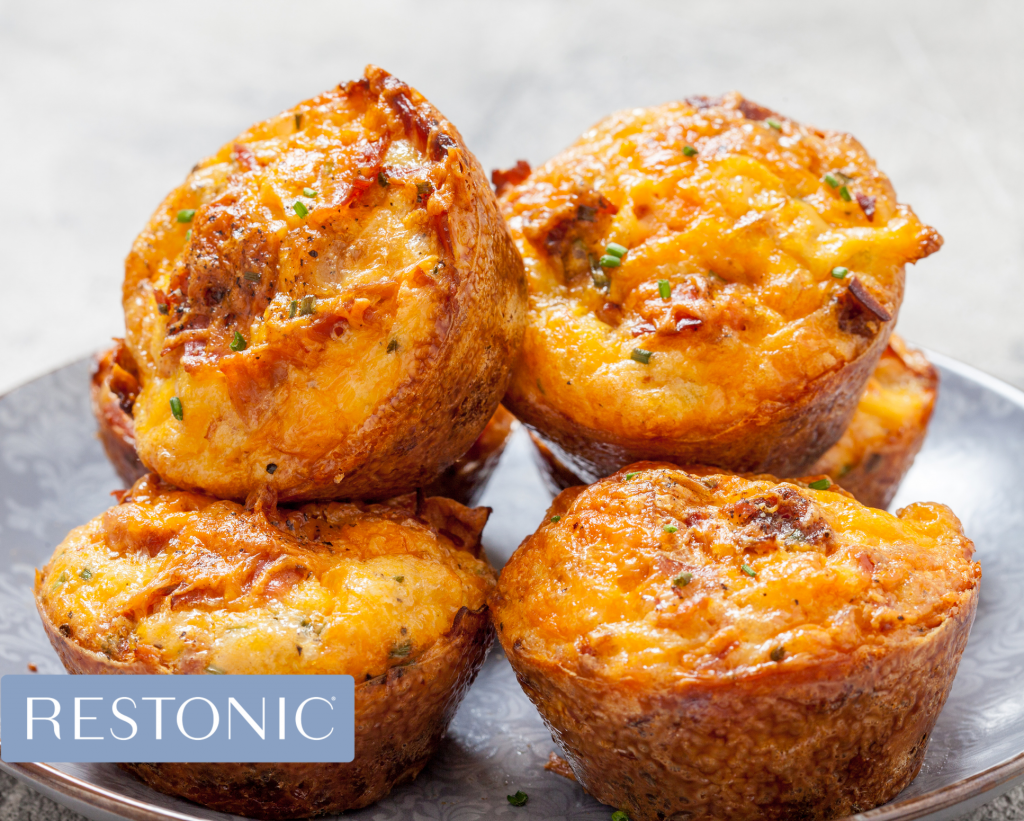 Thanks to Rima Kleiner, a registered dietitian and founder of Dish on Fish for these tasty, savory muffins that can be whipped together in five minutes, then baked. Makes 12.
Ingredients:
1 tsp olive oil
1/2 small onion, finely chopped
2 cloves garlic, minced
1 medium red bell pepper, chopped
5 large eggs
4 large egg whites
1⁄2 cup cottage cheese
1⁄2 lb fresh lump crabmeat, drained well or frozen and thawed
1⁄2 tsp oregano or Italian seasoning
1⁄2 tsp salt
1⁄4 tsp black pepper
Instructions: 
Preheat oven to 350F
Heat olive oil over medium heat in a pan; add onion, garlic, and green pepper and cook for 5 minutes or until vegetables are tender.
While vegetables are cooking, whisk eggs and egg whites together in a medium bowl. Add cottage cheese and crabmeat; stir until well-combined. Add cooked vegetables, oregano, salt, and pepper to egg and crab mixture; mix well.
Line or spray muffin pan with nonstick spray. Fill muffin cups about 1⁄2 full. Bake 18-20 minutes, or until cooked through.
Ideal for making ahead: Sausage, egg & hashbrown casserole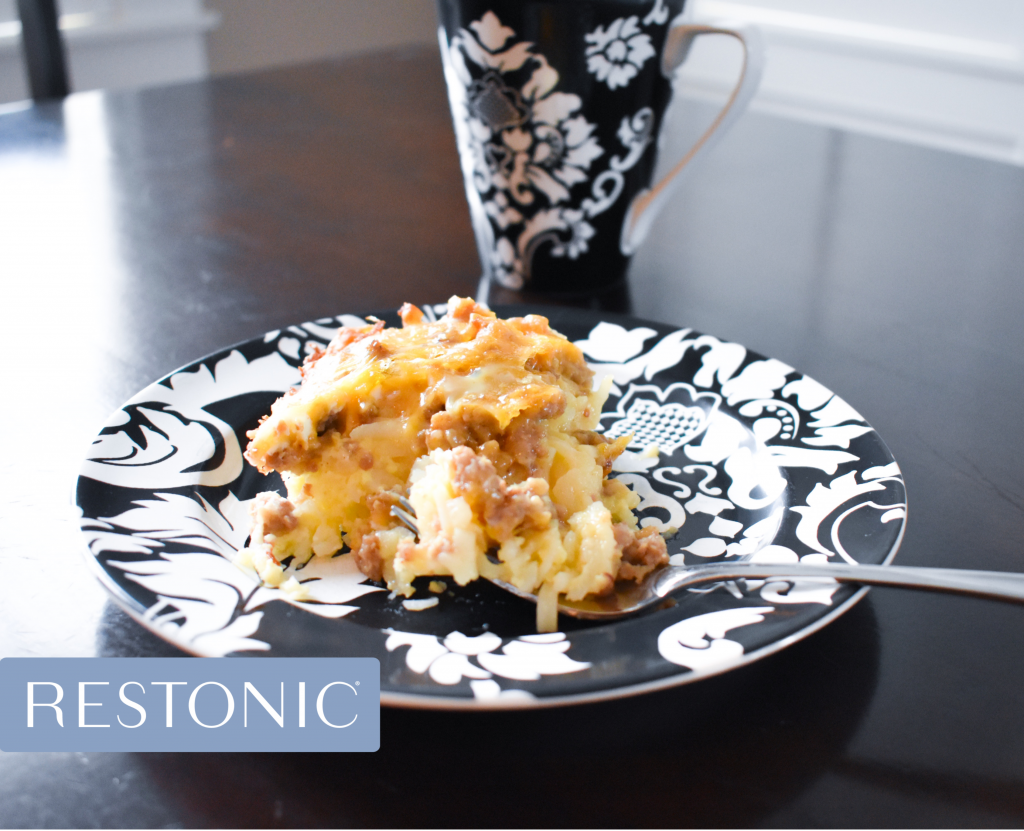 Lifestyle blogger Tricia Nibarger (Covet by Tricia) suggests this crowd-pleaser made with ingredients you probably have on hand. She says that it's perfect for making ahead or throwing together in the morning. Serves 6-10.
Ingredients:
2 lbs breakfast sausage
30 oz frozen hashbrowns
2 cups shredded cheddar cheese
8 eggs
2 cups of milk
1 tsp seasoned salt
1/4 tsp garlic powder
1/4 tsp onion powder
Instructions:
Brown sausage, then drain the fat.
Grease a 9×13″ pan.
Place hashbrowns in the bottom of the greased pan. Top with finely chopped sausage and cheese.
Whisk eggs, milk, seasoned salt, garlic powder, and onion powder together. Once mixed, pour over hashbrown mixture in pan.
Bake uncovered at 350 degrees for approximately 35 minutes.
Alternatively, you may cover and place in the refrigerator to bake the next day. If refrigerated, bake at 350 degrees for approximately 45 minutes. You may wish to cover the dish during part of the baking time to prevent excessive browning on top.
Healthy, delicious & vegan: Oil-free sausage breakfast skillet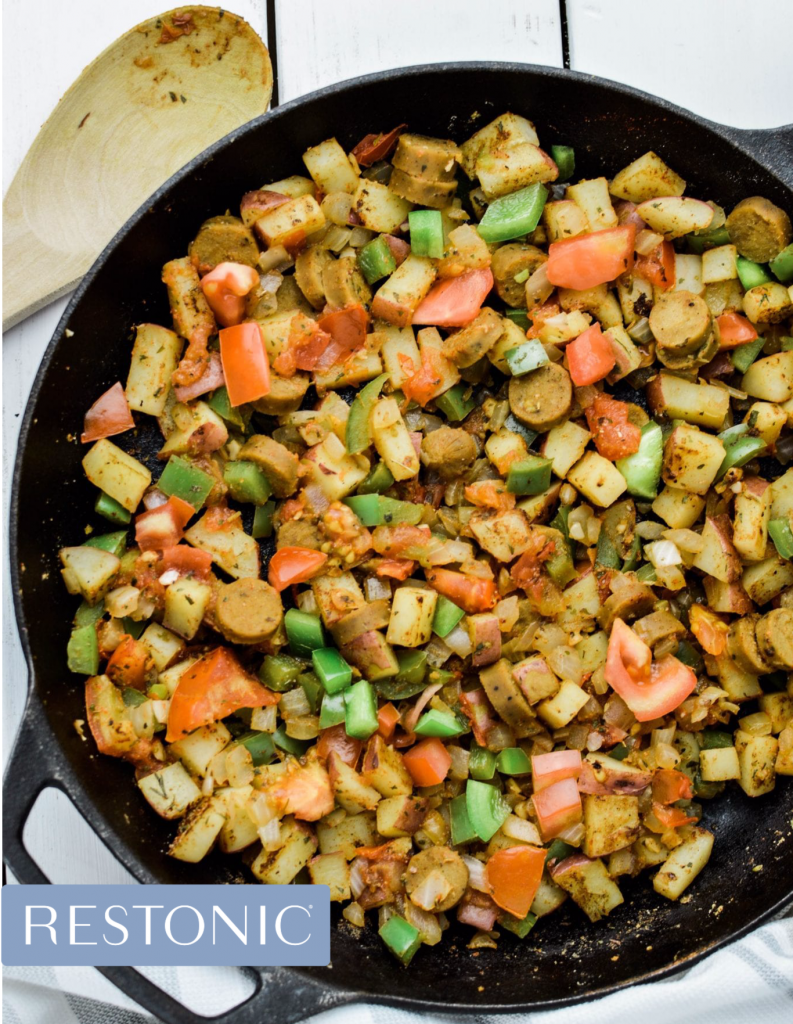 Scott Burgett, the founder of PlantBasedScotty.com, has been following a vegan diet since January 2017. Along the way, he's discovered recipes that please meat-eaters and vegans alike, like this one, which serves 2 (but ingredient amounts can be increased, according to the number of guests). Goes well with guacamole on the side.
Ingredients:
6 links vegan sausage, such as Field Roast Apple Maple Breakfast Sausage, diced
2 red potatoes, diced
1 medium tomato, diced
1/2 green bell pepper, diced
1/2 yellow onion, diced
2 garlic cloves, minced
1 tsp seasoning salt
1/2 tsp black pepper, ground
1/2 tsp garlic powder
1/2 tsp oregano
1/2 tsp chili powder
1/2 tsp cilantro, dried
1/2 cup water (for sautéing)
Instructions:
Heat a large non-stick skillet over medium-high heat. Test heat by splashing some water on the pan (once it sizzles, you're ready).
Add potatoes to the pan, season with salt and pepper, and sauté for 5 minutes. Stir frequently and add 1 tbsp of water at a time, as needed, so the potatoes don't stick.
Turn down heat to medium and add onion, garlic, bell pepper, tomatoes, and the rest of your seasonings to the pan. Cook for 3-5 minutes or until lightly browned.
Add in your vegan sausage, stir, and cook for another 2 minutes. Serve immediately.
Ready to wrap or eat–Egg sandwiches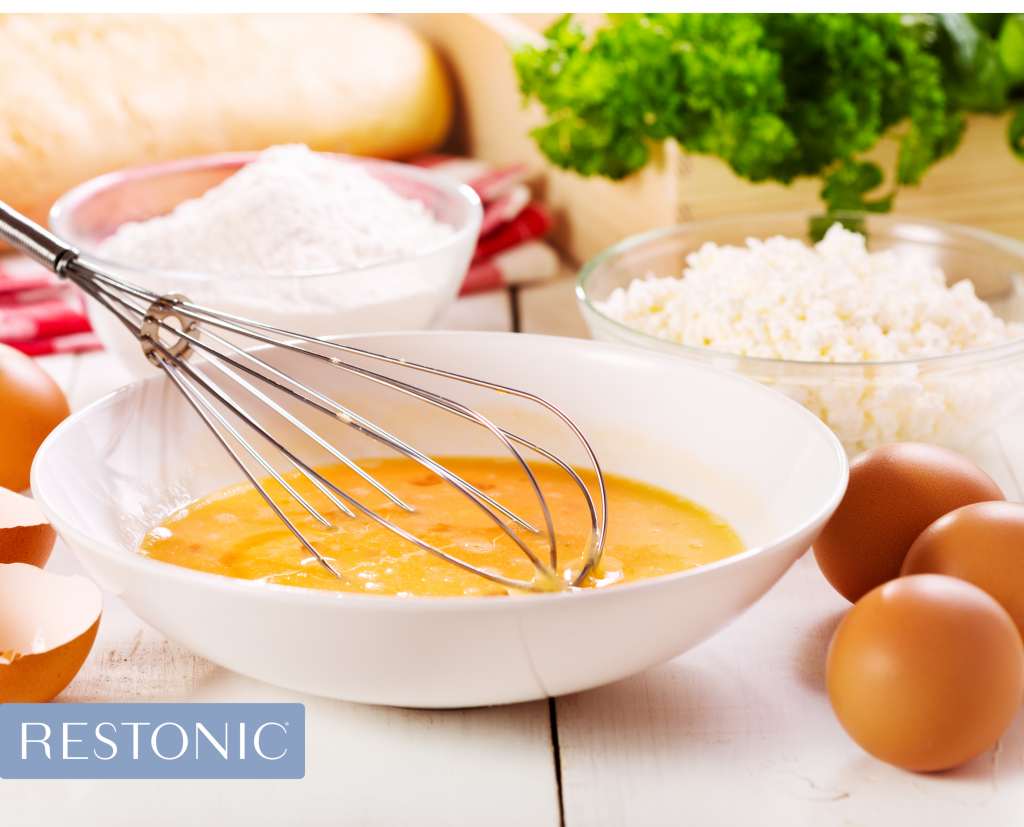 Katie Ziskind, an experiential family therapist and founder of WisdomWithinCt.com, recommends aiming for a stress-free holiday by having food available that guests can help themselves to at any time. This easy recipe ticks all the boxes. Approx. 10 servings.
Ingredients:
3 packs of whole wheat English Muffins
1/2 cup butter
3 dozen eggs
4 cups extra sharp cheddar, shredded
Instructions:
Heat 2 tbs butter in your frying pan on medium or medium-low heat.
Crack six eggs into your pan and sprinkle 3/4 cup of cheese. Put a lid over the pan and cook your eggs for 3-5 mins.
Transfer eggs to a plate to cool. Repeat until all eggs have been cooked.
Once your eggs with melted cheese have cooled, put two eggs on each English muffin, wrap in clear plastic wrap and then put all the wrapped breakfast sandwich into a large ziplock bag. Enjoy right away, or heat and serve later.
Hearty vegetarian: Divine breakfast burritos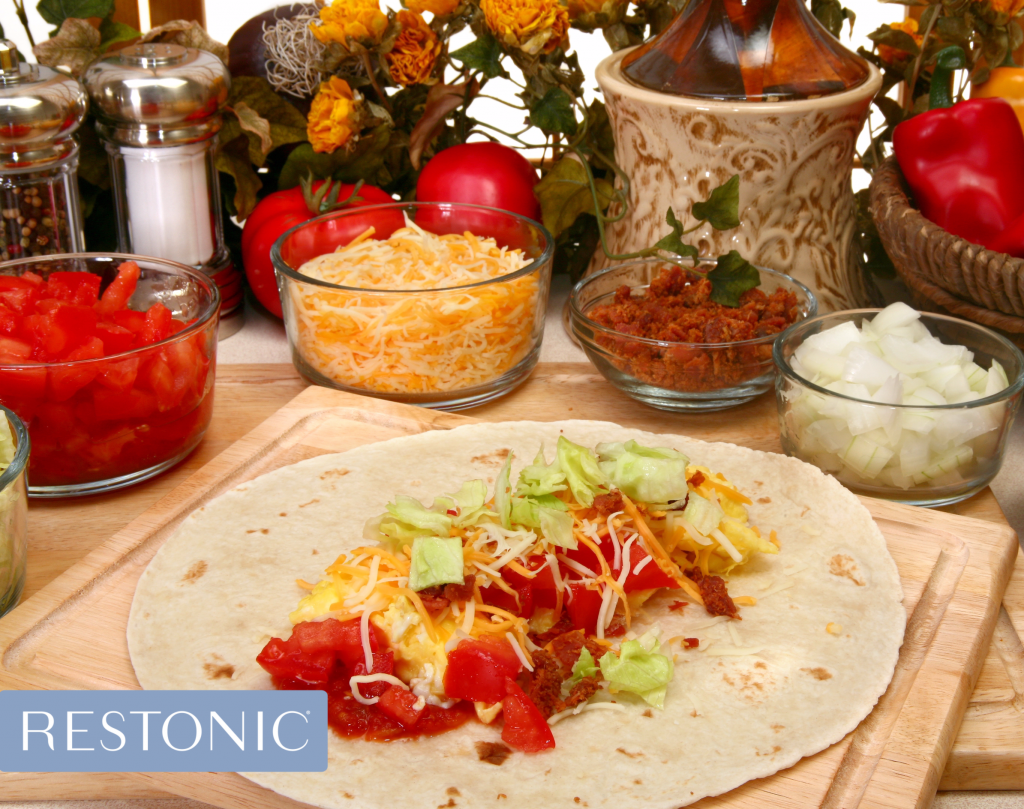 This recipe has a hint of spice, plus a healthy amount of protein and fiber, sure to satiate hunger and keep bellies fuller longer. Provided courtesy of Renfro Foods/Mrs. Renfro's Salsa. Serves 4 (double recipe for a bigger crowd).
Ingredients:
4 tbsp unsalted butter, divided
1 tsp ground cumin
Sea salt and black pepper, to taste
1 yellow onion, diced
1 red bell pepper, diced
2 cloves garlic, minced
4 eggs
2 russet potatoes, cut into 1/3" slices
2/3 cup  Renfro's Habanero Salsa, plus extra for serving
1 ½ cups canned black beans, rinsed and drained
1 cup grated cheddar and jack cheese
Cilantro, chopped (as desired)
Flour tortillas, warmed
Sour cream and avocado to garnish
Instructions:
Melt 2 tbsp. butter in a nonstick skillet over medium heat. Add onion, sauté until almost translucent. Add cumin, salt & pepper. Add bell pepper and cook 2-3 minutes. Then add garlic, cook for 1 minute.
Pour in eggs, scramble with vegetables until cooked.
Remove mixture from pan, place, and cover on a separate dishes.
Melt remaining butter in a pan and add potatoes. Fry potatoes until golden brown on all sides.
Return egg mixture to the pan with potatoes. Add Mrs. Renfro's Habanero Salsa and black beans, stir and heat for 1-2 minutes.
Remove from heat, add cheese and cilantro and cover pan for 1 minute.
Spoon into warm tortillas and serve with sour cream, diced avocado and extra salsa on the side.

Eager for more sleep info you can really use?
Join our community Facebook and let's continue the conversation.
We'd love to hear what you have to say!
This blog does not provide medical advice. It is intended for general informational purposes only and does not address individual circumstances. It is not a substitute for professional medical advice, diagnosis or treatment and should not be relied on to make decisions about your health. Never ignore professional medical advice in seeking treatment because of something you have read on Restonic.com. If you think you may have a medical emergency, immediately call your doctor or dial 911.
Duerme mejor, hoy mismo