---
Snuggle up and sleep better this autumn
Fall breezes transport the sweet smell of changing leaves, warm color schemes and the need to feel a little cozier in our living spaces. Want to spice up your bedroom and embrace that fall feeling? By making a few changes you can enjoy the beauty of the fall, inviting a healthy dose of snug and comfy into your bedroom.
Autumn additions
Throw blankets are a fun and simple way to spice up your décor while also keeping you toasty. Place a throw on your bed to play with color, on a reading chair to make it more inviting to you and your favorite novel.
Changing up decorative pillows with rusts and other darker hues freshen the room with a fall vibe. Experiment with new pillowcases with fall patterns and warm colors that welcome autumn inside without the crisp air.
Candles are perfect too, not only add warmth to a room but also to surround yourself with the signature scents of fall—pumpkin, apple, vanilla, and cinnamon to name a few.
Layering isn't just for your wardrobe. Layer throw rugs to create contrasting textures and patterns while introducing relaxing and inviting tones into your bedroom. You can also layer your window treatments to play with colors and textures while helping to keep the cold from filtering in through drafty casements.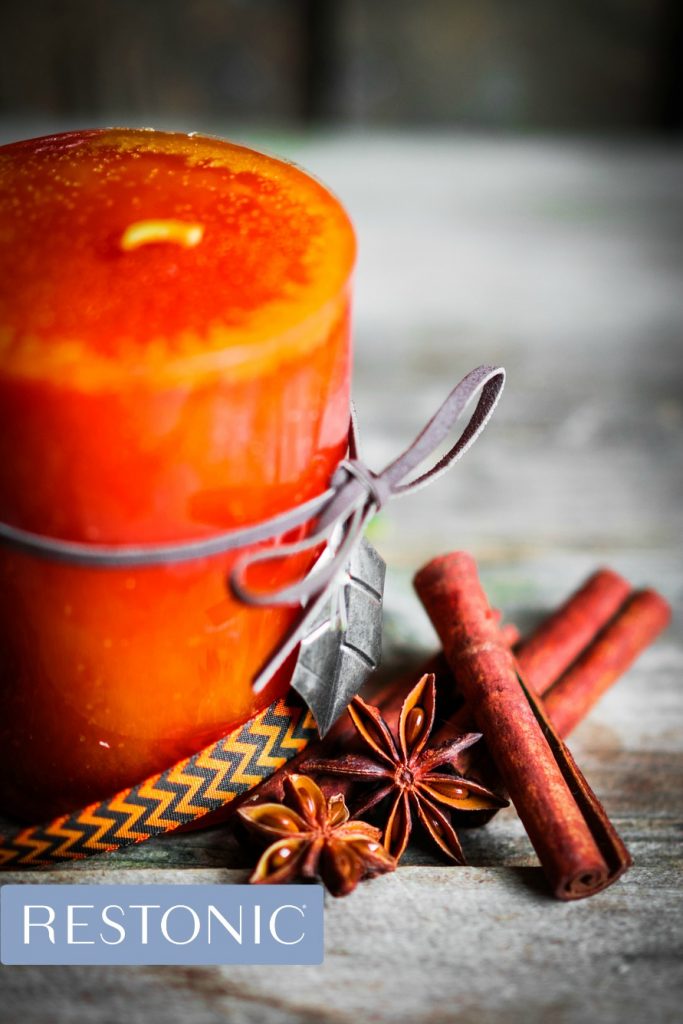 Dig into your attic to add personalized pieces to your fall décor. Use kids' artwork or family heirlooms to impart a different kind of comfort to your fall design.
Other ways to bring that pleasant and cozy feeling into your bedroom is with faux furs. Try furs while layering your rugs, thrown over a chair or adding a throw blanket at the foot of the bed. Changing your lighting to a softer feel allows you to indulge in the glow of fall and save money by using a lower wattage bulb. Use a 40-watt bulb or lower to add to the ambiance.
Play with colors
With the variety of deep and rich colors in the autumn, creativity is as easy as a look to Mother Nature. Mix what you already have with her palate of colors from outdoors. Monochromatic and matchy can be boring. Use a combination of 2 or 3 colors in your bedding, punctuating with a warm color scheme (reds, oranges, yellows, etc.) or a cool color scheme (blues, greys, greens, etc.).
If you're not confident in your decorating abilities, copy what you love from a picture or post until you find your own style. For an easy way to cheat your way to a designer bed set follow these tips:
Medium color choice – display with your top sheet and 2 of your pillows.
Dark color choice – display with your duvet cover and bottom fitted sheet.
Light color choice – use a white or off white to display with 2 of your pillows.
When in doubt, use a throw blanket to play with color. This a great way to find out if you like a color combination without investing in a complete overhaul of your bedding.
Create your own warm space
When the weather becomes chilly, creating your snuggle sanctuary is more than a luxury – it's a need. Picture it. A soothing reading nook to cozy up with a good book and some hot chocolate – a picture-perfect way to enjoy a brisk fall day. Add some soft throw blankets, comfy pillows as well as some decorative pillows for visual elegance. Whether you're decorating your bedroom to read or watch movies before bedtime, these tips you can deliver a fall sanctuary to enjoy through the winter months too.
Eager for more sleep info you can really use?
Join our community Facebook and let's continue the conversation.
We'd love to hear what you have to say!
This blog does not provide medical advice. It is intended for general informational purposes only and does not address individual circumstances. It is not a substitute for professional medical advice, diagnosis or treatment and should not be relied on to make decisions about your health. Never ignore professional medical advice in seeking treatment because of something you have read on Restonic.com. If you think you may have a medical emergency, immediately call your doctor or dial 911.
Duerme mejor, hoy mismo