---
Leftovers from a family dinner? Get eating breakfast for dinner!
Breakfast for dinner is fun once in a while. Eggs, bacon, pancakes – sounds like a delish end to a winter workday. But what about dinner for breakfast? Whether it's leftover pizza, beans or even too much rice from last night's take-out, prepare yourself for a savory start the day. Just open the fridge and start planning your next delicious breakfast.
Here are some of our favorite breakfast recipes – all made from last night's leftovers. Enjoy!
Turkey breakfast pizza recipe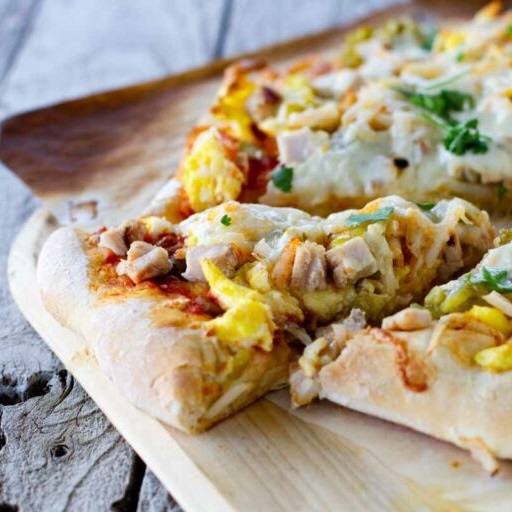 Whether you have leftover chicken, turkey or even burgers, transform them a Mexican breakfast pizza with this simple recipe.
1 lb. pizza dough
1/2 cup salsa
5 eggs, scrambled
1 cup shredded or cubed cooked turkey
1 can green chiles
1 cup frozen shredded hash browns
1 tsp. taco seasoning
1 cup pepper jack cheese
Preheat the oven to 450°F. Roll out the pizza dough on a surface that is lightly floured or lightly covered in cornmeal. Spread the salsa over the pizza dough. Top with the scrambled eggs, followed by the turkey and green chiles. Place the hash browns in a bowl and toss with the taco seasoning. Top the pizza with the hash browns. Sprinkle the cheese evenly over the top of the pizza, then transfer to the oven and cook until the dough is golden brown and the cheese has melted, 10 to 12 minutes or according to the pizza dough directions. Recipe via TasteandTellBlog.com
Ultimate breakfast smash sandwich recipe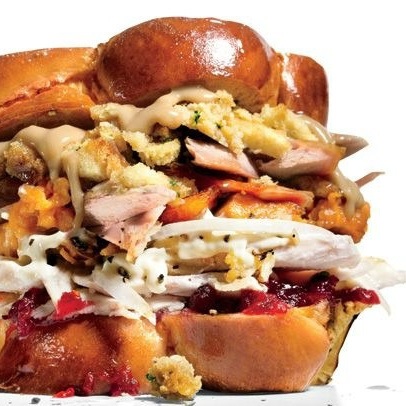 Too many leftovers from a big family meal last night to choose from? Pile them into this massive sandwich and keep your tummy happy until bedtime.
All your leftovers from yesterday's feast
Start with grilled challah egg bread, brush it with butter so it's nice and golden. On the bottom spread cranberry sauce. Stack layers of turkey breast. Do a thin spread of mayo with a pinch of garlic powder and fresh pepper. Add a layer of white onions and candied sweet potatoes. Pile the dark meat from the legs and thighs. Take some stuffing, place in a pan and crisp up the edges. Drizzle the whole thing with gravy. Top it with the other challah slice. Bite in and give thanks! Recipe via Maxim.com
Sweet potato pancakes recipe
Mashed sweet potatoes are tough to reheat without losing their creamy texture and winding up with a sticky mess on the bottom of your pan. Instead, them into moist and tender sweet potato pancakes for breakfast.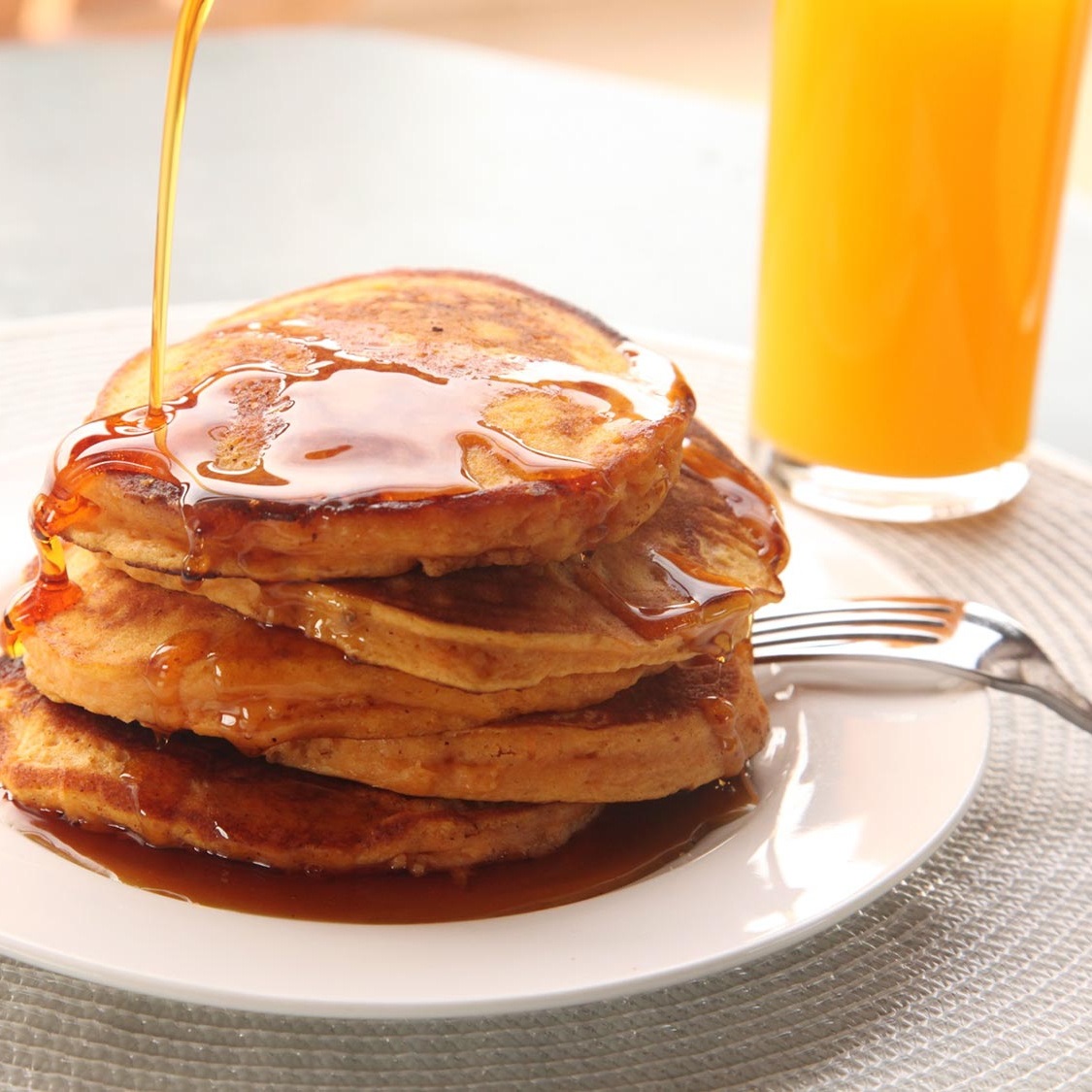 1 1/4 cups leftover mashed sweet potatoes
1/2 cup sour cream
3/4 cup milk
1 large egg
1 1/2 tbs. maple syrup, plus more for serving
4 tbs. butter, divided
1 cup all-purpose flour
3/4 tsp. baking powder
1/4 tsp. baking soda
1/4 tsp. kosher salt
pinch nutmeg
pinch cinnamon
Combine sweet potatoes, sour cream, milk, egg, and maple syrup in a medium bowl. Melt 2 tablespoons butter in the microwave or in a small saucepan and add to mixture. Whisk until homogenous. Combine flour, baking powder, baking soda, kosher salt, nutmeg, and cinnamon in a large bowl and whisk to combine. Add wet ingredients to dry and whisk until just combined (do not overmix). Melt 1 tablespoon remaining butter in a large skillet over medium heat and swirl to coat pan. Add four 1/4-cup batches of batter, using the back of a ladel to smooth them out into 4-inch disks. Cook, swirling gently on occasion, until the first side is golden brown, about 2 minutes. Carefully flip and cook until browned the second side and pancakes are puffed, about 2 minutes longer. Transfer to a plate set in a warm oven and repeat until all pancakes are cooked. Serve immediately with extra maple syrup. Recipe via SeriousEats.com
Breakfast bowl recipe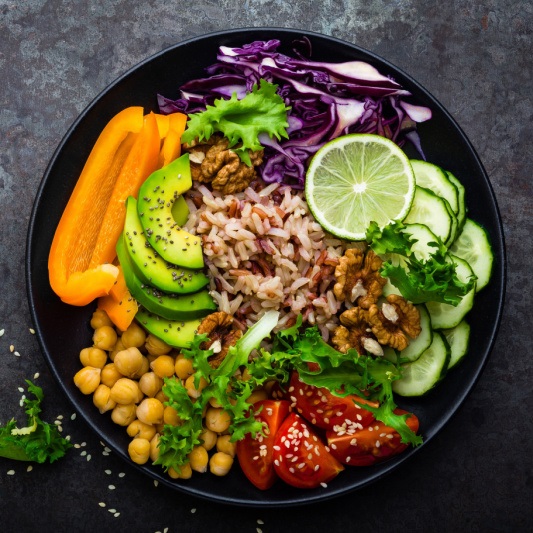 Customize your breakfast bowl with what you've got in your fridge. Pack it with protein, fiber and good fats and you've found the perfect start to your day.
2 tablespoons of your favorite oil
4 eggs, beaten
1 (15oz can) or leftover cooked beans
Any vegetables you have on hand, diced – cooked or uncooked
1 avocado, peeled and sliced
¼ cup of salsa
Salt & pepper to taste
Heat oil in a pan over medium heat. Add eggs, stirring and cooking until set. Divide your warmed black beans between two bowls and add cooked eggs. Top with avocado, salsa, pepper and salt. Enjoy!
Mashed potato waffle melt recipe
Also known as the almighty Thanksgiving leftover melt, everything and anything goes in this recipe.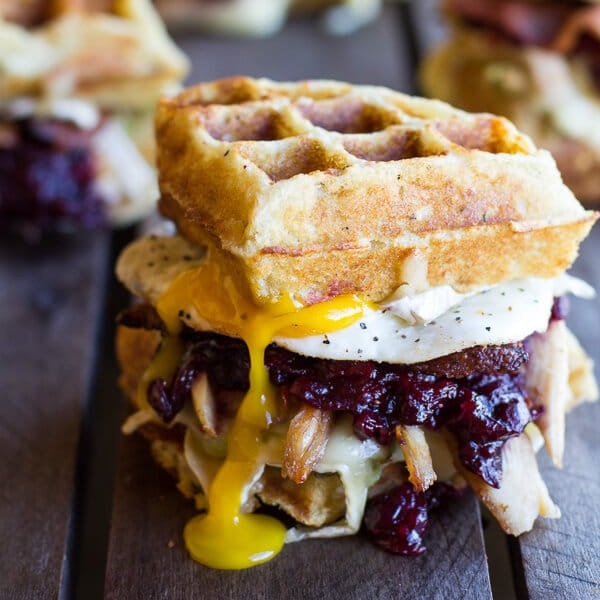 Potato waffles
1 ½ cups leftover mashed potatoes
1 cup buttermilk
2 eggs
¼ cup butter
1 cup flour
1 teaspoon baking soda
½ cup parmesan cheese
Sandwich
leftover turkey, chicken, beef or tofu – whatever you have on hand
1 tablespoon butter
1 avocado
4 ounces of brie (sliced)
leftover cranberry sauce (if that's even a thing)
To make the waffles. In a medium bowl whisk together the mashed potatoes, buttermilk, eggs and melted butter until smooth. Add the flour and baking soda until combined. Fold in the parmesan cheese.  Prep the sandwiches. Heat a skillet over medium heat and melt the butter. Once hot add the turkey and get it buttery and crisp all over, about 5 minutes. Remove from the heat. Add the avocado to a bowl and lightly mash with a pinch of salt and pepper. Assemble the sandwiches. Preheat the oven to 425 degree F. Line a baking sheet with parchment and place the waffles on the baking sheet. Spread the mashed avocado on four of the waffle triangles. Top with sliced brie, then the warm buttery turkey, a dollop of cranberry sauce. Now grab the tops to the sandwiches and add a slice or two of brie. Place the pan in the oven for 5 minutes, watching closely to make sure the brie is not getting too melty! During this time you'll want to fry your eggs – and then combine and eat. Recipe via Halfbakedharvest.
Game changer sandwich recipe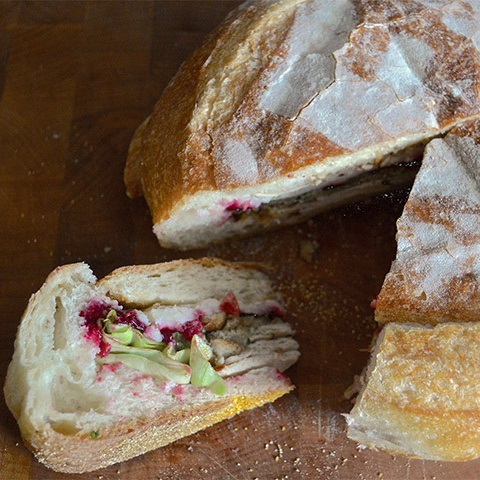 This tasty sandwich takes time to assemble but it will change your life. Trust us. .
1 round loaf of unsliced white bread
1 cup leftover mashed potatoes
4 to 5 slices of turkey
1 heaping tablespoon of gravy
1 cup of leftover stuffing
1 cup cranberry sauce
Cut a "lid" out of your loaf. Hollow out the loaf enough so that your ingredients will fit, but leave a solid wall of bread along the sides to hold everything in. Layer in your leftovers. You can do it and order you like, with any leftovers. Gravy helps the top stay in place when you replace the "lid"." Put the top back on. Wrap the sandwich in wax paper and tie around it with twine to keep everything together. Wrap the whole package in foil. Place a sturdy cooking board on top of the sandwich. Top with a good 10 pounds of weight (dumbbells, cans of pumpkin or bags of flour). Let it rest under the weights for 3 to 6 hours – you can even leave it overnight. Then, unwrap and cut into triangular wedges. Serve with a side of hot gravy or creamy sweet potatoes. Makes about 8 wedge-shaped sandwiches. Recipe via 300sandwiches.
Pumpkin french toast bake recipe
Whether you're recovering from a Thanksgiving feast or a winter family feast, this recipe will get you excited to hop up out of bed to preheat the oven.
5 1/2 – 7 1/2 cups bread cubes
7 large eggs
2 cups milk
1 tsp. vanilla extract
1 1/2 tsp. pumpkin pie spice
1/4 cup pumpkin puree
3 tbs. (41-55 g) brown sugar for topping
1/2 cup: Nuts, like pecan or walnuts
Cut any kind of bread into 1-inch cubes – I recommend a crusty, whole grain variety, but sandwich bread will work, too. Just use enough slice to fill a lightly greased 9×13-inch baking dish quite full. In a large bowl, whisk together eggs, milk, vanilla, pumpkin butter and pie spice until well combined. Pour over bread and push down with a spoon or your hands until it's all soaked and mostly covered. Cover with saran wrap or lid and refrigerate overnight. In the morning, preheat oven to 350 degrees F (176 C), uncover and top with brown sugar, additional pumpkin pie spice and nuts (optional). Bake for 35-45 minutes or golden brown and no longer wet. Serve immediately with maple syrup, honey or agave nectar. Store leftovers in the refrigerator covered for up to a couple days. Recipe via MinimlaistBaker.com
Breakfast rice recipe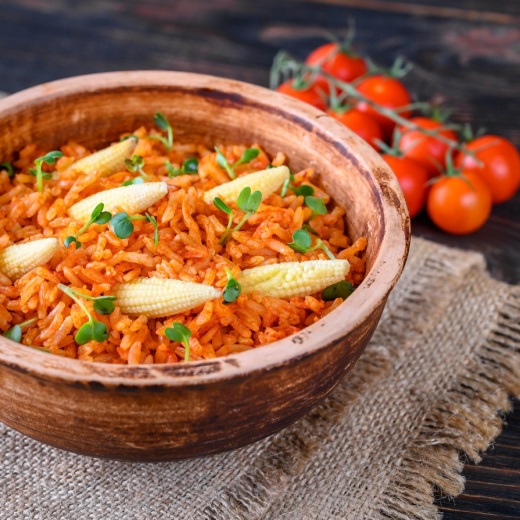 Ordered too much rice last night from takeout? Add some scrambled eggs to the recipe below and you've got a healthy, delicious start to your day!
1 teaspoon of your favorite oil
1 cup of cold, cooked rice
1 or 2 eggs cooked your favorite way
2 green onions, chopped
2 teaspoons soy sauce
Heat oil in a large skillet over medium-high heat. Spread rice in a flat layer in the skillet; cook until crispy on the bottom, 2 to 3 minutes. Stir egg into rice until scrambled, about 2 minutes more. Sprinkle green onions on top. Season with soy sauce.
Rest well & wake up ready to go!
Better sleep gives rise to better mornings, bringing your goals into focus and dreams within reach. Hungry for more sleep info? Dig into these posts:

Eager for more sleep info you can really use?
Join our communities on Facebook and Twitter and let's continue the conversation.
We'd love to hear what you have to say!
This blog does not provide medical advice. It is intended for general informational purposes only and does not address individual circumstances. It is not a substitute for professional medical advice, diagnosis or treatment and should not be relied on to make decisions about your health. Never ignore professional medical advice in seeking treatment because of something you have read on Restonic.com. If you think you may have a medical emergency, immediately call your doctor or dial 911.
Duerme mejor, hoy mismo