---
Leftovers galore? Get eating!
The Easter feast has been prepared and you'll soon be staring at pounds of leftovers that you refuse to throw away. What to do? We've got a solution for you – open the fridge, pile everything high between two slices of bread and feast again. Check out these mouth-watering leftover sandwich recipes! Happy leftovers!
The Ultimate Easter Leftover Sandwich
Have too many leftovers to choose from? Use all of them with this massive sandwich.
Ingredients
• All your leftovers from yesterday's feast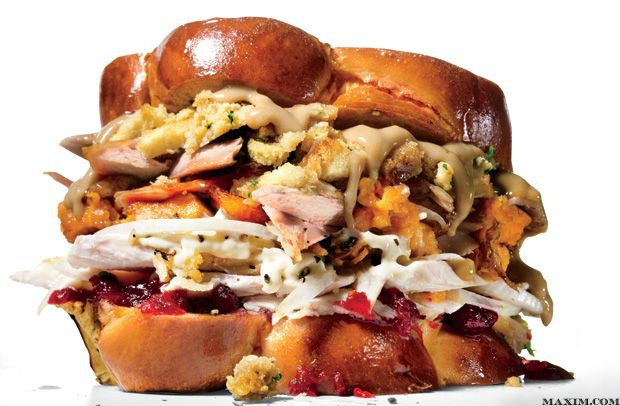 Showtime
Start with grilled challah egg bread, brush it with butter so it's nice and golden. On the bottom spread cranberry sauce. Stack layers of turkey breast. Do a thin spread of mayo with a pinch of garlic powder and fresh pepper. Add a layer of white onions and candied sweet potatoes. Pile the dark meat from the legs and thighs. Take some stuffing, place in a pan and crisp up the edges. Drizzle the whole thing with gravy. Top it with the other challah slice. Bite in and give thanks! Recipe via Maxim.com
Mashed Potato Melt
Waffles, cranberry sauce, mashed potatoes, and turkey – oh my!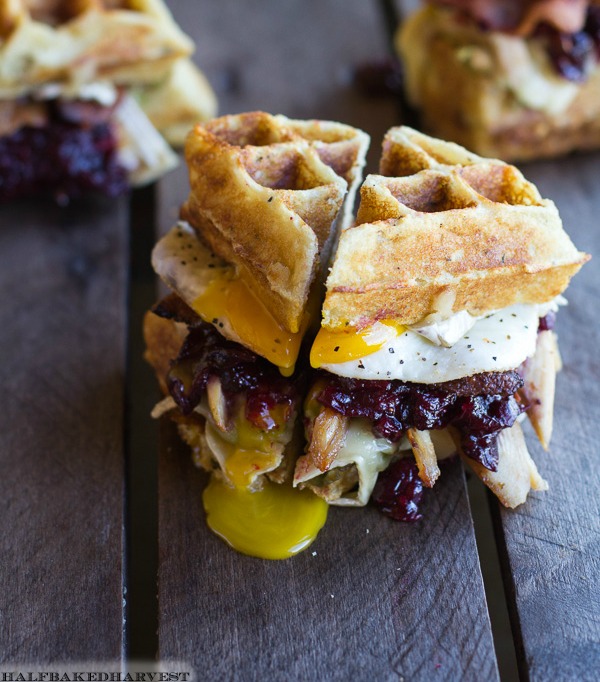 Potato waffles
• 1 ½ cups leftover mashed potatoes
• 1 cup buttermilk
• 2 eggs
• ¼ cup butter
• 1 cup flour
• 1 tsp. baking soda
• ½ cup parmesan cheese
Sandwich
• leftover turkey
• 1 tbsp. butter
• 1 avocado
• 4 oz. of brie (sliced)
• Leftover cranberry sauce
Showtime
To make the waffles. In a medium bowl whisk together the mashed potatoes, buttermilk, eggs and melted butter until smooth. Add the flour and baking soda until combined. Fold in the parmesan cheese. Prep the sandwiches. Heat a skillet over medium heat and melt the butter. Once hot add the turkey and get it buttery and crisp all over, about 5 minutes. Remove from the heat. Add the avocado to a bowl and lightly mash with a pinch of salt and pepper. Assemble the sandwiches. Preheat the oven to 425 degree F. Line a baking sheet with parchment and place the waffles on the baking sheet. Spread the mashed avocado on four of the waffle triangles. Top with sliced brie, then the warm buttery turkey, a dollop of cranberry sauce. Now grab the tops to the sandwiches and add a slice or two of brie. Place the pan in the oven for 5 minutes, watching closely to make sure the brie is not getting too melty! During this time I fried my eggs. Push down and eat!! FYI, it is going to be a bit messy. We had to use a fork for these! Recipe via Halfbakedharvest.
The Game Changer
This tasty sandwich takes some time to make but in the end, your life will be changed.
Ingredients
• 1 round loaf of unsliced white bread
• 1 cup leftover mashed potatoes
• 4 to 5 slices of turkey
• 1 heaping tbsp. of gravy
• 1 cup of leftover stuffing
• 1 cup cranberry sauce
Showtime
Cut a "lid" out of your loaf. Hollow out the loaf enough so that your ingredients will fit, but leave a solid wall of bread along the sides to hold everything in. Layer in your leftovers. You can do it and order you like, with any leftovers. Gravy helps the top stay in place when you replace the "lid"." Put the top back on. Wrap the sandwich in wax paper and tie around it with twine to keep everything together. Wrap the whole package in foil. Place a sturdy cooking board on top of the sandwich. Top with a good 10 pounds of weight (dumbbells, cans of pumpkin or bags of flour). Let it rest under the weights for 3 to 6 hours – you can even leave it overnight. Then, unwrap and cut into triangular wedges. Serve with a side of hot gravy or creamy sweet potatoes. Makes about 8 wedge-shaped sandwiches. Recipe via 300sandwiches.
Eager for more sleep info you can really use?
Join our communities on Facebook and Twitter and let's continue the conversation.
We'd love to hear what you have to say!
This blog does not provide medical advice. It is intended for general informational purposes only and does not address individual circumstances. It is not a substitute for professional medical advice, diagnosis or treatment and should not be relied on to make decisions about your health. Never ignore professional medical advice in seeking treatment because of something you have read on Restonic.com. If you think you may have a medical emergency, immediately call your doctor or dial 911.
Get better sleep, today