---
No time for healthy, fast breakfast? Think again!
The average person spends approx. 45 minutes cooking dinner, 25 minutes on lunch and less than 10 minutes prepping breakfast. Mom always said breakfast is the most important meal of the day, so why isn't it getting your attention?
A good night's sleep is the fuel that keeps your engine revved for the whole day – but breakfast is the ignition. It's called 'the most important meal of the day' for good reason. Breakfast breaks your overnight fasting, boosting glucose blood to increase energy levels and alertness. As a bonus, it's also a great opportunity to refill on some of the essential nutrients your body needs. Some studies suggest breakfast can also help with weight management, reduce your risk of type 2 diabetes and heart disease in the long term.
If you're a breakfast skipper, it might be time to rethink that decision. There are plenty of ways to fit a simple, healthy breakfast in your day and, to help get you started, we've found some breakfast recipes that tick off all the healthy, easy and delicious boxes.
10 easy-to-make, healthy breakfast recipes
Mornings can be stressful, especially if your to-do list is larger than most recipes. But a regular breakfast routine is as important as a good night's sleep – the perfect morning combo, actually. Ready to get cooking for breakfast?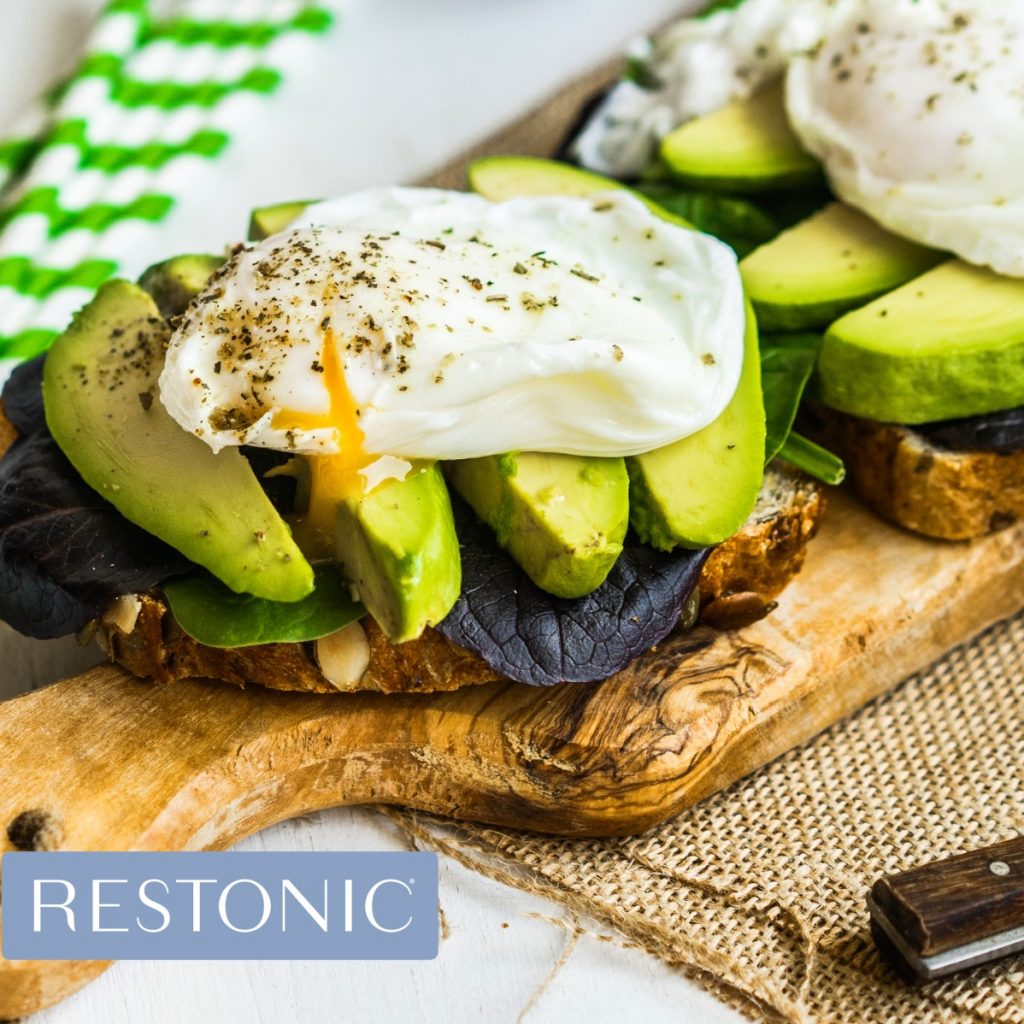 Mustard, avocado & dill on a whole wheat muffin with a boiled egg. Everything is better with avocado – especially a toasted wheat English muffin. Add a pinch of dill and a boiled egg and you'll be a breakfast champion.
Scrambled eggs with beans, tomatoes & pesto. Scrambled eggs take 5 minutes to make and provide lots of protein. Enjoy a healthy dose of vitamin C with ripe tomatoes and add a garlicky kick with pesto. Recipe via realsimple.com
Almond butter, yogurt & fruit parfait. On the run? Layer your almond butter, yogurt and fruit for a delish protein and vitamin-packed morning meal.
Nut butter, banana & chia seeds toast. Spread nut butter on whole wheat toast, place slice bananas on top and top with a pinch of chia seeds. This on-the-go meal provides 6 times more calcium than a glass of milk. Recipe via theskinnyfork.com
Savory oatmeal with an egg. Prepare the oatmeal like normal, add in a pinch of salt, pepper and cinnamon. Top with an over-easy cooked egg with a sprinkle of cheese on top. Super tasty, right?
Stuffed apple surprise. Cut an apple in half and remove the core. Drop in 2 teaspoons of nut butter with a sprinkle of oats or granola. This fast healthy breakfast is perfect for fall weather when apples are in season. Recipe via marthastewart.com
Microwave berries & oats muffin. Add 1/4 cup oats, 1 egg, a handful of berries and a sprinkle of brown sugar to a mug and mix until blended evenly. Microwave on high for 1 minute until firm. Super simple, super tasty.
Strawberry granola roll-up. Spread cream cheese on a tortilla shell, stuff with fresh sliced fruit and top with granola.
Apple and cheddar toasty. Top 2 baguette pieces with nut butter, sliced apple and cheddar cheese. Broil for 5 minutes. Let cool and devour.
Quinoa breakfast bowl. Fill a bowl with pre-cooked quinoa, fresh fruit, soy milk and top with a pinch of cinnamon.
Rest well & wake up ready to go!
Better sleep gives rise to better mornings, bringing your goals into focus and dreams within reach. Hungry for more sleep info? Dig into these posts:

Eager for more sleep info you can really use?
Join our community Facebook and let's continue the conversation.
We'd love to hear what you have to say!
This blog does not provide medical advice. It is intended for general informational purposes only and does not address individual circumstances. It is not a substitute for professional medical advice, diagnosis or treatment and should not be relied on to make decisions about your health. Never ignore professional medical advice in seeking treatment because of something you have read on Restonic.com. If you think you may have a medical emergency, immediately call your doctor or dial 911.
Duerme mejor, hoy mismo