---
The Vanderbilts loved the holidays, from entertaining to gift-giving and decorating – here's how to bring more joy to your world too!
The holidays are a source of joy and a shining highlight of the year for so many of us. Family and friends unite to celebrate, exchange gifts and watch children rip open their presents. It warms the heart and nurtures our sense of belonging.
But along with the joys of the festive season, there are challenges and stresses that need to be navigated. Looking to the past, we can learn much from how families like the Vanderbilts embraced the simple pleasures of gathering together over the holidays. Many of the traditions of Biltmore, built by George Vanderbilt in 1895, live on and can help shape how we create them for our own families.
The Vanderbilts' first Christmas at Biltmore
Christmas has always had a special meaning at Biltmore. It was on Christmas Eve, 1895, that George Vanderbilt welcomed guests to his new home for the first time. On hand were 26 guests, including George's beloved mother, Maria Louisa Kissam Vanderbilt, as well as several of George's siblings with their spouses and children. Some traveled from New York to Asheville, North Carolina, which, at that time pre-automobile, would have taken days. Such a long journey would mean that guests arrived before Christmas and stayed well into the New Year.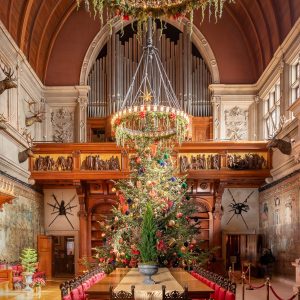 To accommodate his guests and ensure their needs were taken care of, George Vanderbilt hired additional domestic staff and placed huge food orders. Fresh fish and lobsters, brought in from New York City, were just a few of the delicacies he ordered to keep bellies full. Formal dinners with seven courses were held on Christmas Eve and Christmas day. On Christmas Eve, gifts were exchanged and guests enjoyed musical entertainment.
Of course, there was a lot of decking the halls to make Biltmore an extra welcoming place to celebrate the holidays. In 1895, George Vanderbilt began the tradition of raising a massive tree in the house's Banquet Hall. Decorations for the first tree included wrapped gift boxes, crocheted snowflakes, pomanders, feather butterflies, paper mâché angels and handmade silk banners crafted especially for the occasion. It also featured incandescent lights. When his daughter, Cornelia Vanderbilt, was young, it was her job to flip the switch to turn on the electric lights on the Christmas tree during the employee Christmas party.
Other décor for the first Biltmore Christmas included evergreen spruce and holly garlands adorning the grand staircase, bushels of scarlet holly berries throughout the house, and a dense concentration of flowering plants in the winter garden.
The joyful tradition of giving at Biltmore
The Vanderbilts valued their staff and ensured that they were recognized for their hard work, especially around the holidays. They hosted employee Christmas parties and joined in on the festivities themselves.
A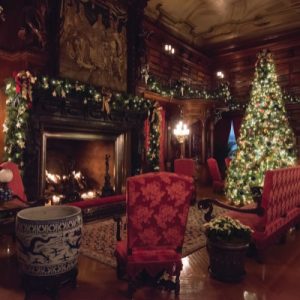 ll servants received a bonus of $10 (which was a significant amount 100 years ago), while George and his mother handed out gifts to all the employees' children, along with a lavish dinner.
During that first employee Christmas, Vanderbilt set up a Christmas Tree Fund to which the family contributed throughout the year to pay for gifts in December. When George's wife, Edith, came to Biltmore in 1898, she took over gift-buying and distribution responsibilities. Gifts might come from an upscale department store in New York City, like F. A. O. Schwartz, but many were sourced from local craftspeople. Adults received practical gifts, such as comforters, mufflers, fabric or shawls.
Even when the Vanderbilts traveled over Christmas, employees were remembered around the holidays at a party in their honor. Cornelia Vanderbilt and her husband continued these celebrations through the 1950s.
Philanthropy was very important to the Vanderbilts. They gave back to their community year round, but Christmas was extra special. They spread holiday cheer by ensuring community organizations had lush Christmas decorations. Beneficiaries included Mission Hospital, Clarence Barker Memorial Hospital, General Hospital No. 19 at Oteen, All Souls' Church and Shiloh Sunday School. In the 1920s, Edith and Cornelia Vanderbilt sold wreaths and donated the proceeds to the Clarence Barker Memorial Hospital.
Holiday traditions at Biltmore today
Present day guests visiting Biltmore are delighted to find that old traditions have carried forward.  At the beginning of November each year, a 40-foot Christmas tree is raised by hand in the Banquet Hall to herald the holiday season. As well, floral designers assemble and decorate 60-70 additional Christmas trees throughout the house. With the amount of coordination needed, planning begins the previous February.
The annual employee Christmas party has persisted as well. While the party has changed slightly to accommodate precautions in 2020 and 2021, employees still receive gifts for their children and visit with Santa. Even the pandemic has a historic precedent. During the 1918 Spanish Influenza outbreak, the employee party was held outdoors at Antler Hall to help keep everyone safe.
Reducing stress during the holidays
If stress has become your companion during the holidays, it can rob you of the joy of the season. The lasting message from the Vanderbilts is clear: give, be merry and share selflessly. While there wasn't research backing up the benefits of giving back then, we have access to it now. The psychological benefits of giving are ample.
The very act of searching for the right present for loved ones provides a spiritual lift. It's a way of demonstrating interest and appreciation and strengthening bonds. Gift-giving is an altruistic exercise that improves our emotional health and spreads joy to those who cherish most. If you want to reduce stress during the holidays, begin by focusing on what truly matters – meaningful connections with those you love.
If you need a little more help in the stress department, these tips may help.
Stow your phone. It might be tempting to shop online, check email, pin holiday meal ideas or create some invitations before bed but turning your phone off in the evening has definite benefits. The light from your phone wakes up your brain and can suppress melatonin release, the natural sleep hormone.
Read a (real) book. Reading work emails, news headlines or to-do lists can dramatically increase stress at a time when you should be starting to relax. Find a book that's light reading, one that helps ease you into feeling drowsy.
Exercise earlier in the day. Exercising in the evening can make falling asleep even more challenging. Same goes for difficult conversations – save those for earlier in the day.
Dim your bedroom lights. A layered lighting approach in your bedroom will help you use the dimmer lights at night and the brighter, more functional lights, in the morning. Add some soft music and you'll set the scene for calmly drifting into sleep.
Reserve your bed for sleep. Despite what many of us did during the pandemic, our beds are not ad-hoc desks. Emails, Netflix and pinning all the pretty things doesn't relax you or make you more productive. If sleep is a challenge, try using your bed just for sleep and see if that helps.
Limit caffeine. Whether you need to eliminate caffeine from your diet, or simply avoid that extra cup of coffee in the late afternoon and evening, less caffeine will help you wind down at night and fall asleep more easily.
Rest well & wake up ready to go!
Better sleep gives rise to better mornings, bringing your goals into focus and dreams within reach. Hungry for more sleep info? Dig into these posts:
Eager for more sleep info you can really use?
Join our community Facebook and let's continue the conversation.
We'd love to hear what you have to say!
This blog does not provide medical advice. It is intended for general informational purposes only and does not address individual circumstances. It is not a substitute for professional medical advice, diagnosis or treatment and should not be relied on to make decisions about your health. Never ignore professional medical advice in seeking treatment because of something you have read on Restonic.com. If you think you may have a medical emergency, immediately call your doctor or dial 911.
Duerme mejor, hoy mismo