---
Cozy up your winter bedroom, relaxing to the sounds of a crackling fire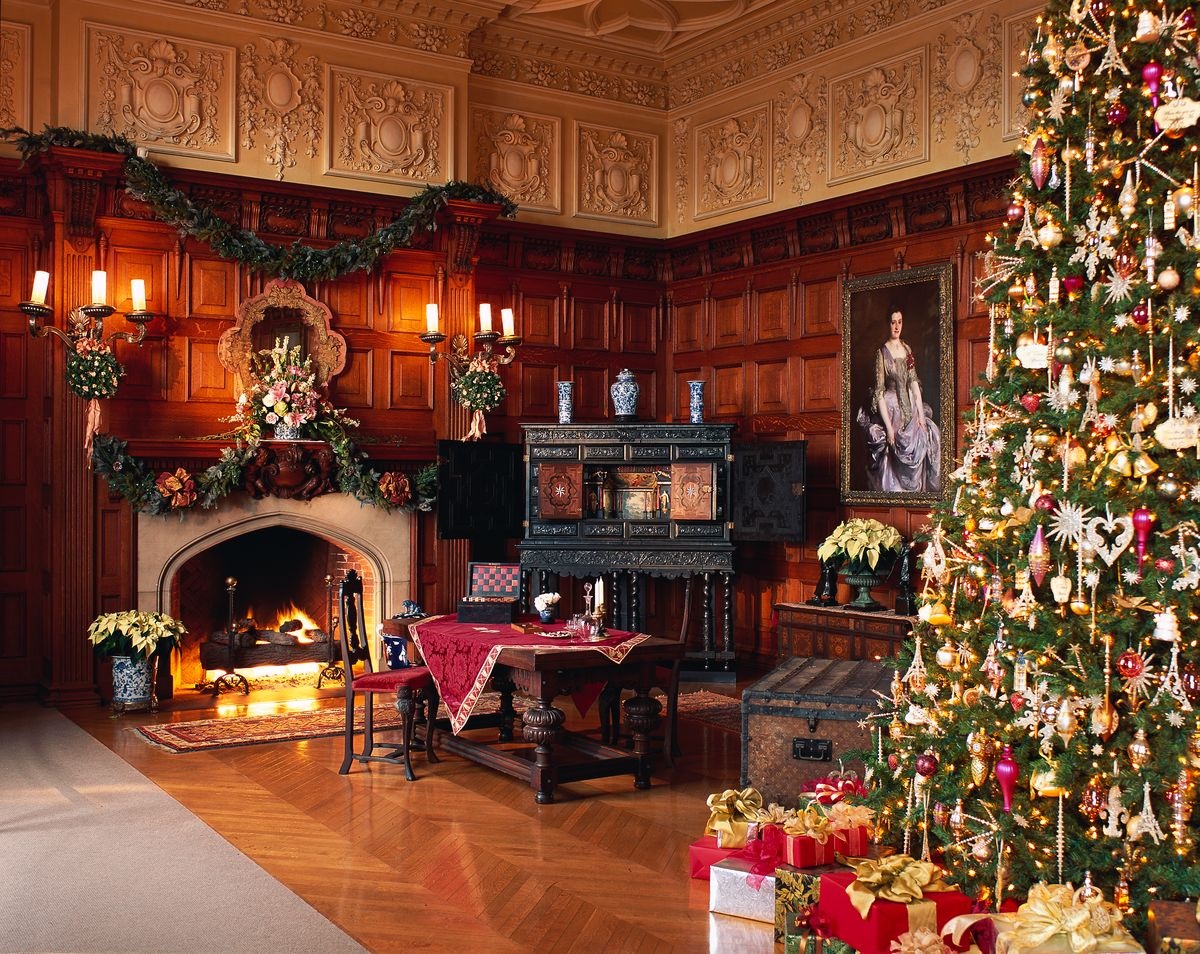 Beautiful hearths have long been recognized as a gathering spot where family and friends share in conversations and swap stories and tales. The warmth of the fire aids in the feeling of comfort and congeniality. Especially on a cold winter's evening after a long day.
It's easy to imagine the sound of crackling fires and images of reddish orange flames licking the logs in fireplaces of Biltmore House, the 250-room home George Vanderbilt created in Asheville, North Carolina. There are fireplaces aplenty here – 65 in all – each with its own unique design and decoration. What may be most surprising is that this mansion, which opened in the late 1800s, only used the fireplaces for supplemental heat. While the main source of heat came from forced air through radiators, guests and family still appreciated the cozy, warm atmosphere created by spending time near a fire. Even on the coldest nights of winter, they slept soundly in warm bedrooms.
Just in case you need some cozy inspiration, a brief Biltmore hearth tour
Inspired to learn more about fireplaces? Especially the 65 fireplaces in Biltmore? While some are in bedrooms, there many in other rooms that command attention because of their location, design and appearance. A hearth, of course, refers to the concrete, brick or stone floor area in front of the fireplace while a mantel is a shelf that sits above it. Then there's the overmantel, which is traditionally an ornamental structure above the mantelpiece. In Victorian years, mirrors were often hung in this area. Fireplace surrounds refer to an architectural element surrounding the fireplace.
Shall we begin our tour of Biltmore House hearths?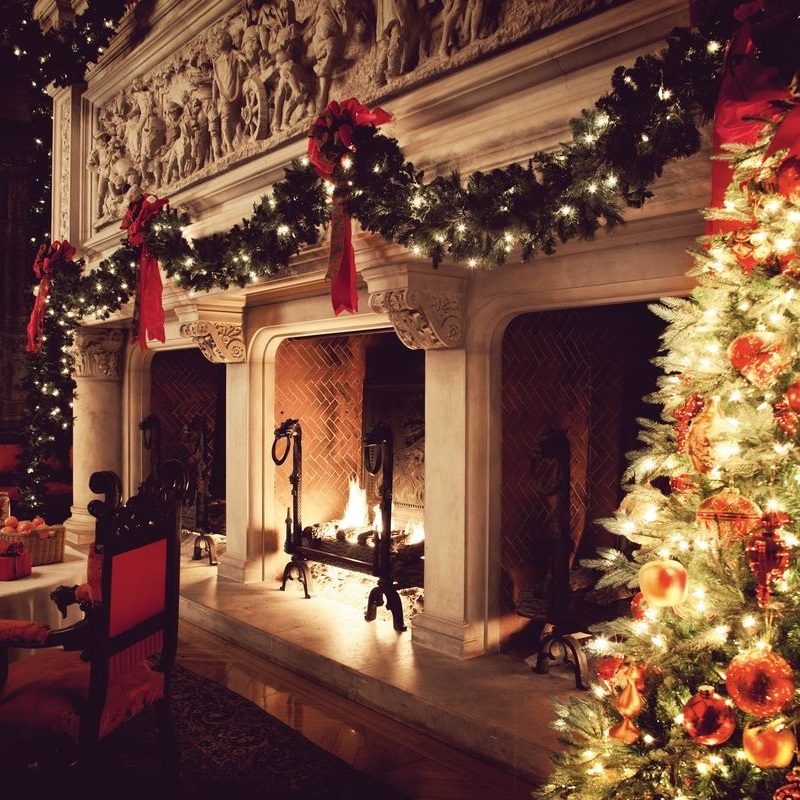 Banquet Hall. In a room this expansive, with its 70-foot ceiling, George Vanderbilt understood that the mantel and fireplace needed to be big and bold. The monumental triple-wide fireplace is topped by a relief carving by Viennese sculptor Karl Bitter. The carving depicts an epic scene from the Wagner opera Tannhauser, believed to be Vanderbilt's favorite. The surround is topped by a set of flags purchased by Vanderbilt at the 1893 Columbian Exposition. They represent the flags of the European world powers in 1492, when Columbus made his fateful trans-Atlantic journey.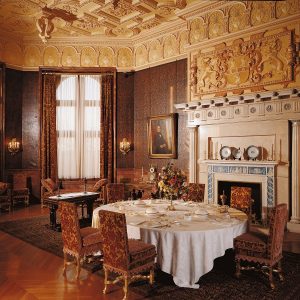 Breakfast Room. This more modestly-sized dining room has a fireplace featuring a Wedgwood-style blue and white surround depicting the four seasons, specifically Spring, as the goddess Flora. The overmantel depicts the Kissam (George's maternal family) crest.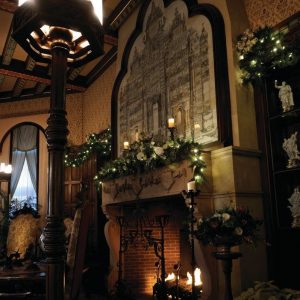 Music Room. The mantel for this fireplace was originally installed in the Library Den, an intimate study where George could read and enjoy his collection of Albrecht Dürer prints. His deep appreciation for Dürer led him to have the artist's date of birth and death, as well as his famous "AD" monogram, carved into the fireplace surround.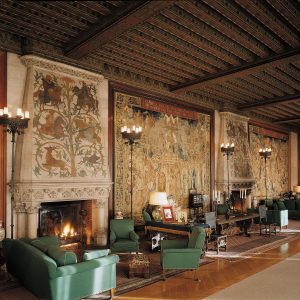 Tapestry Gallery. The overmantels are of particular note here. Edward Hamilton Bell painted them. He also painted the ceiling in this room. They were designed to evoke similar overmantel décor at the Chateau de Pierrefonds in the Loire Valley of France.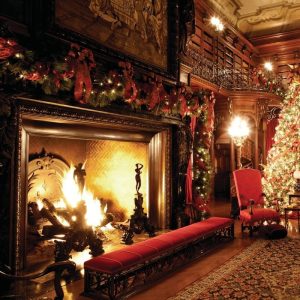 Library. The fireplace here takes stunning command in this room where the focus is on the thousands of books. The gigantic firebox is six feet by six feet and surrounded by walnut carvings depicting classical heroic figures. The carvings around the fireplace feature space for a tapestry. On display currently is a replacement purchased by John Cecil in the 1920s as the one originally purchased by George had degraded over time. The fireplace surround is made of black marble, which accents the heavy masculine lines and colors of this inviting room.
Creating a warm, inviting space in your bedroom
Biltmore housemaids would stoke the fireplaces mid-afternoon for those wanting extra warmth in their bedrooms in the evening and throughout the night. Young boys kept the supply of firewood replenished in each room, gathering from a storage room in the Stable Complex and delivering as needed. They would bring in a new supply even if a guest was present, but the cleaning and laying of the fire usually took place when guests were out of their rooms.
In our modern world, we still crave the intimate warmth of a fireplace in the evening or overnight. If you're considering adding a fireplace to your bedroom, consider these precautions before striking a match.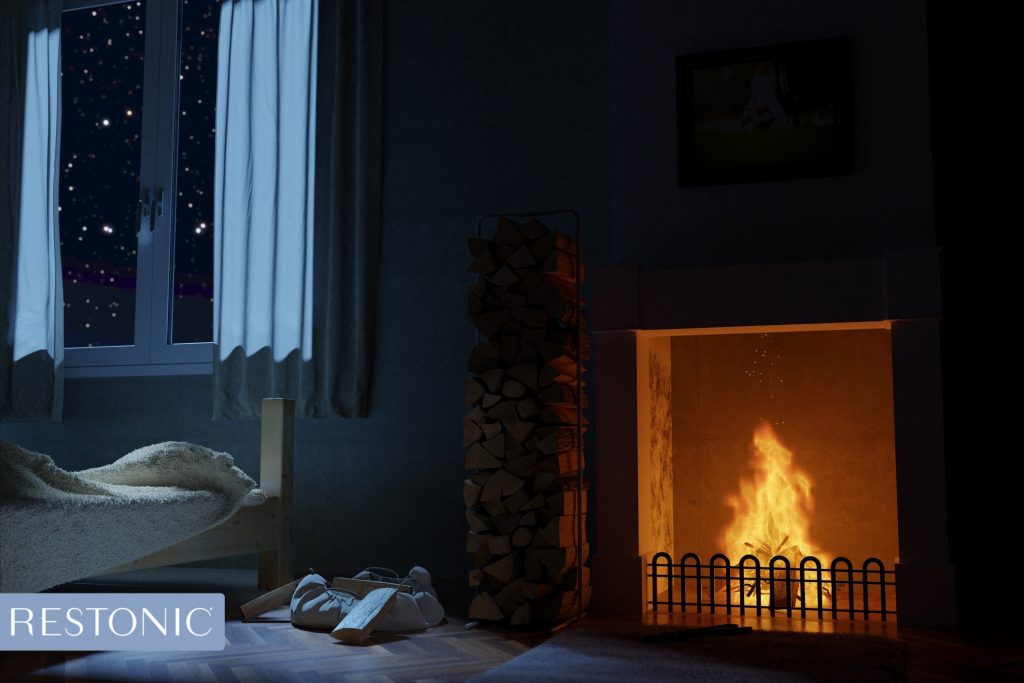 Have your fireplace/chimney professionally cleaned and inspected. This will alert you to any problems that need to be corrected before lighting a fire.
Install a carbon monoxide (CO) detector. Burning wood produces smoke that contains carbon monoxide. When the fire is lit, ensure the flue is open and unobstructed to prevent CO from being released into your bedroom.
Use a sturdy fireplace screen to prevent stray sparks from popping out of the fireplace and landing on flammable materials or being inhaled into your lungs.
Place logs on sturdy andirons to keep them from rolling out and creating a tripping hazard overnight.
It should go without saying but never leave a burning fire unattended.
According to WebMD, the optimal temperature for sleeping is between 60-67 F (15-19C) – keep that in mind when stocking your fire in the evening.
How to create cozy without a fireplace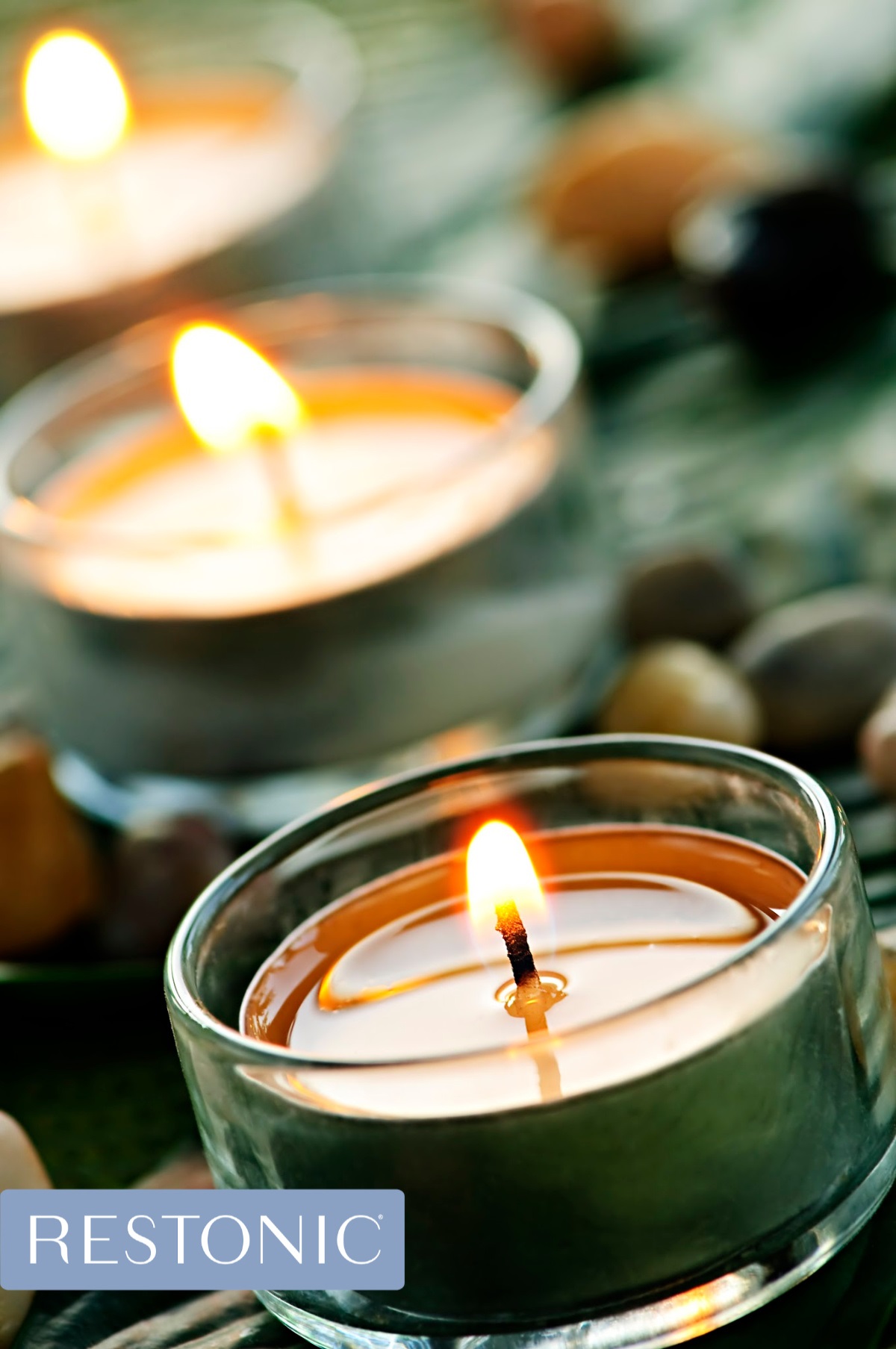 You may live in a home or apartment that can't accommodate a fireplace. But that doesn't mean you can't re-create some of the cozy comfort that the Vanderbilts enjoyed at Biltmore. Try these ideas for comfortable, soothing sleep:
Bring a virtual crackling fire into your home. There are several videos on YouTube featuring the sights and sounds of a fire. This one lasts for nine hours.
Flip the switch – or set a timer – on artificial candles for subdued, safe lighting.
Use a diffuser to fill your room with the soothing aroma of essential oils.
Create a space for a reading nook. If you can reconfigure your bedroom, add a comfortable chair, reading light and a good stack of books to read before bed.
Create warmth through bedding. Splurge on high thread count sheets, down comforters or weighted blankets, and, of course, a solid, comfortable Biltmore mattress.
Rest well & wake up ready to go!
Better sleep gives rise to better mornings, bringing your goals into focus and dreams within reach. Hungry for more sleep info? Dig into these posts:

Eager for more sleep info you can really use?
Join our community Facebook and let's continue the conversation.
We'd love to hear what you have to say!
This blog does not provide medical advice. It is intended for general informational purposes only and does not address individual circumstances. It is not a substitute for professional medical advice, diagnosis or treatment and should not be relied on to make decisions about your health. Never ignore professional medical advice in seeking treatment because of something you have read on Restonic.com. If you think you may have a medical emergency, immediately call your doctor or dial 911.
Duerme mejor, hoy mismo