---
Your décor choices, especially in your bedroom, reveal your personality
What does your bedroom say about you? It turns out quite a lot, if you're paying attention to the details.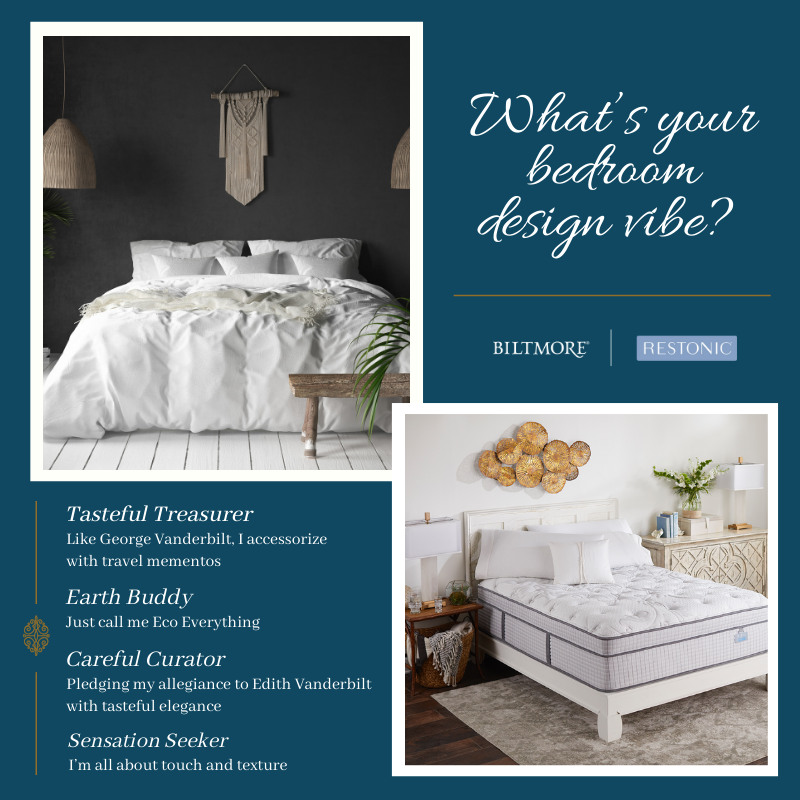 Researchers at the University of Texas looked into the link between personality and décor choices and, not surprisingly, the results were revealing. They identified four different design dispositions for individuals.
Some people are sentimental and collect memorabilia like a pebble from a beach where they vacationed.
Others fall into the socially responsible category, perhaps there's a framed poster, "Save the Ocean."
Some can be labeled as conscientious where organization rules with neat stacks of books and every object in its place.
And finally, sensation seekers may have tennis rackets or a snowboard visible in their bedrooms to show that they love the active life.
When you look closely at the bedrooms of Biltmore House, built in 1895, in Asheville, North Carolina, each one reveals something of the personality of the man who commissioned the building of the majestic home, George Vanderbilt. Appreciation of beauty is clear throughout the historic property with 35 bedrooms where family and friends would stay to enjoy the expansive property, relaxing and savoring the finer things in life.
George Vanderbilt's bedroom, a study in refined taste
For modern day visitors of Biltmore, it's clear that George was an intellectual gentleman of refined tastes, drawn to beautiful objects and the stories attached to them. His love of collecting art comes through clearly. There are 41 prints covering his gilded bedroom walls, along with rare portraits from the 17th and 18th centuries. Other works of art in the room include 19th century bronzes, which he also enjoyed collecting, as well as plaster casts of the Elgin marbles also seen throughout the house.

The furniture in his bedroom is Portuguese in style with several antique pieces, such as the bed, complemented by pieces designed by Richard Morris Hunt (the dressing table) to match the look of the rest of the room. He appreciated elegant details, as seen with the choice of fine materials used in his bedroom – gilded walls and an ornately carved French walnut over-mantel.
The overall feel of George's bedroom is very masculine, from the dark wood furniture to the crimson drapes. And yet, there is an inviting warmth to the space. You can easily picture him on the chaise lounge reading – one of his favorite pursuits – with the golden glow from the fireplace filling the room. He amassed a collection of 22,000 volumes of books, housed in his beautiful library lined with walnut shelves. By the time he died, he had read 3,159 books and had logged each one in a series of journals entitled, "Books I Have Read."
Edith Vanderbilt's bedroom, a study in careful curation
Edith had a cosmopolitan flair that shines through in her airy, light-filled bedroom. She had traveled extensively in Europe and spent a number of years living in France prior to her marriage to George in 1898. She was fluent in French and would often return to Paris to stay at the Vanderbilt's apartment there. You can see and feel her deep appreciation of French culture in the Louis XV-style décor she chose. As she never changed the look of her room during her time at Biltmore, she must have cherished her Parisian bedroom sanctuary.

Visitors can see that she was sentimental in the decorative objects she favored. Strolling through the bedroom today, it's clear she adored France and the happy times she spent there. Her bedroom featured some fine porcelain and ormolu items, all representing an extremely high level of craftsmanship in a delicate style that complements the fineness of the room. The walls are covered with yellow silk, and the furniture features yellow and purple cut silk velvet. While her husband may have covered his bedroom walls with many original works, she curated her picks narrowly. There are only four prints in the entire room and they depict French and Russian nobility.
Though George and Edith clearly had different décor preferences, they both revered art, whether it depicted landscapes or flora and fauna. The pieces they collected suggest a connection to the places they visited together, such as Paris where they married in 1898 and later during their honeymoon in Italy. All the bedrooms of Biltmore pay homage to their passion for collecting. They include: the Claude Room, Hoppner Room, Gainsborough Room, Moreland Room, Van Dyke Room, Watson Room, Raphael Room, and Earlom Room. Naturally, those rooms each featured works of art by the artists after whom they were named.
Bedrooms are intimate places – an oasis of calm in a sometimes chaotic and busy world. The Vanderbilts created the kind of spaces at Biltmore that made them the most comfortable.
What does your bedroom say about who you are and what's important to you?
Better sleep might just begin with what's nearest and dearest to your heart
Modern day interior designers understand the important connection between a well-appointed bedroom and better sleep. While bedroom design must appeal to the attractiveness of the room, it's also tasked with delivering a feeling of peace and sanctuary, which, hopefully leads to a better night's sleep.
We toured the bedrooms of more than a few interior designers (and design enthusiasts) in hopes of learning how to design the perfect bedroom. What we found is that bedroom décor is as unique as your fingerprint.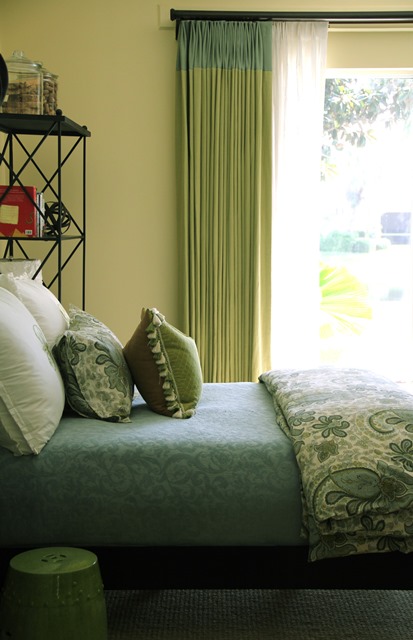 Rest well & wake up ready to go!
Better sleep gives rise to better mornings, bringing your goals into focus and dreams within reach. Hungry for more sleep info? Dig into these posts:
Biltmore® and images of Biltmore House are trademarks of The Biltmore Company, and are used by Restonic® under license. ©2020 all rights reserved.
Eager for more sleep info you can really use?
Join our communities on Facebook and Twitter and let's continue the conversation.
We'd love to hear what you have to say!
This blog does not provide medical advice. It is intended for general informational purposes only and does not address individual circumstances. It is not a substitute for professional medical advice, diagnosis or treatment and should not be relied on to make decisions about your health. Never ignore professional medical advice in seeking treatment because of something you have read on Restonic.com. If you think you may have a medical emergency, immediately call your doctor or dial 911.
Get better sleep, today