---
One of American's most celebrated homes continues to inspire how we view luxury, style & a wonderful night's sleep
In the late 1800's, George Vanderbilt chose Asheville, North Carolina, to build a family home that would become the envy of America for generations. It took six years to construct and in 1895, he officially opened his lavish home to friends and family on Christmas Eve. His 250-room French Renaissance chateau – America's Largest Home® – sits on 8,000 acres of land with the Blue Ridge Mountains a breathtaking backdrop. He named his estate Biltmore, derived from "Bildt," Vanderbilt's ancestors' place of origin in Holland, and "More", Anglo-Saxon for open, rolling land.
Centrally heated with electricity throughout, Biltmore was considered one of the most technologically advanced structures ever built and is still admired for its innovative engineering. Biltmore has 33 bedrooms, 43 bathrooms and 65 fireplaces. It has become synonymous with quality, elegance, luxury – a gracious respite from the world.
Those are the same characteristics that go into Restonic's Biltmore collection of mattresses.
The art of fine design for sleep & comfort
Vanderbilt's guests coveted the bedrooms. Each was decorated in a different style, but they all featured luxurious bed linens monogrammed with a fancy letter 'V'. The expansive windows were decorated with roller shades and curtains made from densely woven, fine fabric. While the window coverings conveyed a sophisticated elegance, they served a very practical purpose too. More than 100 years ago, George and Edith Vanderbilt knew their guests needed dark, quiet rooms for a good night's sleep.
As Los Angeles psychologist Dr. Michael Breus (aka The Sleep Doctor) says, "It's tough to overstate the importance of bedroom environment to the quality of your sleep. Ideally, you want your bedroom to be a sanctuary for restful, restorative sleep. It's a sensory experience. To create an ideal sleep environment, pay attention to all five of the senses: sight, sound, touch, smell, and taste."
The bedrooms at Biltmore incorporated all the senses – without sacrificing graceful elegance – creating refined sanctuaries for sleep. To further tease the senses into relaxation, George and Edith Vanderbilt trimmed many of the furnishings with silk, tassels and other delicate passementerie (decorative types of trim).
Biltmore rooms not designed for sleep featured curtains in plush, hand-cut silk velvets or interwoven with shimmering gold or silver threads to reflect the light and emphasize once again that everything about Biltmore was meant to impress.
Preparing Biltmore bedrooms for guests
Before George and Edith's guests retired to their suites for the evening, Biltmore housemaids would have been busy readying their rooms. The care taken for these nightly rituals was chronicled by Mary Elizabeth Carter, a head housekeeper, who managed staff of grand homes in the Gilded Age, circa 1903. In her book, Millionaire Households and Their Domestic Economy, she wrote: "When all have gone down-stairs or out, a housemaid charged with caring for guest rooms would go for a last tour, to arrange rooms for the night."
Staging a guest bedroom was an important duty that set the tone for a guest's entire stay. Housemaids were responsible for memorizing the personal preferences of every guest and arranging the room accordingly. Some guests preferred a quilt across the foot of the bed, skillfully folded so it could be pulled up with little effort – but others chose to have the bed fully dressed. Some guests favored the curtains closed tight so they could sleep late, while others enjoyed the first light of dawn filling the bedroom. At Biltmore, the housemaids played a very active role in staging the room for a good night's sleep.
How to create your own Biltmore-inspired sleep sanctuary
The Vanderbilt's lived a life of luxury and elegance but a good night's sleep is about mindful choices and a commitment to focusing on the little details.
To create your own Biltmore-inspired bedroom begin by thinking about the basics of your bedroom.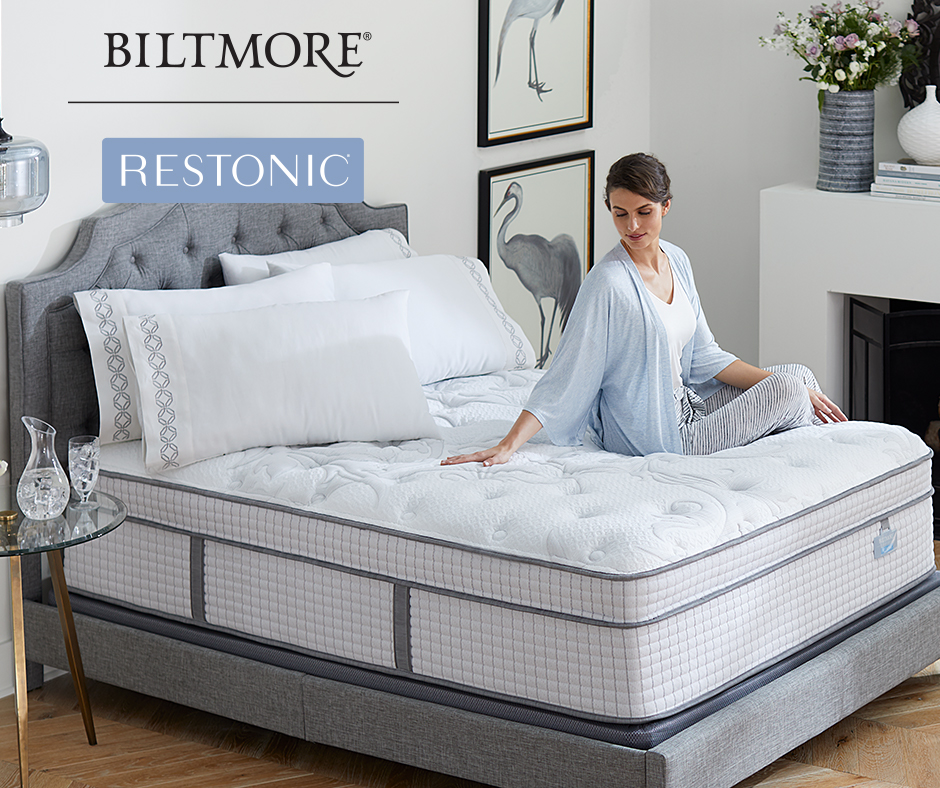 If your bedroom is already an oasis of calm, relaxation – but you're still struggling with sleep – take a closer look at these ideas:
Why is light – or lack of light – so important? Darkness sends a signal to your brain that it's night and time for sleep. Good quality, heavy drapes (add Vanderbilt-inspired tassels, if you like) and roller blinds will block out street lights and the morning sun. Some researchers recommend using amber bulbs in your bedroom to prevent disrupting your sleep with blue light.
Does the temperature of my bedroom affect sleep? Body temperature naturally reduces with sleep and making your room slightly on the cool side can help with this process. The sweet spot in terms of temperature is 60 – 67 degrees Fahrenheit.
Should I power down my electronics before bed? The National Sleep Foundation reports that more than 85% of adults have at least one screen in front of them before bedtime, which can stimulate the brain instead of preparing it for sleep. Disrupted sleep patterns can also have negative implications for overall performance in everyday life and cause health related issues.
Traveling to a friend's estate for the weekend? Bring along a few helpful accessories to make sleeping in an unfamiliar surrounding easier.
Pack an eye mask (silk – the choice of the Vanderbilt's) to block out ambient light.
Bring a white noise machine to help put you in the Zen zone.
Try to stick to your usual sleep routine, whether that means some gentle yoga before you turn in or sipping a cup of chamomile tea.
Biltmore continues to serve as a symbol of well-heeled gracious living and welcomes more than one million guests each year. Its style endures, influencing a new generation that appreciate beauty and elegance, by inspiring the creation of quality home products, such as mattresses.
Everyone can enjoy a bit of Biltmore in their lives and enjoy the richness of all life has to offer. Ready to find the Biltmore mattress that's right for you?
©2018 All rights reserved. Biltmore® and images of Biltmore House are trademarks of The Biltmore Company, and are used by Restonic under license.
Eager for more sleep info you can really use?
Join our communities on Facebook and Twitter and let's continue the conversation.
We'd love to hear what you have to say!
This blog does not provide medical advice. It is intended for general informational purposes only and does not address individual circumstances. It is not a substitute for professional medical advice, diagnosis or treatment and should not be relied on to make decisions about your health. Never ignore professional medical advice in seeking treatment because of something you have read on Restonic.com. If you think you may have a medical emergency, immediately call your doctor or dial 911.
Get better sleep, today