---
Take a cue from George & Edith Vanderbilts' lives at Biltmore®
Though extremely wealthy, the Vanderbilt family understood the joy of simple pleasures at the famed Biltmore estate in Asheville, North Carolina. Connecting with loved ones, leisurely strolls, good food and a restful night's sleep were valued as essential pursuits.
America's Largest Home®, Biltmore, boasts 250 rooms and was built in French Renaissance style in 1895 under the careful guidance of George W. Vanderbilt. It featured the very latest technology and the Vanderbilt's spared no expense when it came to creating an oasis of comfort for all who lived and visited there.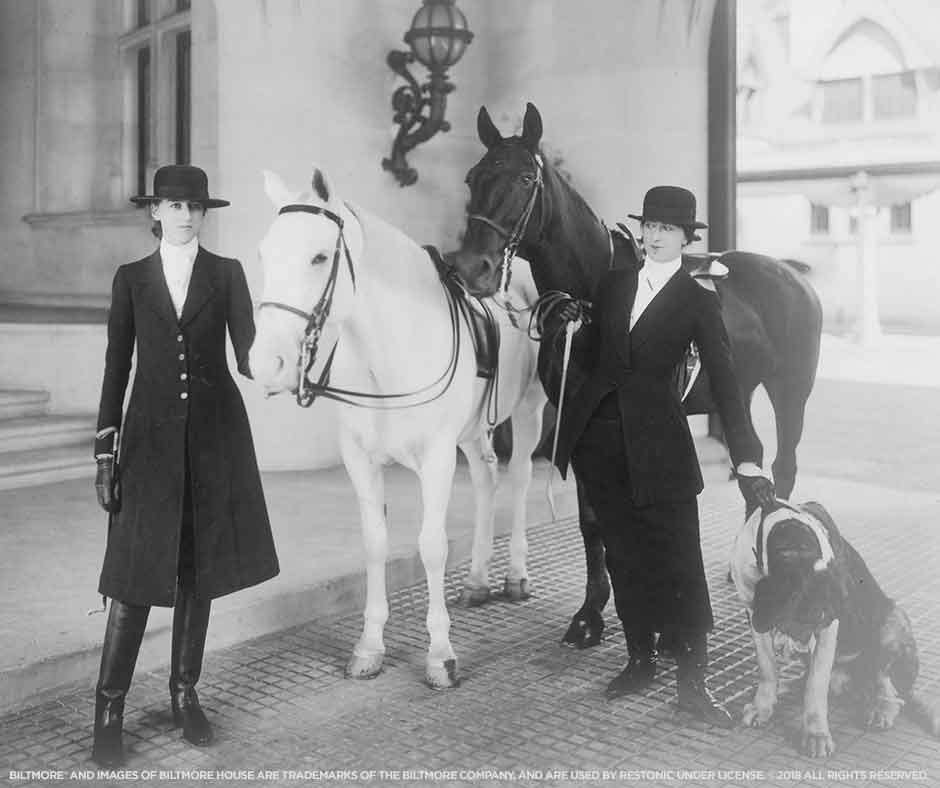 Guests of George and Edith Vanderbilt sought solace, peace and quiet on the property, which spanned more than 125,000 acres. Its 33 bedrooms were fashioned to provide the ideal environment for healthy, rejuvenating sleep. Each Biltmore bedroom was decorated in a different style – no cookie-cutter approach here. They featured luxurious bed linens, roller shades and thick curtains made from finely woven fabrics to keep rooms cool and dark throughout the night and early morning. Silk, velvet, glittering gold and silver touches shimmer in the morning light from the expansive windows.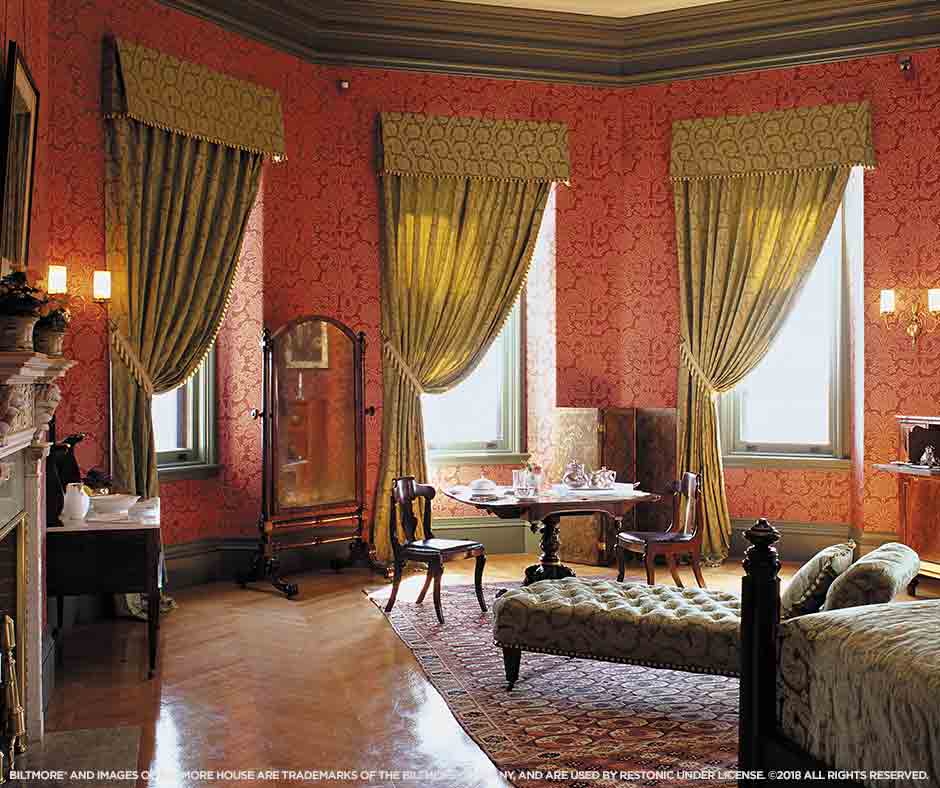 Each night, Biltmore's housemaids set the stage for a sweet night of slumber for guests and residents alike. They turned down the beds, closed the curtains and draped an extra quilt across the foot of the bed. Guests would make their preferences known and staff made note for the next night or repeat visits.
Routine was important at the estate. A meticulous schedule mapped out the day's routine activities, beginning with a hearty breakfast at 9 am in the breakfast room. Activities, whether they included a swim in the indoor pool or horseback riding or cycling, filled the day between designated meal times.
For the love of reading, the love of sleep too!
After dinner, the household enjoyed the process of winding down for the evening with garden walks, billiards and brandy for the men or embroidery and letter writing for the ladies. Everyone was welcome to curl up with a good book before turning in for the night. The Vanderbilts, especially George, were voracious readers. As a 12-year-old, he journaled meticulous notes about the books he read and maintained the habit throughout his lifetime. In 1899, for example, he read 51 books.
The estate is famous for its private library with more than 10,000 books (including many rare tomes) with another 10,000 throughout the home. Nighttime readers with bedrooms on the second floor could discreetly access the library without having to go down the grand staircase – handy when you need a good book and you've already changed into your pajamas and dressing gown.
There's a lesson to be learned here, with science confirming the key role that daily rituals help ensure a restful night's sleep. In our modern world, embracing healthy habits like the Vanderbilts and then unplugging before bed, creating a nightly wind-down routine and creating a sleep sanctuary, ensure we too sleep well at the end of each day.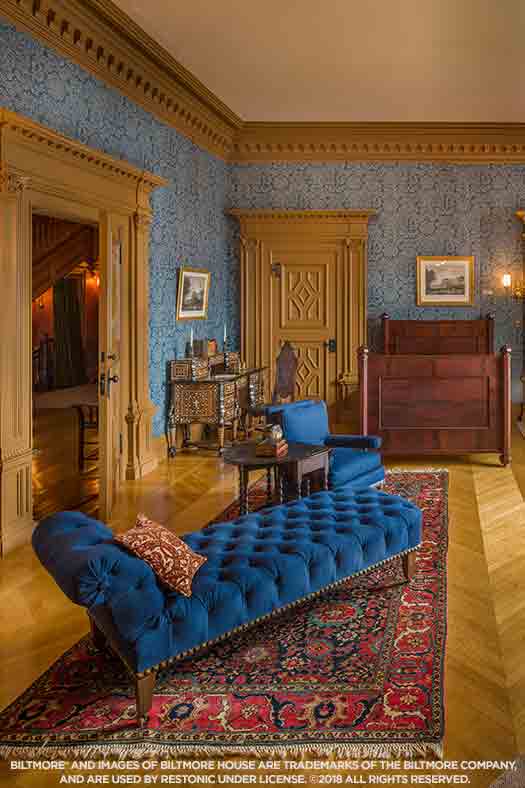 The Better Sleep Council reports that 39% of people who read before bedtime sleep very well. Research shows that reading helps decrease stress, distracting the brain from events and worries of the day. It's sleep-inducing routine that is well worth adapting, but with one caveat. It's important to go the low-tech route followed by the Vanderbilts and read a book in hard copy. If you use an e-reader or your phone, the positive, sleep-inducing effects of reading are lost because of the brain-stimulating blue light emitted by these devices. They have the opposite impact and will send wake signals to the brain, impairing our ability to fall asleep.
There is a role, however, for technology that is positive and sleep boosting. Restonic has introduced its Biltmore Mattress Collection – hybrid, memory foam and microcoil mattresses. Inspired by the Vanderbilts' commitment to quality and comfort, each one is designed to elevate the art of sleep and encapsulates carefully crafted details to transform sleep.
Take the new Biltmore Hybrid Mattress, for example. It uses exclusive technology to keep sleepers cool and prevent overheating. Restonic's proprietary process infuses aluminum into the foam's cell structure and increases airflow for a more comfortable slumber.
The Biltmore Mattress Collection taps into a long legacy of luxury and careful attention to distinctive details that would have made the Vanderbilts proud. They understood the role that good sleep played in enjoying life to the fullest and being healthy. It's a tradition worth celebrating every night with a good sleep on a fabulous mattress.
Ready to find the Biltmore mattress that will support you and your commitment to a good night's sleep? Visit our Retailer Locator and we'll help you find a retailer in your area.
Rest well & wake up ready to go!
Better sleep gives rise to better mornings, bringing your goals into focus and dreams within reach. Hungry for more sleep info? Dig into these posts:
Eager for more sleep info you can really use?
Join our community Facebook and let's continue the conversation.
We'd love to hear what you have to say!
This blog does not provide medical advice. It is intended for general informational purposes only and does not address individual circumstances. It is not a substitute for professional medical advice, diagnosis or treatment and should not be relied on to make decisions about your health. Never ignore professional medical advice in seeking treatment because of something you have read on Restonic.com. If you think you may have a medical emergency, immediately call your doctor or dial 911.
Get better sleep, today