---
Is a donut a day making you fat? Swap the sugar for a delish low calorie breakfast!
Breakfast. Mom was right. It really is the most important meal of the day. If that's true (and don't we all know it) why do we neglect it? In addition to helping fight weight gain by curbing cravings, eating a healthy, balanced breakfast is critical to staying energized all day long, lowering cholesterol and improving concentration. Instead of starting your day on a belly full of nothing but coffee and a sugar-filled donut, take a few extra minutes and give breakfast the attention it deserves.
Studies show you should aim to eat a breakfast that's around 400 calories – just to maintain your current weight. With countless easy and healthy breakfast options, there's no excuse to skip your first meal of the day. Indulge in these 10 simple, delish and healthy breakfast recipes – all less than 400 calories.
10 Breakfast recipes under 400 calories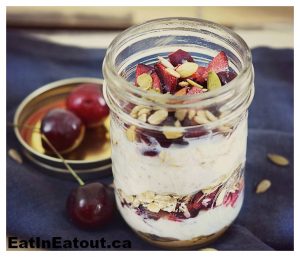 PB & J Yogurt Parfait (315 calories)
This delicious parfait makes a great pre-workout breakfast since it's packed with simple carbs and 13g of protein. Besides that who doesn't love PB & J when we wake up, right? Get the recipe from EatInEatOut.ca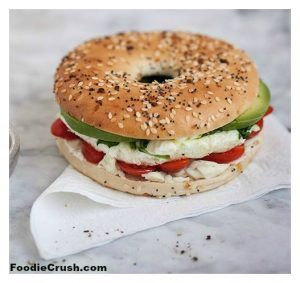 Microwave Egg & Veggie Sandwich (371 calories)
Within the time it takes to toast a slice of bread or bagel, you'll have hot eggs ready to load onto a veggie filled sandwich. Get the recipe from FoodieCrush.com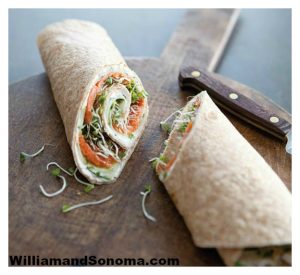 Smoked Salmon Cucumber Wraps (169 calories)
Working salmon into your morning routine is great because it's an awesome source of protein, potassium and omega-3 fatty acids. Get the recipe from WilliamsandSonoma.com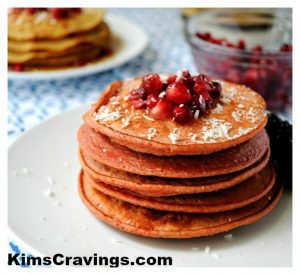 Apple Vanilla Greek Yogurt Pancakes (296 calories)

These clean-eating pancakes can be whipped up in the blender and simply poured onto a heated griddle for an incredibly easy, but delicious breakfast! Get the recipe from KimsCravings.com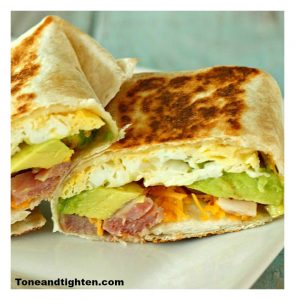 Ham, Egg & Avocado Burrito (400 calories)

Who doesn't love breakfast burritos? It's easy to throw together some of your favorite foods, wrap them up and eat them burrito-style for any meal of the day. Avocados are loaded with nutrients (like potassium and protein). And even if you don't have ham, throw in some bacon or turkey sausage for a delicious breakfast. Get the recipe from ToneandTighten.com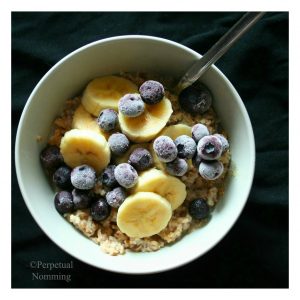 Steel Cut Oatmeal (115 calories)

Oats are great because they contain lots of soluble fiber, which helps regulate your blood sugar levels. You can toast the oats in coconut oil and add any type of fruit toppings you desire for extra flavor. Get the recipe from PerpetualNomming.com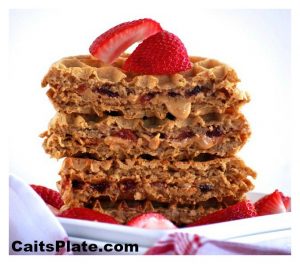 Waffle PBJ-Wich (385 calories)

It's hard to consider an option that can beat a peanut butter and jelly sandwich, until you swap out the bread for whole grain waffles. There's something about the waffles that just makes an ordinary PB & J taste even better. It's perfect to throw in your bag and take with you when you're on the go. Get the recipe from CaitsPlate.com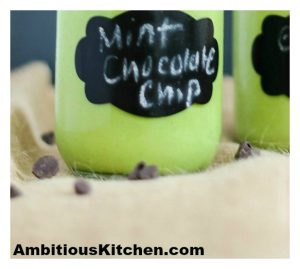 Mint Cacao Green Smoothie (270 calories)
Do you love Shamrock shakes from McDonalds? If you're nodding yes, we have the perfect healthy recipe for you. Packed with protein this shake tastes just like dessert. Get the recipe from AmbitiousKitchen.com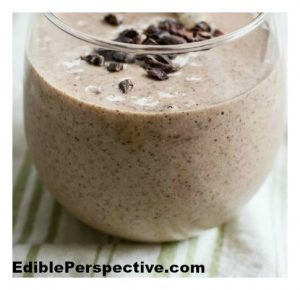 Chocolate Chip Oatmeal Cookie Smoothie (320 calories)
This smoothie is incredibly filling and thick. We suggest splitting it into 2 servings and adding fresh fruit on the side. Of course, there's no problem devouring the whole thing yourself. Get the recipe from EdiblePerspective.com
Eager for more sleep info you can really use?
Join our communities on Facebook and Twitter and let's continue the conversation.
We'd love to hear what you have to say!
This blog does not provide medical advice. It is intended for general informational purposes only and does not address individual circumstances. It is not a substitute for professional medical advice, diagnosis or treatment and should not be relied on to make decisions about your health. Never ignore professional medical advice in seeking treatment because of something you have read on Restonic.com. If you think you may have a medical emergency, immediately call your doctor or dial 911.
Get better sleep, today