---
Bedroom design begins with color – lots and lots of color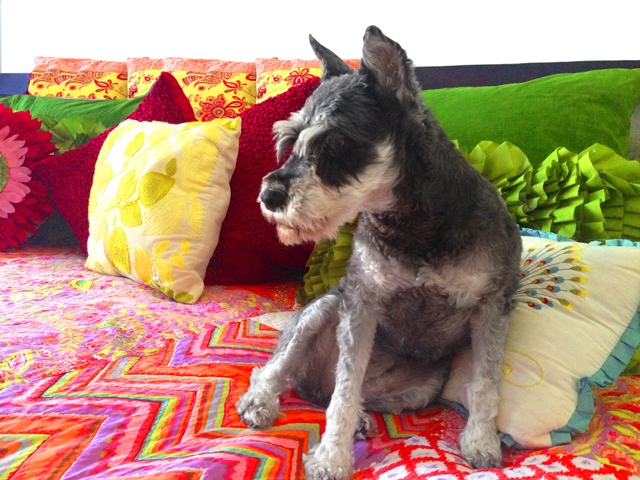 At the end of the day, climbing into bed should feel like arriving at that place where you're always welcome, where there's always a warm hug waiting for you. We believe thoughtful interior design prioritizes creature comfort most in the bedroom because it's the one place we all truly let our hair down.
As part of a new series – Bedroom Therapy – we're taking a peek at the inner sanctuaries of interior designers and design enthusiasts. Welcome to Stephen Dimmick, OWN ambassador and ETNow correspondent, dog lovin', makeup man. We love his mantra: "In all my years of creating the faces of the most beautiful women I've discovered that if you ain't a nice person, make-up won't help."
We're big fans of Stephen's fun and flirty design style and we were thrilled when he invited us into the inner sanctum of his happy place. And while he says his bedroom is pretty boring – it's decorated in pinks, oranges and greens – it's clear his seismic meter is tuned a little more colorful than most. "To make a bedroom more 'you' start with paint and cover an entire wall your fave colour. Preferably the biggest wall. If it looks terrible just repaint it," he recommended."We recently moved interstate so we're just renting and we can't change the walls and window fabrics right now –  so we're focusing on the bedding to make it special."
A beautiful bedroom begins with…
Stephen takes design beyond color and texture and says bedroom therapy begins with loving the person with whom you share the space. He says that there's no one possession in his bedroom that he couldn't live without but waking up next to the person he loves surrounded by their dogs, Ziz and Max (who is a girl despite her name) – that's what beautiful design is all about.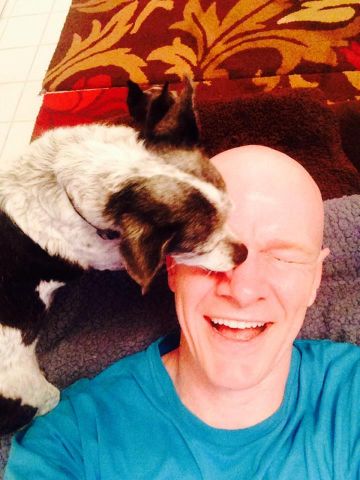 Like most people, Stephen's style has changed over the years but one thing that's remained constant is his love of a luxurious bedroom. "I've had many different bedroom styles – everything from tented ceilings and walls to midcentury modern to traditional."
And Stephen's adamant about what's allowed in the bedroom and what's not. "I use my bedroom for sleep in and nothing else," he said. "I work hard, enjoy time off and sleep because I'm exhausted – no digital devices are allowed in my bedroom."
And what about the bed?
Stephen shared that he loves a firm bed with a soft pillow top. He's a side sleeper and says that he can't sleep in any other position. And memory foam? Not a fan.
We're always eager to know if people make their bed in the morning and why. And everyone we ask shares something truly unique.
"BIG YES! It is the only way that I feel like the day has started by finishing up the night."
Eager for more sleep info you can really use?
Join our community Facebook and let's continue the conversation.
We'd love to hear what you have to say!
This blog does not provide medical advice. It is intended for general informational purposes only and does not address individual circumstances. It is not a substitute for professional medical advice, diagnosis or treatment and should not be relied on to make decisions about your health. Never ignore professional medical advice in seeking treatment because of something you have read on Restonic.com. If you think you may have a medical emergency, immediately call your doctor or dial 911.
Get better sleep, today