---
Need some holiday gift ideas? Biltmore to the rescue!
Make the holidays extra special this year and take your gift giving inspiration from one of America's most legendary homes, Biltmore. Dubbed America's largest home, construction completed in 1895 and was home to George Vanderbilt, his wife, Edith, and family. It was a hub for entertaining – a joyous place focused on togetherness and the finer things in life. Capture a bit of its enduring spirit for hospitality and warmth worthy of the Biltmore name and legacy.
A few of our favorite things from Biltmore to brighten your gift giving this holiday season
Biltmore Sleep Shippable Mattress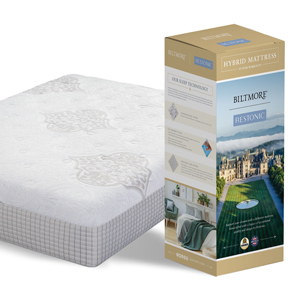 A great night of sleep is a perfect gift for anyone on your list. An elegant and luxurious mattress, it's packed with features designed to ensure the healthiest slumber. From a stay-cool luxurious knit cover to its DualEdge coil system for greater support to gel memory foam, you'll find quality worthy of the Biltmore name. What's more, the Biltmore Sleep Shippable Mattress is built to be shared, thanks to its temperature regulating features and reduction of partner motion disturbance.
Biltmore Tyrolean 3 Piece Comforter Set
George Vanderbilt and his wife, Edith, had a deep appreciation of European art and culture. It's reflected in this three-piece comforter set with delicate blue and white flowers and timeless appliqué banding. It has a sumptuous feel that invites cozying up and relaxation. Made with breathable cotton, the set elevates the look of a bedroom and transforms it instantly into something you might find in the finest hotels of Vienna. Shop now: Tyrolean 3 Piece Comfort Set
Biltmore Blue Ridge Candle
Since George Vanderbilt welcomed his first guests to Biltmore Estate in 1895, gracious hospitality has been an important focus that continues today. From the moment friends and family entered the home, they were met with a warm welcome. Today, just as it was during George's life, it's often the small touches that mean so much. This fragrant candle showcases traditional scents of orange, cinnamon and clove – a harmonious blend of citrus and space. Make it a part of the holidays as a gift for someone special in your life. Shop now: Biltmore Blue Ridge Candle
Christmas at Biltmore Wine Bundle
A holiday celebration wouldn't be complete without glasses of fine wine for toasts. This bundle includes two guest favorites. Christmas at Biltmore Red Wine is a delicately sweet, medium blend of Malbec, Cabernet Sauvignon and Zinfandel grapes that pairs well with prime rib, turkey and a luscious chocolate dessert. Christmas at Biltmore White Wine is an aromatic, semi-sweet blend of Muscat Canelli, Riesling, Albariño and Gewürztraminer grapes, ideal to enjoy with Christmas desserts or turkey. The eye-catching labels were designed by Craig Sponseller, an artist from Asheville, North Carolina. Shop now: Biltmore Wines
Biltmore™ Grown Beef
The holidays are a perfect time to enjoy the finer things in life with friends and family. Serving them exceptionally tender, well-prepared premium beef is fitting for any special occasion. These farm-to-table cuts are pasture-raised Angus beef with no added hormones – and they've been aged for 14 days to optimize flavor. Serve with Biltmore's The Hunt Bordeaux-style wine. Shop now: Biltmore™ Grown Beef
Biltmore Estate Classic Tote Bag by Dooney & Bourke
This isn't just any tote bag. It's a luxurious option anyone will be happy to carry and to use for everyday needs. The new design by Dooney & Burke incorporates some of the most stunning architectural details from Biltmore, including details found at the Lodge Gate and front door (marble lions), plus depictions of Diana, goddess of the hunt. It's reinforced with stitched leather trims, and plenty of pockets to carry all the essentials. Shop now: Biltmore Estate Classic Tote Bag by Dooney & Bourke
Crislu Charms
Get personal this holiday season. These Crislu Sparkling Initial Charms have plenty of shimmer to catch the attention of the special women in your life – mom, sister, niece, aunt, grandma and best friends. They're available in gold, rose gold and silver tones to suit a wide range of personal preferences. Smart tip: buy one for yourself, too. Once you see the beauty of these charms, you'll covet it. Shop now: Crislu Charms
Unframed 8X11 St. Nicholas Visits Biltmore Giclée Print
George Vanderbilt spent much of his life traveling and collecting artwork from around the world. The Biltmore Shop makes growing your personal art collection an easier process by offering this festive print of an original colored pencil drawing from Teresa Pennington. She's worked with Biltmore for more than 20 years to capture its beauty. The print is ready to frame and depicts St. Nicholas and his reindeers in front of the property on a beautiful snowy day. Shop now: Biltmore Art
Biltmore Legacy Ornament Set
Christmases at Biltmore have always been legendary down to the smallest details. Decking the halls in grand style created an inviting environment, ready for a celebration. Your holiday tree can capture a bit of that glamour with a jewel-toned and gold ornament sets in a range of elegant colors and shapes – 35 pieces in all, which is enough to add plenty of dazzle for the duration of the season. Shop now: Biltmore Legacy Ornament Set
Biltmore Estate Official Puzzle
Over the last couple of years, Americans have returned to simple pleasures that can be shared with their families. Jigsaw puzzles are an ideal way to bring people together. Try this 1,000-piece puzzle that features the graceful elegance of Biltmore, built by architect Richard Morris Hunt. As you assemble your puzzle together, you'll have a chance to dwell on some of the property's most beautiful details. Shop now: Biltmore Estate Official Puzzle
Candlelight Expert-Guided Tour of Biltmore
Whether you're visiting Biltmore in person for the very first time or you're a repeat guest, a candlelight tour of the property is a magical holiday experience. With an expert guide, you'll find inspiration in the spectacular seasonal décor and hear heart-warming stories from Christmases past. It's a 90-minute tour available until January 9, 2022. For fans of history, architect and the arts, tickets for this experience make a truly memorable gift. Shop now: Biltmore Tours
Rest well & wake up ready to go!
Better sleep gives rise to better mornings, bringing your goals into focus and dreams within reach. Hungry for more sleep info? Dig into these posts:
Eager for more sleep info you can really use?
Join our community Facebook and let's continue the conversation.
We'd love to hear what you have to say!
This blog does not provide medical advice. It is intended for general informational purposes only and does not address individual circumstances. It is not a substitute for professional medical advice, diagnosis or treatment and should not be relied on to make decisions about your health. Never ignore professional medical advice in seeking treatment because of something you have read on Restonic.com. If you think you may have a medical emergency, immediately call your doctor or dial 911.
Duerme mejor, hoy mismo