---
Breakfast recipes generously shared by Biltmore chefs
At Biltmore, George and Edith Vanderbilt began each morning with a healthy, delicious breakfast. Guests and family came to stay and play, enjoy the extensive grounds, the indoor pool, a well-stocked library, elegant rooms, and a welcome as inviting as the house itself. Their home, America's Largest Home®, in Asheville, North Carolina was built in 1895 in French Renaissance-style and set the standard for gracious hospitality that's legendary to this day.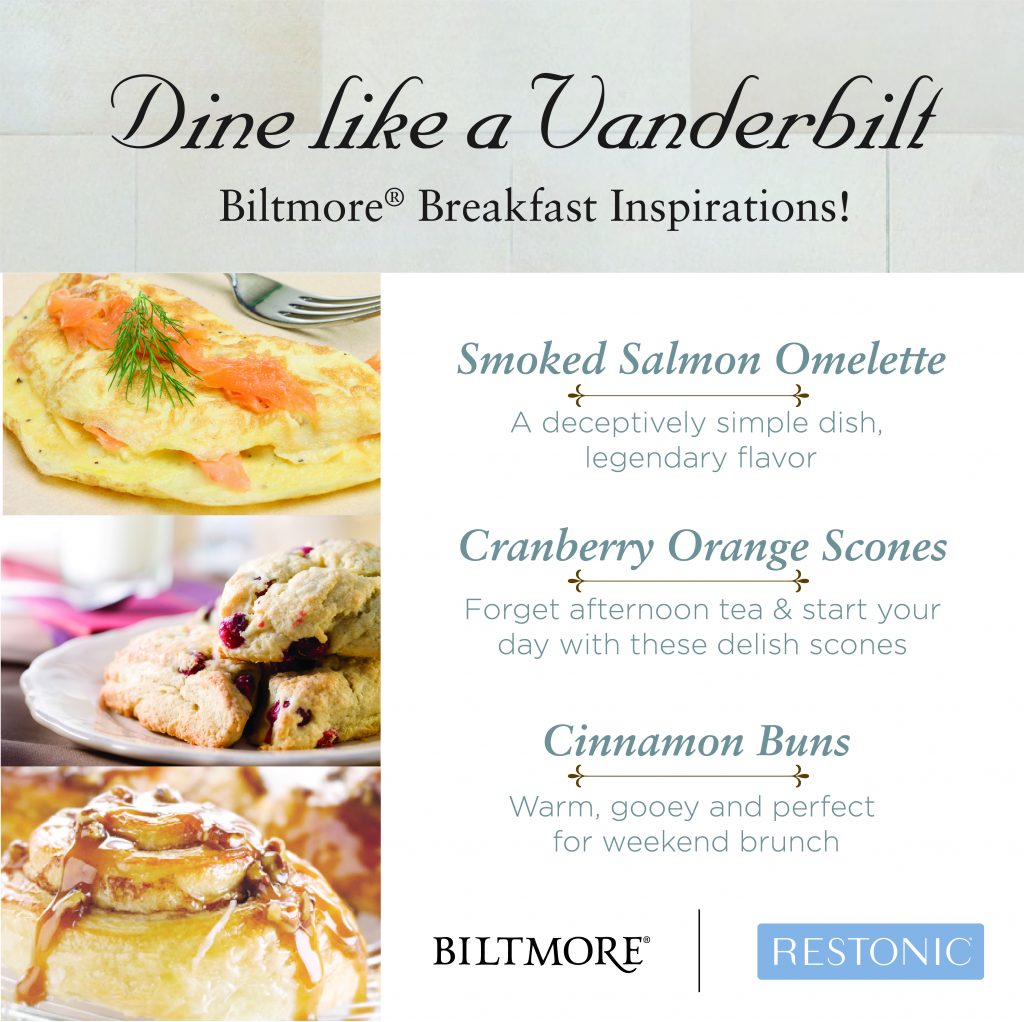 One of our favorite rooms in Biltmore House is the gorgeous Breakfast Room, wrapped in embossed leather and adorned with a grand fireplace. George enjoyed traditional fare for breakfast – omelets, shirred (baked) eggs, fried ham, bacon and potatoes, accompanied by a café au lait. Breakfast was a casual affair, guests helping themselves to an ample buffet laid out on the sideboard. Offerings often included a variety of meats, eggs prepared several ways, baked goods such as biscuits or scones, fish or other seafood, seasonal fresh fruits and vegetables from the estate farms, plus coffee or cocoa.
While the Breakfast Room was a work of art, some visitors chose to dine privately in their rooms – and given the attention to detail of each Biltmore bedroom, we can understand that choice as well. Each of the 35 bedrooms were artfully decorated with lavish drapery, ornate finishes, fine china, luxurious linens and well-appointed furnishings, which made them comfortable spots for sleeping and casual dining as well.
While most of us don't live in elegant mansions like Biltmore, we can borrow breakfast inspiration from the Vanderbilt way of living. On days when you're not rushing out the door to drop the kids off at school or get to work, take time to set your breakfast table with fine china, an eye-catching tablecloth and fresh flowers. Then enjoy one of these breakfast recipes, generously shared by Biltmore chefs.
Smoked Salmon Omelet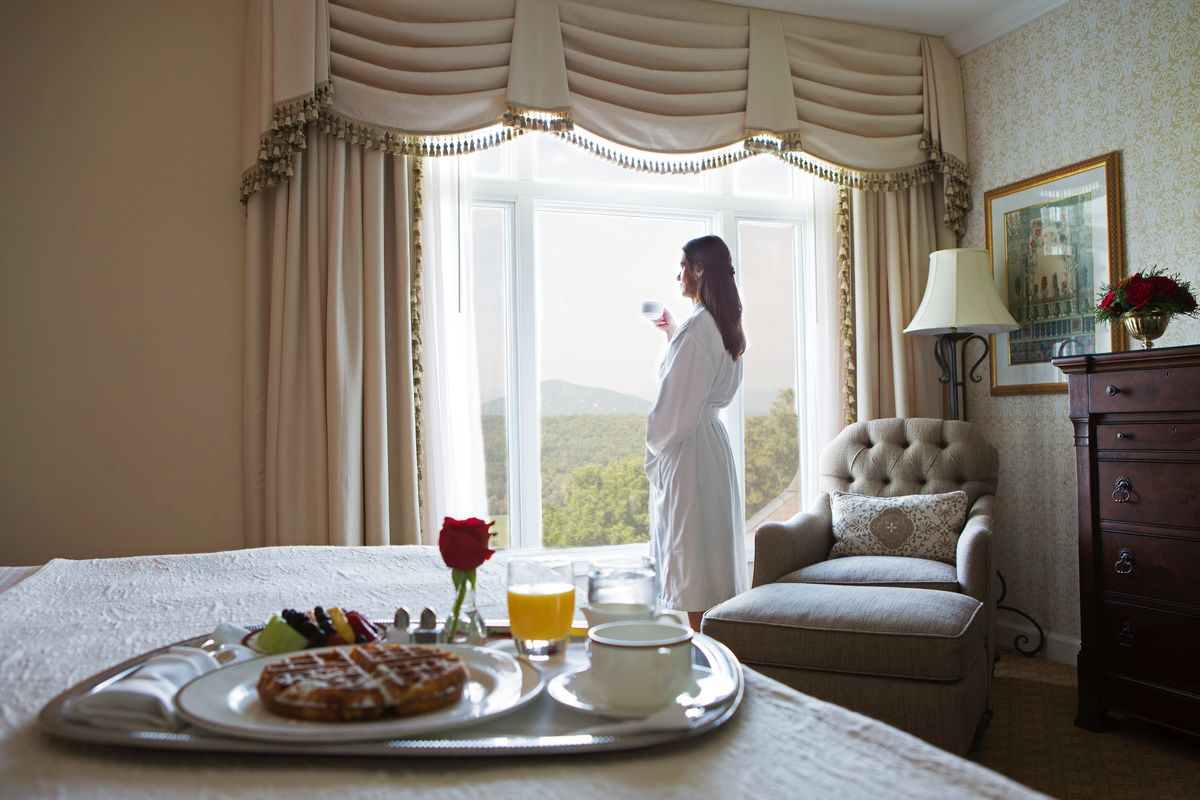 Surprise someone special with a delicious dish they'll never forget! This omelet is simple to make, yet tastes as if you had a chef do all the work. Preparation time: 10 minutes. Serves 2.
Ingredients
1/2 cup sour cream

1 tablespoon stone-ground mustard

1 tablespoon chopped fresh dill

2 sprigs fresh dill

1 ounce cream cheese

4 eggs

2 ounces Biltmore Smoked Salmon
Preparation Instructions
In a small bowl, stir together sour cream, mustard, and dill; set aside. In a small bowl, stir together the cream cheese and chopped smoked salmon. Spray an 8-inch nonstick pan with cooking spray. Heat pan over medium heat. Add 1/2 of the beaten eggs and cover. Cook 2-4 minutes or until egg has set. Spoon 1/2 of salmon mixture onto half of omelet (away from handle). Fold over and onto plate. Repeat with the remaining egg and salmon mixture. Drizzle the dill cream mixture over the two omelets and garnish with fresh dill sprig.
Cranberry Orange Scones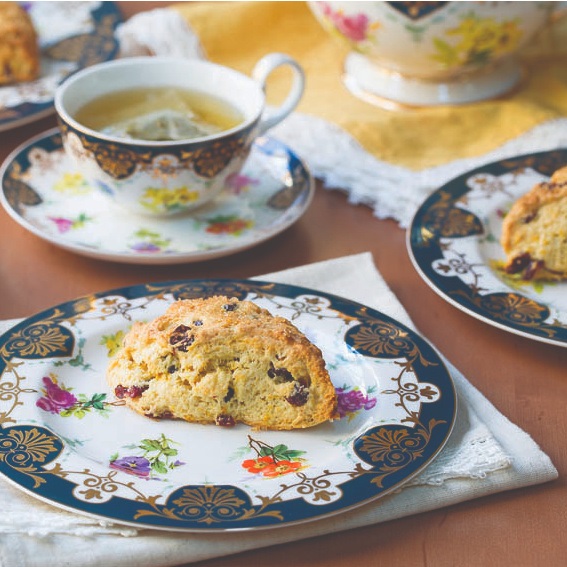 Enjoy your coffee or tea with these delicious scones, served in a classic Vanderbilt Tea Set. Bliss.
Preparation time: 30 minutes. Serves 8.
1 1/2 cups all-purpose flour
1/4 cup sugar
1 tbsp orange zest
1 1/2 tsp baking powder
1/4 tsp baking soda
1/2 tsp salt
1/2 cup (1 stick) butter, lightly softened
2/3 cup dried cranberries
1 egg
1/4 cup orange juice (approx.)
1 tsp vanilla extract
Sugar for sprinkling
Preheat oven to 450°F. Combine the flour, sugar, orange zest, baking powder, baking soda, and salt in a bowl. Mix well. Process or cut in the butter until the mixture resembles coarse crumbs. Stir in cranberries.
Beat the egg in a 1 cup measuring cup. Add enough orange juice to measure 1/2 cup. Add the vanilla. Stir the liquid into the flour mixture just until moistened.
Place the dough on a floured surface. Knead 8 to 10 times. Shape into a 10-inch circle. Cut into wedges or into rounds with a 2 1/2-inch biscuit cutter. Place on a greased baking sheet. Sprinkle with additional sugar. Bake for 12 minutes. Reduce oven temperature to 400°F, bake for 5 minutes longer or until golden brown.
Cinnamon Buns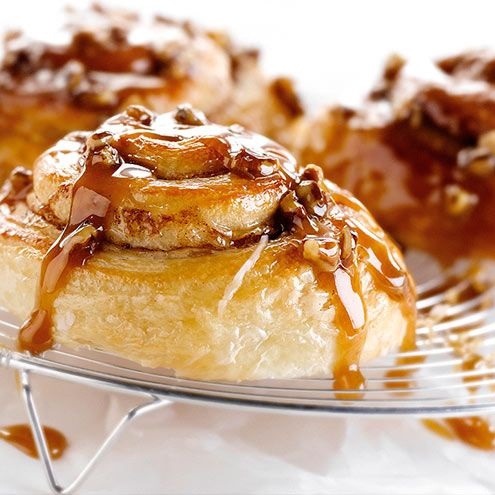 These warm and gooey breakfast treats are sure to have everyone rising and shining.
Preparation time: 25 minutes. Cook time: 35 minutes. Rising time: 1.5 hours. Serves 12.
1 1/2 cups warm water
1 3/4 cups sugar
1 envelope (2 1/4 teaspoons) quick-rising dry yeast
1 tbsp vegetable oil
1 tsp salt
3 1/2 cups (or more) all-purpose flour
1 cup (2 sticks) unsalted butter – softened
2 tbsp cinnamon
Optional: Caramel topping and pecans for garnish
Mix the warm water and 1/4 cup sugar in a large mixing bowl. Sprinkle the yeast over the mixture and let stand until foamy. Stir in the oil and salt. Add the flour 1 cup at a time, mixing constantly with a dough hook on a stand mixer to form a soft dough. Add additional flour if the dough is sticky.
Knead the dough for 10 minutes or until smooth and elastic. Place in a lightly oiled bowl, turning to coat the surface. Let stand, covered with plastic wrap and a towel, in a warm place for 1 hour or until doubled in bulk.
Roll the dough gently to a 10 x 16-inch rectangle on a floured surface. Mix the butter, cinnamon, and 1 1/2 cups sugar in a bowl and beat until smooth. Spread 1 cup of the butter mixture over the dough with a spatula. Roll the dough to form a log, enclosing the butter mixture; pinch the ends and seam to seal. Spread the remaining butter mixture in a 10 x 15-inch baking pan. Cut the log crosswise into 12 portions. Arrange evenly with the cut sides down in the prepared pan. Cover with plastic wrap and let rise for 30 minutes or until puffed.
Preheat the oven to 325°F. Bake rolls for 35 minutes or until golden brown. Loosen the rolls from the edges of the pan with a sharp knife and place a large baking sheet over the pan. Invert the rolls onto the baking sheet. Serve warm. Optional: Drizzle with caramel topping and garnish with chopped pecans.
Rest well & wake up ready to go!
Better sleep gives rise to better mornings, bringing your goals into focus and dreams within reach. Hungry for more sleep info? Dig into these posts:
 Biltmore® and images of Biltmore House are trademarks of The Biltmore Company, and are used by Restonic® under license. ©2020 all rights reserved.

Eager for more sleep info you can really use?
Join our community Facebook and let's continue the conversation.
We'd love to hear what you have to say!
This blog does not provide medical advice. It is intended for general informational purposes only and does not address individual circumstances. It is not a substitute for professional medical advice, diagnosis or treatment and should not be relied on to make decisions about your health. Never ignore professional medical advice in seeking treatment because of something you have read on Restonic.com. If you think you may have a medical emergency, immediately call your doctor or dial 911.
Duerme mejor, hoy mismo