---
Spending time in nature may be the key to sweeter sleep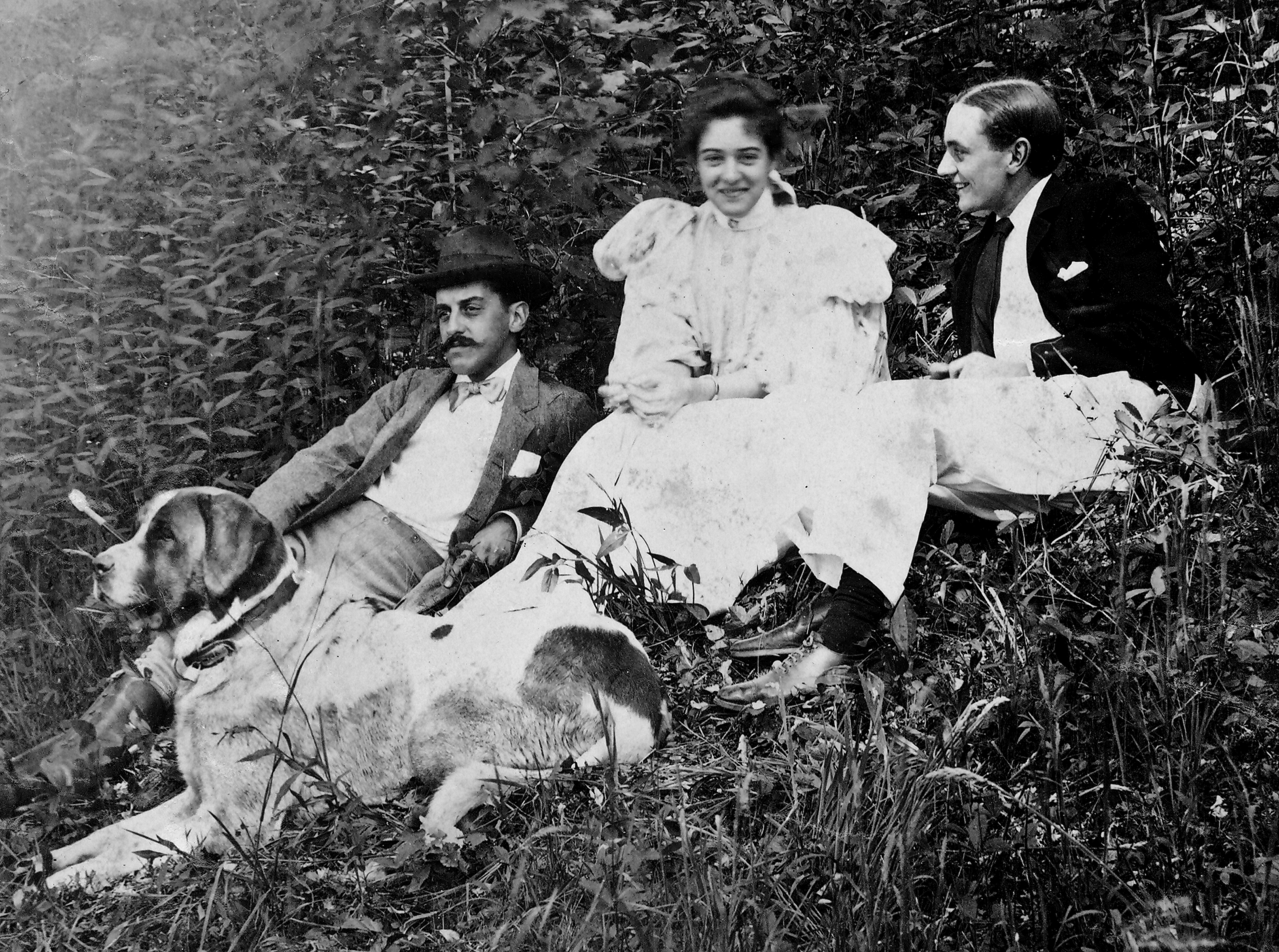 George Vanderbilt, the youngest of 8 children, fell in love with the Blue Ridge Mountains surrounding Asheville, North Carolina, during summer trips with his mother. A New York socialite, she traveled to the area, believing the clean, clear mountain air would revitalize her health. Little did she know those summer trips with her son would inspired the birth of an American legacy.
During the late 1800's construction of Biltmore, George focused as much on the outdoor spaces as he did the indoor decor. He officially opened the house Christmas, 1895 and his New Year's celebrations included a "further period of recreation in the mountains," according to the New York Times. "The festivities will broaden towards the close of the week, when a large company of Mr. Vanderbilt's New York friends will be his guests for, perhaps, ten days.  The time will be spent in coaching parties, hunting, fox hunting, quail shooting and fishing."
In his lifetime, the property consisted of approximately 125,000 acres (195 sq. miles). And its great expanse provided the Vanderbilt family, as well as guests, a rich smorgasbord of outdoor recreation activities.
The connection between outdoor activities & healthy sleep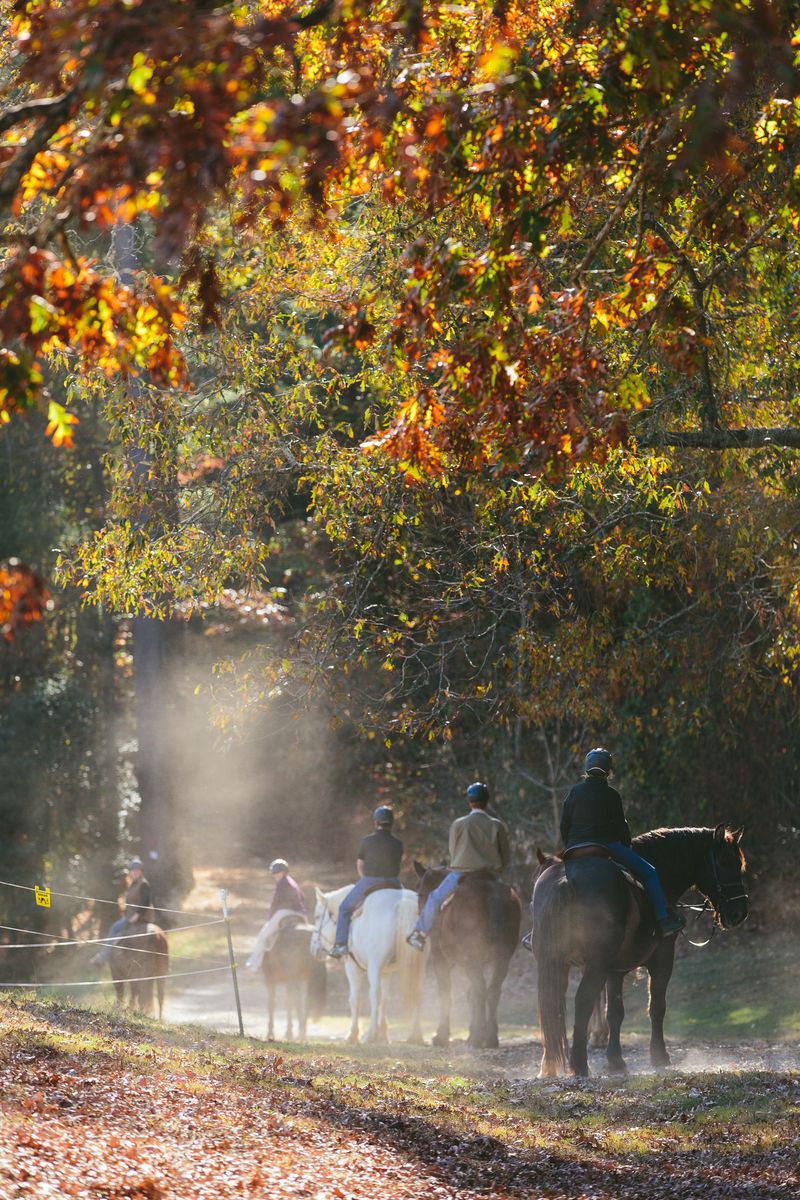 Archival photographs and correspondence saved over time, showed that the simple act of being outdoors was treasured by the Vanderbilts and their visitors. If Biltmore guests enjoyed organized sports, they could try their hand at tennis or croquet in the Italian Garden, archery or a friendly lawn bowling match on the South Terrace. Exploring the estate by walking, hiking, boating, fishing, horseback riding and bike riding were also favored options.
Early on in the history of Biltmore, George personally oversaw the creation of a number of trails. By 1905, Dr. Carl A. Schenck, Chief Forester for Biltmore, reported there were 37 miles of main roads, 43 miles of by-roads and 198 miles of bridle trails within Pisgah Forest. It might surprise many to know that not only did George use all those trails, he enjoyed camping overnight in the forest. From his letters, we know he was happy and content surrounded by the beauty and peacefulness of the outdoors. Though he was a very wealthy man, he enjoyed sleeping on a cot in a modest tent and pitched in to do his share of chores with fellow campers.
But what do the beautiful and expansive grounds of Biltmore have to do with a good night's sleep?
It would be many decades until research confirmed what the owner of Biltmore had discovered: spending time outdoors has a positive impact on our emotional and physical health, as well on our sleep quality. Those camping trips George enjoyed so much would have likely lowered his cortisol levels, a hormone that's produced by the body when stress is present. And according to research, lower cortisol levels also help decrease heart rates. A more relaxed mind and body during the day  promotes good quality sleep at night.
A simple stroll in the woods, potentially powerful benefits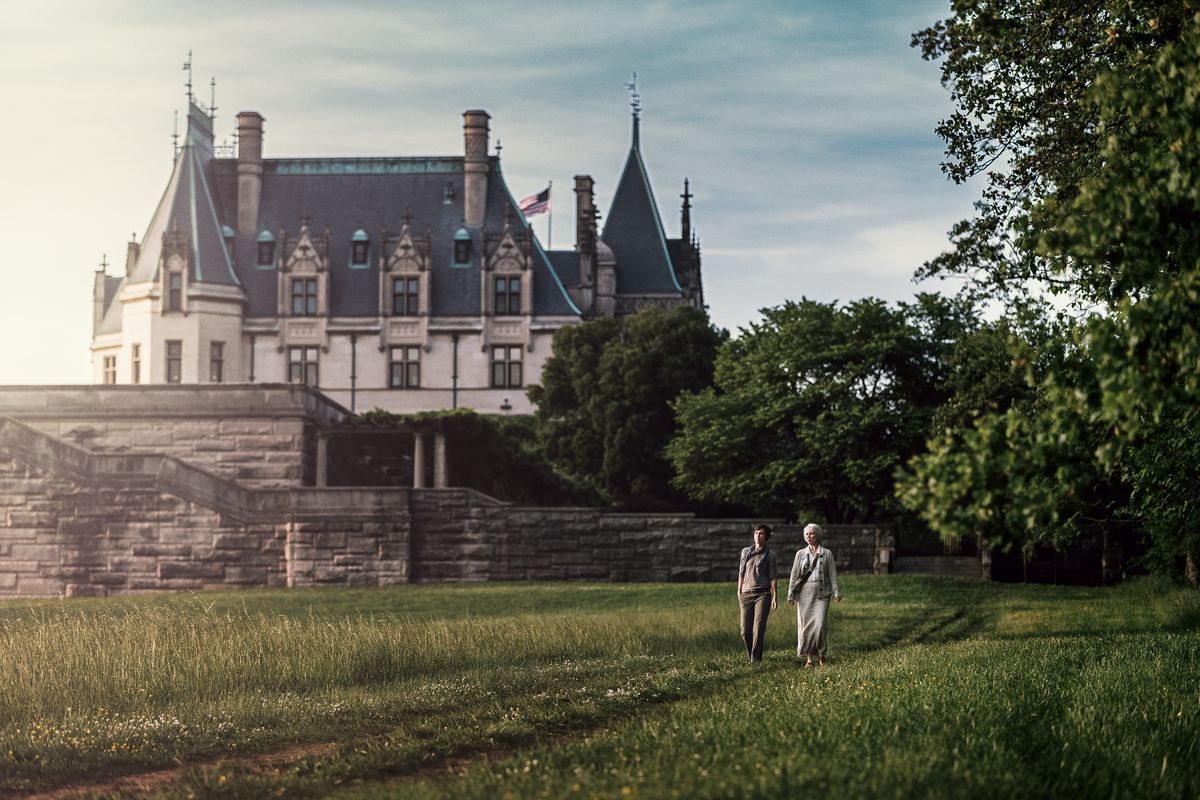 A University of Michigan study shows that a short nature walk can measurably improve memory. Other scientists have determined that it can ease mental fatigue and help boost mental energy. Anxiety, depression and various mental health conditions have been found to be eased by time in nature, especially when coupled with exercise, data confirms. Can't get outside for a walk? Some research has shown that just looking at photos of nature could have the same effect.
The Japanese have a term for spending time in the woods – shinrin-yoku, or forest bathing – and it's the latest "new" health trend. Practitioners slowly explore the forest and use all their senses to note their surroundings in a mindful way. One Japanese study found that the practice has the potential to slow heart rates and lower blood pressure. People practicing "nature therapy" boosted their creativity and problem solving abilities by 50%, just by immersing themselves in nature for a four-day period.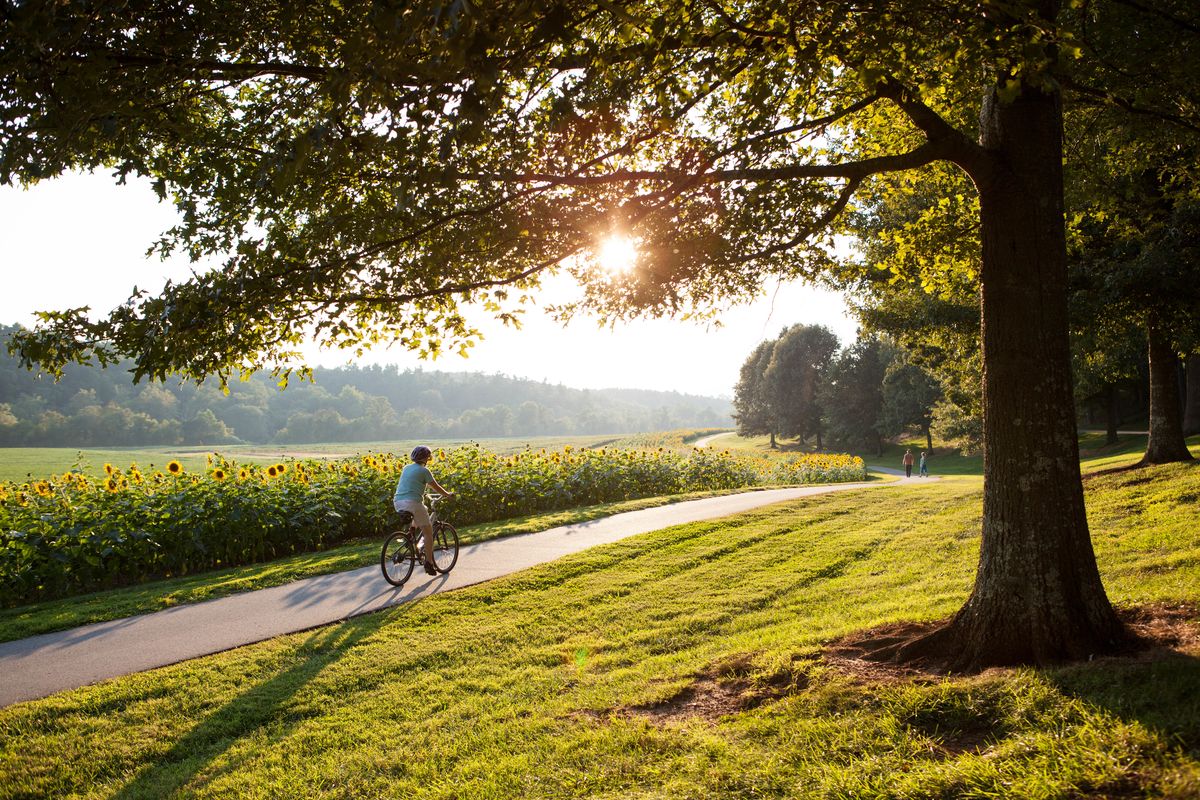 Unfortunately, as Americans, we spend 93% of our days indoors, and as much as 10 hours a day staring at a screen (smart phone, TV, eReaders…) — much more than we sleep, according to a study published in the Journal of Exposure Science & Environmental Epidemiology. That underscores the importance of getting outside to reap its wellness benefits.
Dr. Qing Li, a renowned expert on forest bathing, wrote: "Wherever there are trees, we are healthier and happier." In one of his scientific studies, he examined middle-aged office workers in Tokyo to see whether exposure to nature could help improve overall sleep quality. There was a significant improvement for participants who walked in the forest, especially in the afternoon.
Exploring the beautiful outdoors of modern day Biltmore
If you've ever visited Biltmore, you'll understand how easy it was for George Vanderbilt to fall in love with the area, more than 100 years ago. And if you're planning to visit Biltmore soon, be sure to set aside time for a healthy leisurely outdoor walk or challenge yourself with a hike, trail run or bike ride.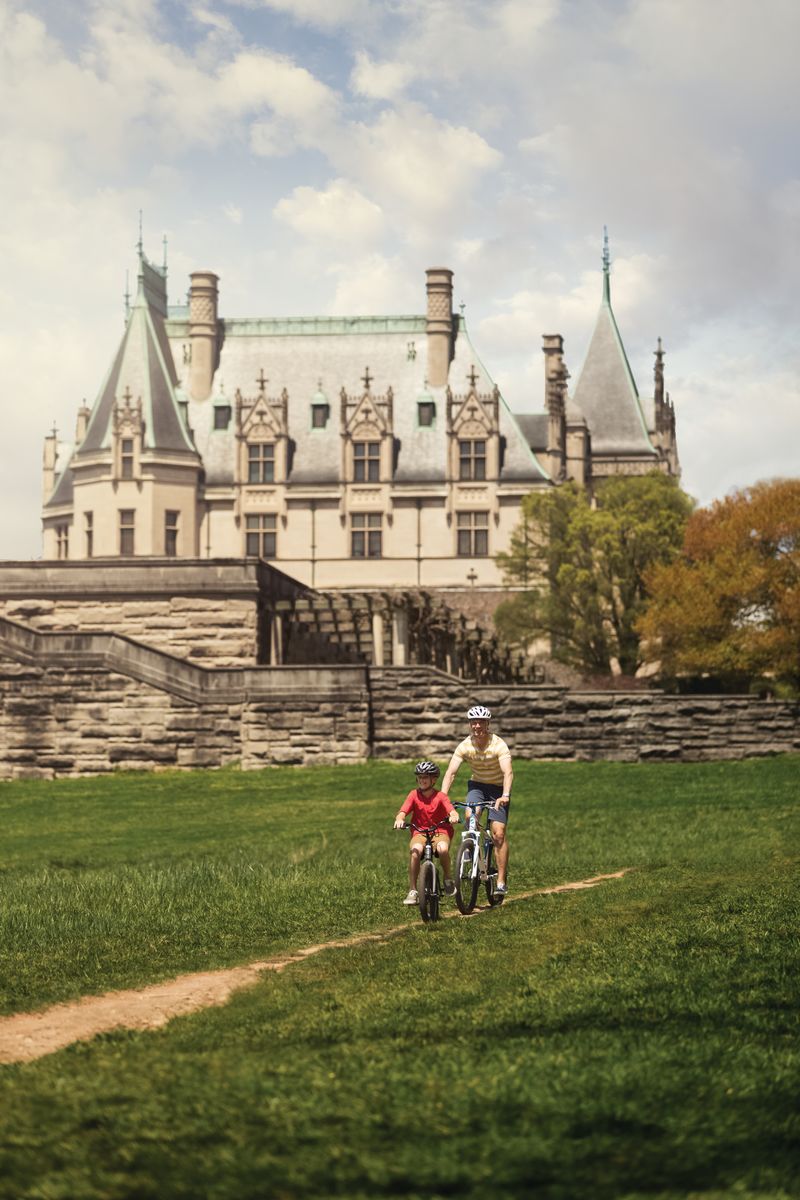 Explore the historic gardens at your own pace and take in the beauty of the seasonal blooms along the paths that stretch over one to two miles, depending on the route chosen. Or follow a paved path to see the dramatic blossoms of the Azalea Gardens in the summer, then stroll to the Bass Pond Waterfall and soak in the views over the pond on one of the benches provided.
Get your heart rate up with a moderate or more difficult path, courtesy of challenging, scenic terrain. The Farm Trail takes you around the perimeter of Biltmore and the French Broad River for six miles. Meanwhile, the beautiful Westover Trails winds through the woodlands and narrows to take you up steep inclines.
No matter which direction you head – or the pace you set – you can be assured of enchanting views and inviting green spaces. And you'll also develop a new appreciation of the natural landscapes of this spectacular, iconic American property and all the potential health perks that Mother Nature offers.
More than a century ago, sleep quality was as important to the Vanderbilts as it is to us today. If you'd like to take a little piece of Biltmore home with you, Restonic's Biltmore Mattress Collection is inspired by the Vanderbilts' commitment to quality and comfort, each one designed to elevate the art of sleep. They understood the role that healthy, restorative sleep played in a life well lived. It's a tradition worth celebrating every night.
Rest well & wake up ready to go!
Better sleep gives rise to better mornings, bringing your goals into focus and dreams within reach. Hungry for more sleep info? Dig into these posts:
Biltmore® and images of Biltmore House are trademarks of The Biltmore Company, and are used by Restonic® under license. ©2020 all rights reserved.
Eager for more sleep info you can really use?
Join our community Facebook and let's continue the conversation.
We'd love to hear what you have to say!
This blog does not provide medical advice. It is intended for general informational purposes only and does not address individual circumstances. It is not a substitute for professional medical advice, diagnosis or treatment and should not be relied on to make decisions about your health. Never ignore professional medical advice in seeking treatment because of something you have read on Restonic.com. If you think you may have a medical emergency, immediately call your doctor or dial 911.
Get better sleep, today