---
Biltmore's top dog & lessons history can teach us about modern-day pet ownership
Guests of Biltmore – both past and present – are as likely to recognize Cedric as they are George Vanderbilt. And with good reason: George's loyal companion, Cedric sported a striking two-tone look – brown ears with a streak of white that trailed from his forehead to separate his soulful eyes before expanding into a larger area of white around his nose. Modern-day guests can see a bronze statue of him in Antler Hill Village on Biltmore Estate or visit the tavern named in his honor.
Cedric & George: the story behind the friendship
There are pictures of George and Cedric together in Bar Harbor, Maine in 1894 and when George brought Cedric to Biltmore in 1895, he was already an important, much-loved member of the family. Although George owned other dogs (especially Iwan, a Russian wolfhound from family friend, Paul Leicester Ford) Cedric was a close daily companion and in attendance for the family's special occasions. When George and Edith planted a cucumber magnolia tree in the gardens below Biltmore House to commemorate the birth of their daughter, Cornelia, Cedric was there. A private family event, the only others in attendance were Cornelia's nanny, Dr. Westray Battle (attended Cornelia's birth) and family friend, Chauncey Beadle. In 1902 (the year Cedric passed away) a family of St. Bernards roamed the house – a mother, father (Cedric) and three pups.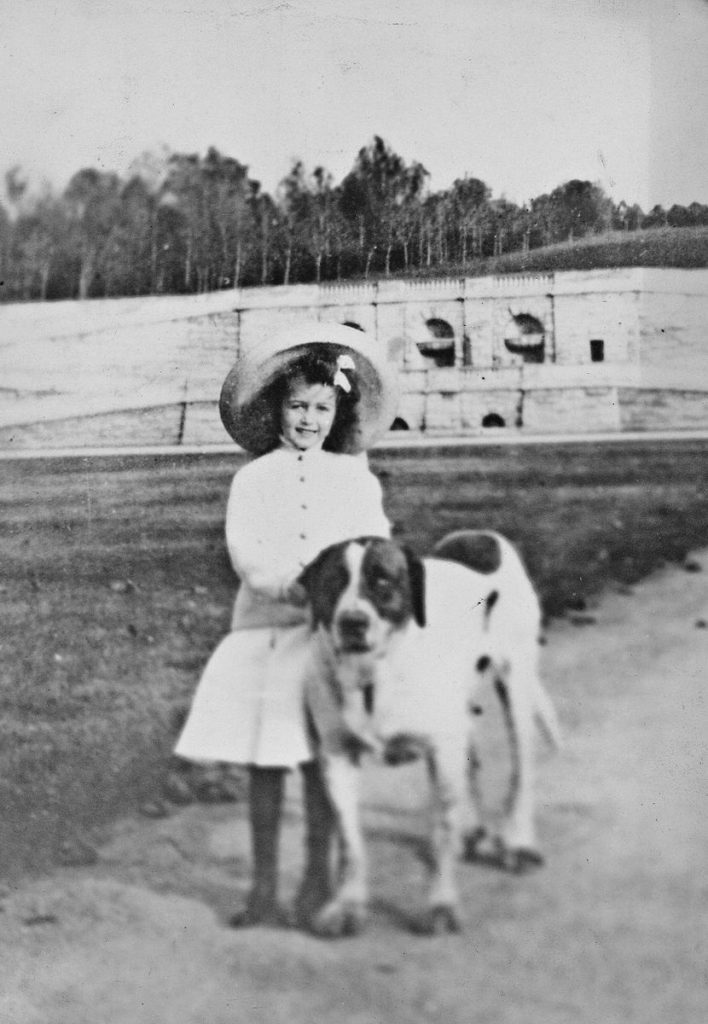 During a visit to Biltmore, Joseph Hodges Choate, American Ambassador to Great Britain, wrote his wife: "I shall not attempt to describe the house, which is obviously the finest in America, but the dogs are truly magnificent, and the baby a very lovely one – now six months old…  I wish you could see these great St. Bernards – five of them, father, mother and three children, all big and splendid. They seem to fill the billiard-room and are most affectionate."
George's affinity for his beloved Cedric is captured in archived pictures and letters as well as oral history. Though we can't be sure Cedric didn't sleep in the family's beds, the sheer size of the breed suggests it's unlikely. St Bernards are large, muscular dogs that can grow upwards of 180 pounds – the size of a full grown man. We do know that George allowed Cedric free reign over the main floor of Biltmore, where he often napped in the sun on the Loggia (the balcony running parallel to the Tapestry Gallery). True to a St. Bernard's social nature, Cedric seems to have preferred companionship and would join his master and guests in the Library or Billiard Room.
Whether you share your life with a beautiful dog like Cedric – or another kind of pet – you may be wondering about the health benefits and risks of sharing your bed with your furry friend. For some animal owners, a bit of lost sleep pales in comparison given the benefits of having their pet snoozing nearby. It's comforting and provides company as well as a sense of security.
What does science say about letting our pets sleep with us?
A study from the Mayo Clinic suggests that a dog's presence in the bedroom may not be as disruptive to human sleep as previously thought. Study co-author Lois Krahn, M.D. said, "Most people assume having pets in the bedroom is a disruption. We found that many people actually find comfort and a sense of security from sleeping with their pets." The study did find, however, that sleep efficiency was lower if pet owners allowed their pet to sleep on their beds.
Another study—this one by the American Pet Products Association—reveals how common it is for people to sleep with their pets. The survey found for dog owners, 62% of small dogs sleep with them, followed by 41% of medium-sized dogs and 32% of large dogs. The percentage is even higher for cat owners with 62% of cats sleeping with their owners, and another 13% sleeping with children.
While it can be comforting to sleep with a pet, there are still legitimate concerns that cats and dogs can be disruptive to sleep. Cat owners know the pain of sharp claws digging into their ankles and toes when rolling over in the middle of the night. Additionally, the cleanliness of the pet needs to be considered before allowing it to share your sleeping space. Is your pet free from free from parasites, fleas, ticks or staph infections? There are also risks of coming into contact with fecal matter, which can transmit parasites and bacteria like salmonella and E.coli.
"There's a reason your vet wants to see your pet every year," explains Dr. Ann Hohenhaus of the Animal Medical Center in New York City. "A vet wants to keep the pet healthy and identify risks so you don't get sick too. But with the average, healthy pet, there is a low risk they will spread an illness to a person."
Who should avoid sleeping with a pet?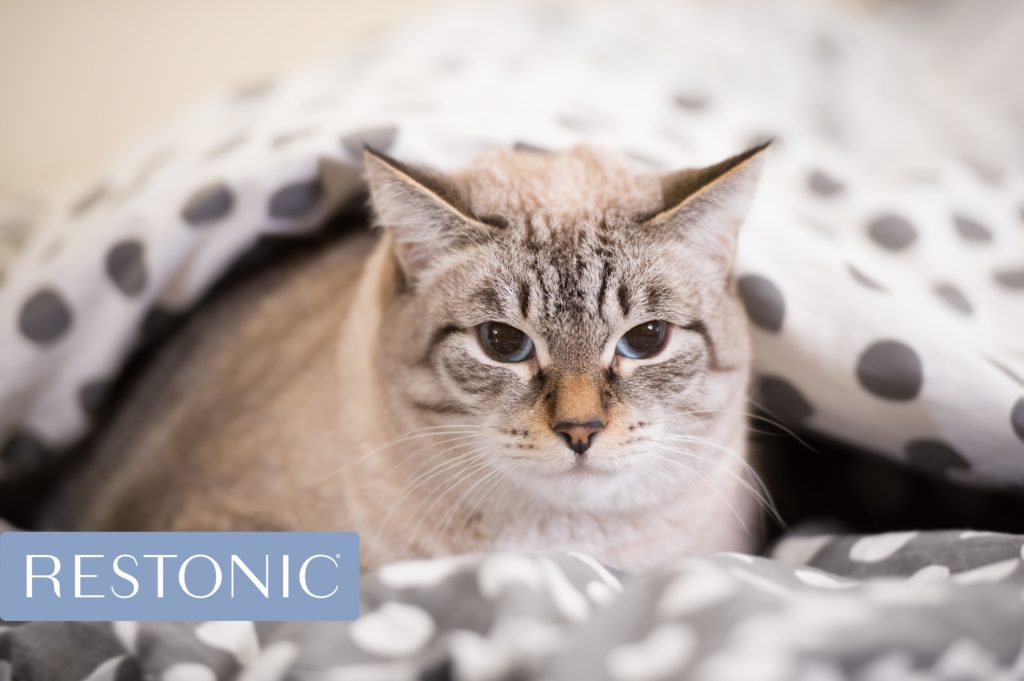 Even with a healthy pet, there are some people who should never sleep with an animal. Some medical experts say children aged 6 or younger need to sleep without their pets joining them. Veterinarian Carol Osbourne of the Chagrin Falls Veterinary Center & Pet Clinic in Ohio says, "Before a child should sleep alone with a pet, it's my opinion they should show that they can handle the responsibility. A parent should monitor a child to make sure they use good judgment when they feed, water, or walk it. That's very important."
Others who might need to avoid sleeping with a pet include:
It's a personal decision, based on many factors, whether to cuddle up with your pets for a night's sleep. Talk with your primary care physician and your veterinarian to make the best decision for you and your favorite furry friend.
Rest well & wake up ready to go!
Better sleep gives rise to better mornings, bringing your goals into focus and dreams within reach. Hungry for more sleep info? Dig into these posts:

Eager for more sleep info you can really use?
Join our community Facebook and let's continue the conversation.
We'd love to hear what you have to say!
This blog does not provide medical advice. It is intended for general informational purposes only and does not address individual circumstances. It is not a substitute for professional medical advice, diagnosis or treatment and should not be relied on to make decisions about your health. Never ignore professional medical advice in seeking treatment because of something you have read on Restonic.com. If you think you may have a medical emergency, immediately call your doctor or dial 911.
Duerme mejor, hoy mismo