---
From Justin Bieber's fave to Cap'n Crunch's full name, these surprising trivia facts about breakfast cereal are simply, "Grrrrr-eat!"
America's love of breakfast cereal runs deep. The average person eats the equivalent of 14 pounds of the stuff each year. Whether you adore Tony the Tiger or the Snap, Crack and Pop trio of characters, you've likely spent a portion of your life staring into a milk-filled bowl of cereal at the breakfast table.
While morning has been the traditional time for it, many cereal enthusiasts refuse to be boxed in by convention and enjoy it all times of the day. Fans of the TV show Seinfeld will recall that Jerry always had his cupboards stocked with multiple varieties, including Kix, Life, Special K, Cornflakes and Reese's Peanut Butter Puffs. The comedian confessed to his fascination saying: "Cereal. It's just one of the funniest things. It's candy masquerading as food. What a racket."
If your breakfast obsession hits Seinfeld-esque heights, you'll appreciate this fact-filled guide to all things cereal, from top cereal-centric eateries to factoids sure to amuse even the most casual cereal enthusiast.
Cereal facts by the numbers
5,000+ – Number of breakfast cereals sold in the U.S.
$496.6 million – Sales of General Mills Honey Nut Cheerios in 2017, making it the second-best selling cereal in the U.S. (Private labels were no. 1.)
$9.8 billion – Estimated total U.S. sales of breakfast cereals in 2017.
6% – The total volume of sugar in Kellogg's Honey Smacks. A one-cup serving has more sugar than a Twinkie.
14 pounds (6.4 kg) – Average annual consumption of breakfast cereal per capita in the U.S.
2,480 pounds (1,125 kg) – The weight of the world's largest Rice Krispie Treat created by students at Iowa State University.
Tasty trivia every cereal lover can savor
Granola became the first, ready-to-eat, cold breakfast cereal, invented in 1863 by James Caleb Jackson.
James Kellogg (last name sound familiar?) launched cornflakes in 1895 in Battle Creek, Michigan. It quickly became a staple for patients of the Western Health Reform Institute who followed a strict vegetarian diet.
Charles Post (also a familiar name) launched Grape-nuts cereal in 1898, a result of being inspired by his stay at the Western Health Reform Institute. Incidentally, his creation does not contain any grapes or nuts.
"The eighth wonder of the world" was the phrase used to describe a process discovered in 1901 that could cause rice grains to explode under pressure, creating puffed wheat and puffed rice.
Wheaties became the "breakfast of champions" in the 1930s after creator James Ford Bell leaned heavily on advertising and endorsements from top athletes.
Staffers from Kellogg's own home economics department came up with Rice Krispie Treats in 1939 to raise funds for Camp Fire Girls. The idea struck a chord and has stuck around every since.
Cheerios was originally called "CheeriOats" when introduced in the 1940s. The name change worked! It became a top seller.
Convenience foods became all the rage after the Second World War, which helped spur cereal sales and new brands, including Frosted Flakes promoted by Tony the Tiger. He once had a sidekick called Katy the Kangaroo, but she was phased out.
Celebrities adore breakfast cereals and aren't shy about showing their love, including Jay-Z (Cap'n Crunch Berries), Rihanna (Golden Grahams), Taylor Swift (Cinnamon Toast Crunch), Justin Bieber (Frosted Mini Wheats), Miley Cirus (Frosted Flakes), Lady Gaga (Honey Nut Cheerios) and LeBron James (Fruity Pebbles).
Horatio Magellan Crunch is the full name of Cap'n Crunch's mascot, introduced along with the cereal in 1963.
6 must-visit destinations for breakfast cereal connoisseurs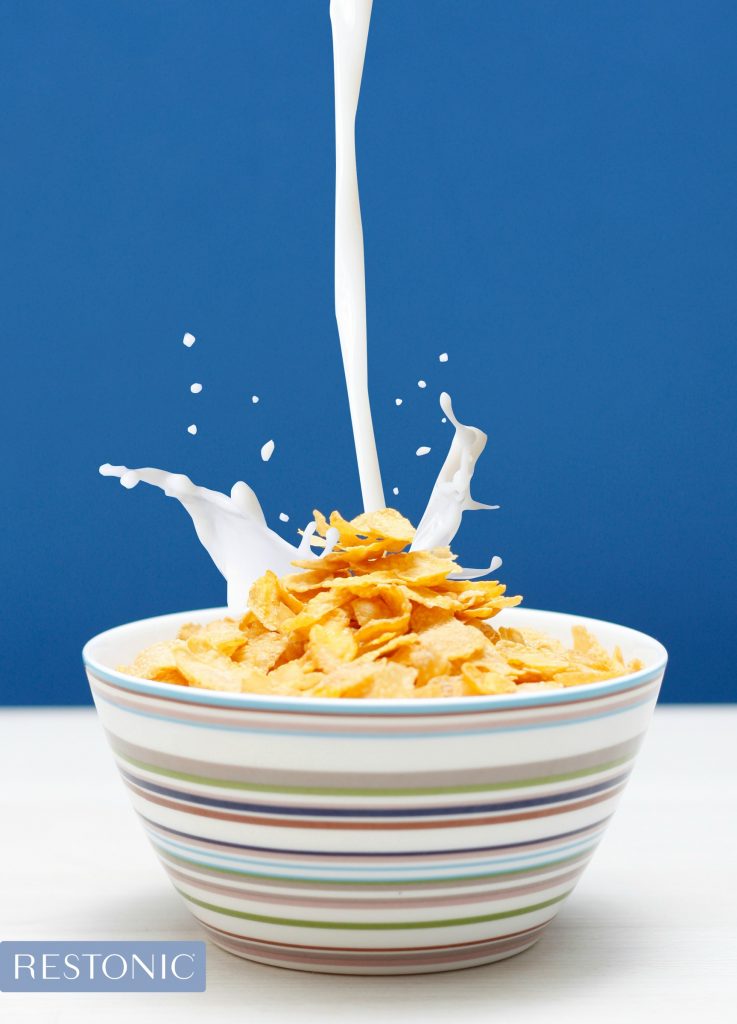 Cereality Cereal Bar & Café, Richmond, Virginia – Pajama-clad cereologists help guests create the perfect combination of cereals in a box to go and will add healthy and not-so-healthy ingredients to suit, from cranberries to chocolate. Customers add their own milk to ensure perfection.
Kith Treats, New York City (two locations), Miami and Tokyo – Put a new spin on your favorite cereal by having them whipped up into a milkshake, swirled into ice cream and served straight up in a commuter bowl. The NYC outlets feature 23 types of cereal and 21 mix-in ingredients to create a potential 615,790,300,000 billion combinations, according to the company's website.
Cereal Killer Café  – This chain has locations sprinkled across the London (Brick Lane and Camden Town), Dubai, Kuwait and Jordan. Cereal themed cocktails and savory items like crispy cornflake-crusted chicken and Lucky Charm donuts dominate the menu.
R U Cereal – This Denver-based food truck takes deliciousness on the road, featuring a stellar cereal bar with 20 varieties, 10 types of milk, ice cream, cereal bars and oatmeal, plus vegan and gluten-free options. Find out where it's at via postings on Facebook.
Cereal Cinema – On the first Saturday morning of the month, the Indianapolis Museum of Art hosts a family friendly event where patrons can watch a movie while crunching on a bowl of their favorite breakfast choices, courtesy of a cereal bar.
Cereal Lovers – Go big or go home seems to be the idea behind this spot in Madrid, Spain. It has one of the largest selections of cereals on the planet, boasting 150 varieties with 60 available toppings. The décor, naturally, centers on boxes of cereal boxes and assorted merch. Since this is Spain, the coffee is strong and tasty.
Rest well & wake up ready to go!
Better sleep gives rise to better mornings, bringing your goals into focus and dreams within reach. Hungry for more sleep info? Dig into these posts:

Eager for more sleep info you can really use?
Join our community Facebook and let's continue the conversation.
We'd love to hear what you have to say!
This blog does not provide medical advice. It is intended for general informational purposes only and does not address individual circumstances. It is not a substitute for professional medical advice, diagnosis or treatment and should not be relied on to make decisions about your health. Never ignore professional medical advice in seeking treatment because of something you have read on Restonic.com. If you think you may have a medical emergency, immediately call your doctor or dial 911.
Duerme mejor, hoy mismo