---
Pick your bedroom color palette carefully to create a sleep-friendly environment
When you're considering a bedroom refresh, paint color is often the first decision to tackle. Should you choose a bright and cheery color to energize your mornings or a more somber shade that wraps you in tranquility as you prepare for sleep? Do you opt for the color of the year or choose something timeless that speaks to your heart?
While the popularity of certain colors for bedroom paint has risen and fallen throughout the decades, the trick has always been choosing the perfect shade for your personal sleep space. That spot where your personality is reflected in a very intimate way.
Some popular bedroom paint colors have stood the test of time, while others have been (rightfully so) relegated to embarrassments and temporary lapses of reason. Remember our obsession with pink and gray bedrooms in the 1980s? Ghastly now, but oh-so-chic back in the day….
Modern color trends
In recent years, jewel tones inspired by vibrantly colored fruits and vegetables – bright blueberry, ripe olive and rich eggplant – have emerged as favorites.
On the flip side, there's also a movement towards Japanese minimalism and pared-down Scandinavian designs. To complement that aesthetic, the newest color palette features soothing, calming tones – barely-there blues, pastel greens and café au lait-like whites.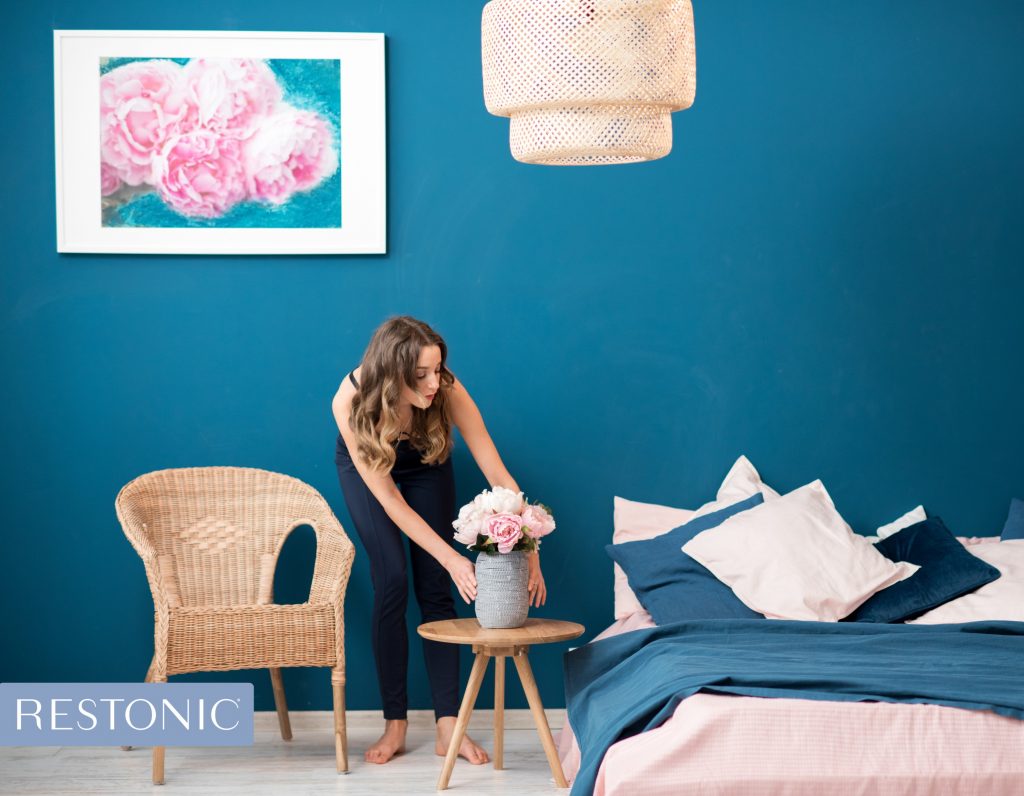 And, as per usual, there are a few showstoppers – colors that might prompt you to say, "You're putting that on the walls!?" Prepare to see shocking pink, aqua and intense golds at your local paint store soon. Let's be honest though, while vibrant and energizing, these colors are best suited to a single signature wall.
But let's cut to the chase. When it comes to the effort and cost of refreshing your bedroom décor, what color should you choose? The most logical answer is to pick a hue that makes you feel comfortable and relaxed and works well with your furniture. But it's also a good idea to consider natural light and how it affects the personality of your bedroom at different times during the day and evening. Super-bright, morning rooms can afford to go a bit darker in paint color. Rooms with less natural light are more forgiving and can be dressed up with multiple colors and accessories to create a unique ambiance.
We asked celebrity design and style gurus, Drew and Jonathan Scott, hosts of HGTV's Property Brothers and founders of Scott Living, for their expert input about the bedroom colors that hit the mark – and ones that completely miss it.
Should I paint my bedroom red?
Did you know that the color red is often used in restaurants to stimulate appetite? A red bedroom can infuse energy, which is great for getting up and going in the morning. But what about when you're ready for sleep? "It's not my first color choice for a bedroom," says Drew. "Since it's a color that inherently invokes excitement, it's not ideal to help you fall asleep."
If you're in love with red for your bedroom, consider a softer, muted hue that provides a more relaxed setting. Think muddy pink, maroon or brownish red. To deepen the reds in your bedroom, dim the lights in the evening, which may stir your passions for the other "S" thing you do in bed.
Should I paint my bedroom blue?
America's love of this color is true blue and enduring. It soothes the mind and has been shown to reduce blood pressure and slow the heart rate – studies also show people are more productive in blue rooms. What's more, the color blue can suppress appetite, which is why you rarely see blue in restaurants.
"Blue is a popular paint choice for bedrooms, thanks to its naturally cool and calming effects," says Drew. "Aesthetically, blue hues appear to recede, making any space feel larger. The lighter you go with the color, the more serene your space will feel, creating the perfect ambiance for your best night of sleep. And the darker you go, the smaller your space will feel, making it more difficult to relax."
Should I paint my bedroom yellow?
A yellow bedroom may evoke a strong emotionally positive response in lighter versions, but darker shades of yellow can be brooding and pensive. Whichever shade you choose, yellow demands attention. But you may want something a little less intense for sleeping. "Yellow is a stimulating color, so while it may help you wake up more easily in the morning, falling asleep at night might be tricky," notes Jonathan. "A muted yellow is your best bet, as it also reflects natural light and helps your space look airy and fresh."
Yellow is a terrific color for kitchens and is often associated with food. But for the bedroom, it's best in smaller accents, like pillows, lamps and table-top décor.
Should I paint my bedroom white?
Is white always right? You'd think it would be an easy color to use as it represents simplicity and cleanliness. After all, white walls can serve as an inviting canvas just waiting to become a masterpiece for beautiful artwork or tapestries. But there are challenges, cautions Drew. "White paired with tan and beige tones can look airy and tranquil," he points out. "However, an all-white bedroom can appear sterile and cold.
If you're painting your bedroom white, consider adding a bedside chair in your favorite color or play with warmer and cooler shades to add a pop of color on your bed as well. And don't forget the power of textures in bed and window coverings and rugs.
Should I paint my bedroom green?
Green is a shade that's always, well, evergreen. It remains one of the most popular choices for decorating our homes, thanks to its ability to make us feel at peace and more connected to nature. Whatever room you paint green, it seems to work. "A soft green can be very soothing and give off earthy vibes in the bedroom—especially when paired with wooden furniture pieces or natural plants," Jonathan explains.
Jonathan's choices for the most on-trend shades this season include sea-foam, pistachio and sage.
Should I paint my bedroom black?
While you may be tempted to go bold with black since it evokes authority, elegance and mystery, you'll want to tread carefully. It can be overpowering and make the room feel claustrophobic. "Black paint will automatically make your space feel closed off and small," says Drew. "If you can, stick with shades of gray. If you absolutely MUST have a black wall, decorate with neutral furniture pieces to elevate your aesthetic."
What colors should you paint your bedroom?
Certain colors work better in particular rooms of your home to help promote the different activities that occur those living spaces. It goes without saying that you want colors that encourage eating in your kitchen and sleeping in your bedroom…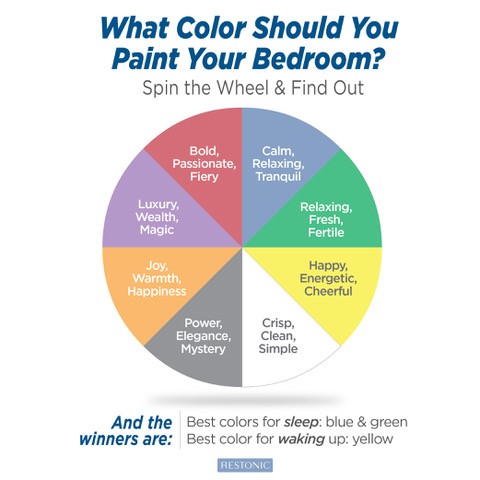 Living room/ foyer. Use colors that excite conversations, such as reds, yellows, oranges and beiges.
Kitchen. Stimulate appetite and encourage conversations with reds, yellows and oranges.
Dining room. Red can inspire conversation and hearten the center of your home.
Bedroom. Sleep is essential and the best hues to help you find peace in your bedroom are blues, greens and lavender.
Bathroom. Create a clean, calm environment with a cool white, blues, greens and turquoise.
Exercise room. Get your energy flowing, concentration on point and keep yourself motivated with bold, beautiful reds, oranges, blues, greens, yellow-greens and blue-greens.
Office. Go green to promote concentration and improve vision.
Rest well & wake up ready to go!
Better sleep gives rise to better mornings, bringing your goals into focus and dreams within reach. Hungry for more sleep info? Dig into these posts:

Eager for more sleep info you can really use?
Join our community Facebook and let's continue the conversation.
We'd love to hear what you have to say!
This blog does not provide medical advice. It is intended for general informational purposes only and does not address individual circumstances. It is not a substitute for professional medical advice, diagnosis or treatment and should not be relied on to make decisions about your health. Never ignore professional medical advice in seeking treatment because of something you have read on Restonic.com. If you think you may have a medical emergency, immediately call your doctor or dial 911.
Duerme mejor, hoy mismo