---
Is it time for a mattress upgrade?
Your bed is the most important piece of furniture in your home. It's where you rest and recharge after a long day. A mattress that's both comfortable and supportive improves your sleep and contributes to better overall health.
If you're not getting the sleep you need, it's time to consider shopping for a new mattress. Not sure you're ready to go mattress shopping? If you answer yes to any of these questions, it's time: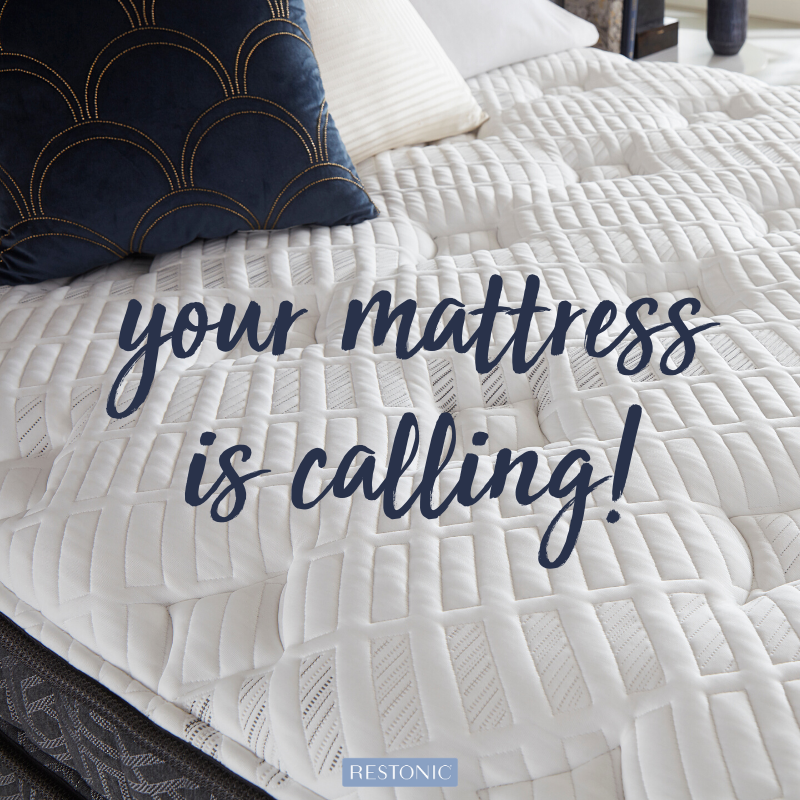 You wake up with aches and pains. Do you wake up with a sore back or achy joints on a regular basis?
You're tired all the time. Do you often wake up still tired after a full night's sleep?
Your mattress looks old. Does your mattress look beat up? Does it sag? Is it lumpy?
You sleep better away from home. Do you find yourself getting a better night's sleep in a bed that is not your own (like a hotel for example)?
Your mattress is old. When's the last time you bought a new mattress? Based on amount of use and quality of the mattress, it's recommended to replace your mattress every 7-10 years.
Every time your life changes, so should your mattress. When you leave for college, it's time to upgrade from your childhood bed. When you get married, your bed will need to be big enough for two. If you have kids, it may need to be even bigger.
Also, don't forget, your body changes over time. As you age, your need for comfort and support will increase. That's why it's a good idea to compare the mattress and foundation you are sleeping on now to newer models every few years.
Time to shop for a new mattress? Follow this comprehensive guide to help you find the perfect mattress for you!
Do ask friends and family – and read reviews." Everyone has their opinions on the best or worst mattresses," says Caitlin Hoff, health and safety investigator, org, "but not everyone is built the same way or even sleeps in the same position." Consider all the advice but pay more attention to your body type and sleeping habits.
Do consider your new mattress an investment. Supportive, comfortable mattresses made from high-quality, durable materials aren't cheap. "With an overwhelming number of options on the market, it can be easy to pick a cheap mattress and just move on," says Hoff. "But remember that you'll spend roughly one-third of your time sleeping on your mattress. An investment in a supportive mattressthat meets your needs will be an asset for a decade of restful nights." That's something that really is truly priceless.
Do take your partner mattress shopping. "A huge mistake that people make when mattress shopping is leaving their partner at home," explains Hoff. "Just because a mattress is good for one person does not mean it will be good for both." Go shopping together so you can gauge each other's reaction to each one you test.
Do test lots of mattresses. Your new mattress will be part of your life for 8-10 years so take time to lie down on it in different sleeping positions. While it may feel awkward to spread out on the display beds with other buyers milling about, a good night's sleep is well worth any perceived embarrassment. To boost your confidence in your choice of mattress, ask about a possible trial period to test out the mattress. Spending a few nights sleeping on it is the best barometer of its suitability for you.
Do study the sales details. "A mattress is a major life purchase," Hoff points out. "It affects your mental and physical health so if you take home a mattress and find that it does not meet your needs, you should return it." Most mattress companies will have a trial period when a mattress can be returned, but many also have a "return fee." Know the return policy before you buy.
Do your research. Make sure you understand the components that make up your chosen mattress, including density, type of foam and coil count. What's inside your mattress will the comfort life of your new mattress. Stick to the facts and forget the marketing jargon to help guide you to the perfect mattressfor you.
Do consider the importance of your personal comfort preference. Somewhere in between firm and soft is your ideal mattress, but most people tend to gravitate toward one end of the spectrum or other. There's a belief that a firmer mattress is better for your back but that's not necessarily true. Some mattress with softer pillow tops can ease pain by reducing the amount of pressure of problematic areas.
Do take your time. You wouldn't buy the first car you test drive, right? Spend time researching mattress basics and visit a mattress showroom to kick off your quest for the best mattress. You'll have a chance to see what your options are and talk to sales reps, who can be a wealth of information. A good sales person will ask you about how your sleep habits, your preferences and the budget you have in mind. Ask plenty of questions and take their advice into consideration.
Rest well & wake up ready to go!
Better sleep gives rise to better mornings, bringing your goals into focus and dreams within reach. Hungry for more sleep info? Dig into these posts:

Eager for more sleep info you can really use?
Join our community Facebook and let's continue the conversation.
We'd love to hear what you have to say!
This blog does not provide medical advice. It is intended for general informational purposes only and does not address individual circumstances. It is not a substitute for professional medical advice, diagnosis or treatment and should not be relied on to make decisions about your health. Never ignore professional medical advice in seeking treatment because of something you have read on Restonic.com. If you think you may have a medical emergency, immediately call your doctor or dial 911.
Duerme mejor, hoy mismo