---
Is your back telling you it's time for a mattress upgrade?
Your bed is the most important piece of furniture in your home. It's where you rest and recharge after a long day. A mattress that's both comfortable and supportive improves your sleep and contributes to better overall health.
If you're not getting the sleep you need, it's time to consider a new mattress. Not sure you're ready to go mattress shopping? If you answer yes to any of these questions, it's time:
Aches & pains – Do you wake up with a sore back or achy joints?
Tired all the time – Are you waking up still tired after a full night's sleep?
Wear & tear – Does your mattress look beat up? Does it sag? Is it lumpy?
Foreign sleep – Do you find yourself getting a better night's sleep in a bed that is not your own (like a hotel for example)?
It's old – When's the last time you bought a new mattress? Based on the amount of use and quality of the mattress, it's recommended to replace your mattress every 7-10 years.
Every time your life changes, so should your mattress. When you leave for college, it's time to upgrade from your childhood bed. When you get married, your bed will need to be big enough for two. If you have kids, it may need to be even bigger.
Also, don't forget, your body changes over time. As you age, your need for comfort and support will increase. That's why it's a good idea to compare the mattress and foundation you are sleeping on now to newer models every few years. Read more at BetterSleep.org
Shopping for a new mattress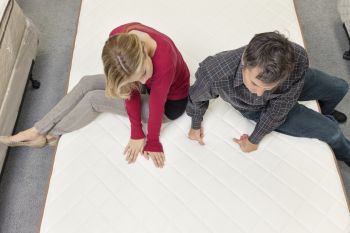 If you're ready for a new mattress, we'd love to help you find the right one for you. Visit our Find a Retailer page and we'll locate a store close by where you can lie on our mattresses and talk to a trained sales professional. Use these links to begin your online research:
And after you've bought your new mattress, don't forget to write a mattress review to help other mattress shoppers make a smart purchase.
Eager for more sleep info you can really use?
Join our communities on Facebook and Twitter and let's continue the conversation.
We'd love to hear what you have to say!
This blog does not provide medical advice. It is intended for general informational purposes only and does not address individual circumstances. It is not a substitute for professional medical advice, diagnosis or treatment and should not be relied on to make decisions about your health. Never ignore professional medical advice in seeking treatment because of something you have read on Restonic.com. If you think you may have a medical emergency, immediately call your doctor or dial 911.
Get better sleep, today