---
Mind candy to watch before tucking in for sleep every night from now until Christmas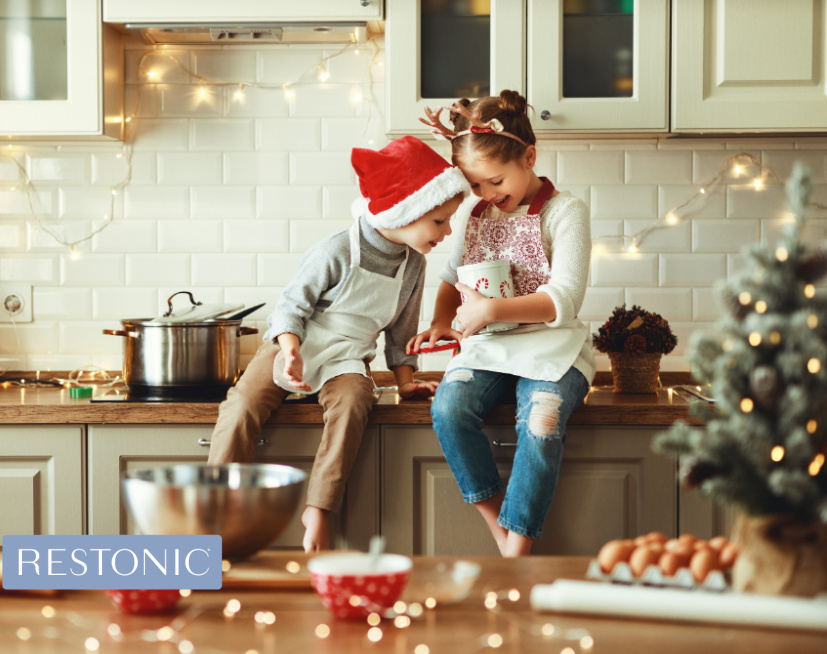 Sleigh bells ringing in your world? We know they are in ours. Everywhere we look are the sights and sounds of our favorite time of year. The sparkling lights, colorful decorations, decadent treats, festive music. And yes, of course, the movies, the ones we love snuggling up with our family, a big bowl of popcorn and an entire evening to spend together. And afterward, the sugar plums fairies in our dreams as we settle down for a long winter's nap.
Sorry, couldn't resist.
Christmas holidays are all about family traditions, which for many of us, includes a long list of movies in the evening and a delish holiday breakfast the next day. Everyone's got a go-to movie that they watch every single season – without fail. The Restonic Dream Team is no different so we asked around and discovered that our crowd loves a whole bunch of oldies and goodies. We even found someone who thinks he sleeps like the Grinch – but he just needs coffee and then he's all holly jolly again.
Our recommendation? Light the fire, pop some popcorn and warm the hot chocolate, and cozy up to these 5 Classic films that we think everyone should watch at least once.
In case you're looking for something little more newfangled, scroll down for our Top 11 list of modern classics too.
It's a Wonderful Life
Starring: James Steward and Henry Travers
After George Bailey wishes he'd never been born, an angel is sent to earth to make George's wish come true. During his journey he realizes how many lives he's impacted and how different the world would be without him.
Why we love it: Standing the test of time, this movie has brilliant performances and an uplifting message. And it always leads to happy dreams of our lives and the people we love.
White Christmas
Starring: Bing Crosby, Danny Kay, Dean Jaggers, Rosemary Clooney, and Vera Ellen
Two goofy singers join a sister act to perform a Christmas show in rural Vermont. They run into General Waverly, who commanded the boys in World War 2. He's having financial difficulties at his country inn, so to help him, the foursome plan a yuletide musical extravaganza. The goal? Make a Christmas miracle happen and save the inn.
Why we love it: Singing, dancing, and witty banter. So much fun that always sends us to bed happy.
A Christmas Carol
Starring: Reginald Owen, Gene Lockhart, Kathleen Lockhard, Terry Kilburn, Barry MacKay 
While it's been remade by almost every moviemaker in Hollywood, we're fans of the original 1938 adaptation of Charles Dickens' novella. We don't have to tell you what happens when crotchety Christmas hater Ebenezer Scrooge gets schooled on the error of his ways after being visited by the four spirits of Christmas.
Why we love it: Who doesn't like to see a bad guy see the light? That's what holiday spirit is all about and it always leads to dreams of what's really important to us the ones we love.
Miracle on 34th Street
Starring: Edmund Gwenn
When an old man going by the name of Kris Kringle fills in for an intoxicated Santa at the Macy's annual Thanksgiving parade, he's such a hit that they bring him to make regular appearances at the main Macy's store in Midtown Manhattan. After Kringle claims that he's actually the real Santa Claus, surprising everyone around him, he's taken to court to determine his authenticity and mental health.
Why we love it: It's a true Christmas classic, that's why. Also, don't we all dream that there really is a Santa Claus?
A Charlie Brown Christmas
It's Christmastime and amidst the twinkling lights and sparkling decorations, Charlie Brown has the yuletide blues. Of course, Lucy is full of advice, and this time she tells Charlie Brown that he should direct the Christmas play. After Charlie lugs in a sorry looking Christmas tree to take center stage during the show, the gang makes fun of him but once holiday magic takes over, they all remember the true meaning of Christmas.
Why we love it: With the season being so busy, we can all use a little reminder to slow down and focus on the people in our lives rather than the stuff in stores. And that always leads to dreaming up new ways to make Christmas more about love.
If you're into more modern classics, these 11 movies are always a big hit
Elf
The Santa Claus & the Santa Claus II
Christmas Chronicles I & II

National Lampoon's Christmas Vacation
Bad Santa
Home Alone
The Grinch Stole Christmas
Love, Actually
Serendipity
Polar Express
The Family Stone
Scrooged
A Christmas Story
Rest well & wake up ready to go!
Better sleep gives rise to better mornings, bringing your goals into focus and dreams within reach. Hungry for more sleep info? Dig into these posts:

Eager for more sleep info you can really use?
Join our community Facebook and let's continue the conversation.
We'd love to hear what you have to say!
This blog does not provide medical advice. It is intended for general informational purposes only and does not address individual circumstances. It is not a substitute for professional medical advice, diagnosis or treatment and should not be relied on to make decisions about your health. Never ignore professional medical advice in seeking treatment because of something you have read on Restonic.com. If you think you may have a medical emergency, immediately call your doctor or dial 911.
Duerme mejor, hoy mismo