---
Tiny bedroom lacking light or a mammoth one lacking coziness? The Scott Brothers have the fixes you need!
If our décor dreams could come true, we'd all have spacious, perfectly proportioned bedrooms with a lounging alcove and reading nook, a big bed, an abundance of closet space and just the right amount of natural light. Reality is often a different picture, though. Many of us live in homes with smallish bedrooms and irregular layouts that present real-life challenges to decorating.
Fortunately, Drew and Jonathan Scott, hosts of HGTV's Property Brothers, have had ample opportunities working with less-than-perfect spaces and successfully turning them into dreamy, inviting rooms. When you're looking for solutions for decorating a bedroom with limitations, the brothers have some savvy, simple and economical strategies to offer.
What size mattress should you buy?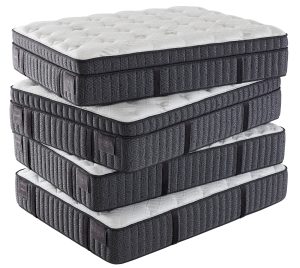 Your bed will be the main focal point of your bedroom, but it's not always easy to know how big to go when it comes to mattress size.  Drew suggests that, as long as your bedroom size allows for it, you should go as large as possible. "The simple reason is this," he says. "We all move around in our sleep. And whether you're by yourself or with someone, you're going to want to make sure you have enough space to be comfortable and safe."
Jonathan is onboard, too: "That's right. A quick way to getting a new bed is to fall out of it. And a quick way to getting kicked out of bed is by accidentally hitting the person next to you."
Is where you place your bed in your bedroom important?
Once you've got the perfect sized bed, where should you put it? In an area of your bedroom to optimize sunlight – or block it out? Which is better and what kind of window treatments should you consider.
Jonathan has a clear recommendation. "Ideally, your bed will face north or south, so that you're not blinded by the morning sun or fighting a late-summer sunset," he suggests. "If you have a large window on the east side of the room, consider going with a blackout curtain. Otherwise, consider something more sheer so you're able to experience a gradual wakeup with the sun."
Drew also points out that it all depends on your personal schedule and lifestyle. "If you need to sleep longer after a late shift, by all means, get blackout curtains throughout the bedroom," he explains. "They're much more stylish now and come in a variety of patterns and colors."
Can you make a big bedroom feel smaller and vice versa?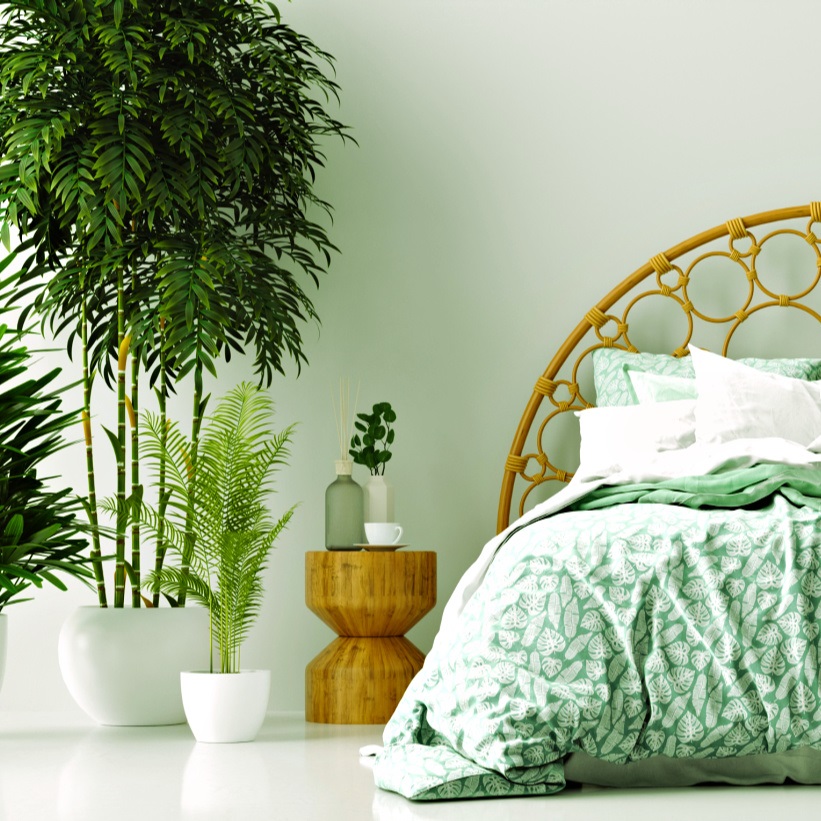 A common question the brothers hear is how can you make a smaller bedroom feel more spacious and an over-sized bedroom feel cozy? Jonathan feels that it's all about scale. "If your bedroom is on the small size, go with a narrower profile for your bedframe," he explains. "It's much more important to have a comfortable, appropriately-sized mattress than it is to splurge on mattress size and end up with an unusable room."
When cozy is the aim for a large room, it's all about how you style it, according to Drew. "A dresser or an armoire make more sense here, as opposed to relying solely on closet space," he says. "Seek out larger side tables for balance, and consider a rug that helps better define the floor area. Remember – bedroom furniture runs large. You might run out of room faster than you think."
Another important detail for bedrooms is the choice of floor covering – carpet or rugs?
What do the Property Brothers think? Is layering rugs a good idea in the bedroom? Drew feels if you're on a budget or just don't have the time or opportunity to replace carpet, layering rugs is a great way to refresh a space and even provide some color and pattern. Meanwhile, Jonathan points out that your bedroom should make you feel comfortable, relaxed and safe. "A new area rug is a great way to do that," he says. "Feeling that rug under your toes before you slide into bed? Perfection."
What color should you paint your bedroom?
Selecting bedroom paint color poses challenges for many. It impacts how large or small a bedroom appears and sets the mood. "Color is important everywhere in the home," says Drew. "In fact, our latest issue of Drew + Jonathan Reveal magazine is dedicated entirely to color! In the bedroom, warm shades of blue, purple and dark green will encourage your brain to quiet down and transition to a sleep-ready state." And Jonathan adds, "Muted metallic accents in gold and brass will help reflect soft lighting and make the room feel spacious and warm."
Should you change up your bedroom décor with the seasons?
As we know, colors come in and out of vogue at a steady pace and seasons of the year also influence our choices. Should we refresh our décor accordingly? "Some items you're going to want to keep around all year long, mainly for utility or because they're too expensive to swap out," explains Jonathan, "but for small items, we love the idea of changing for the season or the color palette you're looking to incorporate now versus a year ago. Items like vases, candle holders, even artwork can all change with the seasons."
And as Drew notes: "Don't forget to bring nature in, too! You can quickly refresh a room with a small floral arrangement, and even artificial plants and flowers can have a positive mental impact."
Any coping strategies if we work from our bedroom?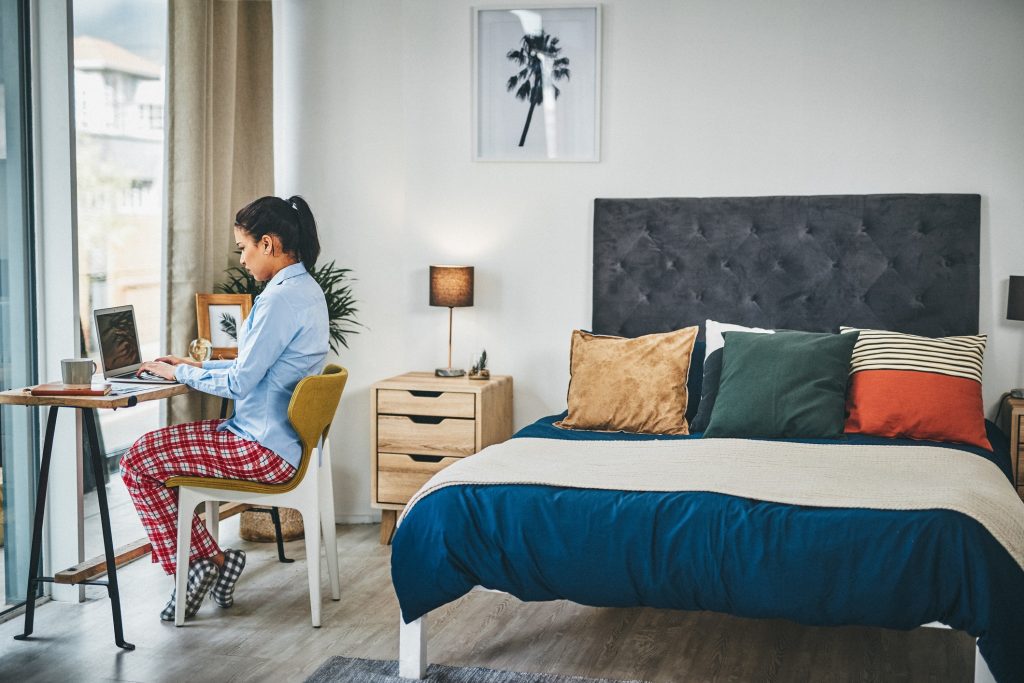 Big bedroom or small, one thing many of us struggle with is creating a healthy work-life balance, especially now when more people are working at home and perhaps setting up an office in their bedrooms. "If your bedroom is pulling double-duty as a home office or your main spot to crash and watch TV after a long day, it's important to create zones within the room," Jonathan points out. He suggests placing your workspace off to the side or in a corner (preferably with some natural light) so that you're not tempted to grab the computer on your way to bed.
Once you're in bed, Drew recommends you should have everything within arm's reach to encourage you to have a good night's sleep. "Side tables should have books and soft lighting, and as few electronics as possible. If you're sleeping with your phone nearby as your alarm, place it face-down as far away as possible on a side table. This will help keep you from accidentally turning it off, too."
Thanks, Drew and Jonathan! We feel rested and ready to turn our bedrooms, even imperfect ones, into beautiful, sleep-friendly spaces.
Rest well & wake up ready to go!
Better sleep gives rise to better mornings, bringing your goals into focus and dreams within reach. Hungry for more sleep info? Dig into these posts:

Eager for more sleep info you can really use?
Join our communities on Facebook and Twitter and let's continue the conversation.
We'd love to hear what you have to say!
This blog does not provide medical advice. It is intended for general informational purposes only and does not address individual circumstances. It is not a substitute for professional medical advice, diagnosis or treatment and should not be relied on to make decisions about your health. Never ignore professional medical advice in seeking treatment because of something you have read on Restonic.com. If you think you may have a medical emergency, immediately call your doctor or dial 911.
Duerme mejor, hoy mismo