Scott Living Shippable Sleep
When you buy direct from Restonic, shipping and returns are always free.
Due to COVID, we are experiencing slight delivery delays - please allow up to 3 weeks for delivery.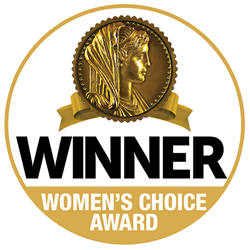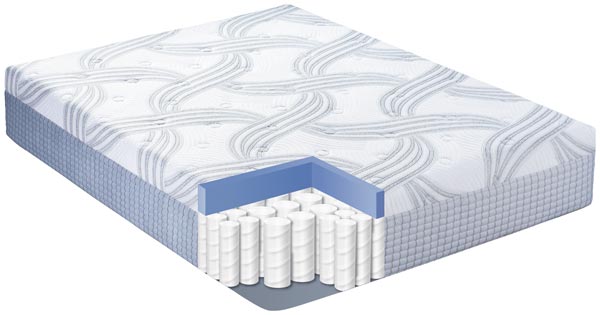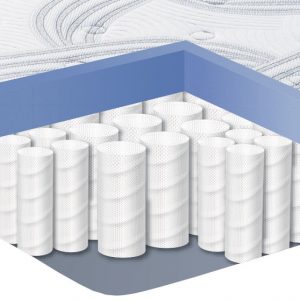 Restonic's exclusive technology delivers an edge-to-edge sleep surface, maximum adjustability and 5 support zones for correct spinal alignment. Provides deep, individualized comfort over the entire innerspring system.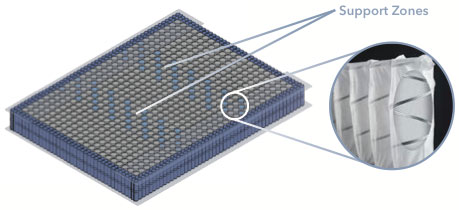 Drew and Jonathan Scott bring accessible luxury to a hand-crafted mattress designed to deliver cool, comfortable support for a great night's sleep. However you sleep, this mattress was designed to help you dream more – and toss and turn less. What's more, this mattress is adjustable-base friendly. Sweet, right? Isn't time you claimed your right to a healthier night's sleep and livelier mornings?
When you order direct from Restonic, your mattress is delivered in 10-15 business days, at no charge of course.
All transactions are secure and encrypted
100 night comfort guarantee, 100% money-back guarantee
10 year limited warranty
If you're not completely satisfied with your Restonic mattress purchase, we're here to help.
You have 100 calendar days from the date of delivery to return your Restonic Mattress, should you not be 100% satisfied with your purchase. We require the mattress to be in your home for at least 30 days/nights to allow your body to properly adjust to the new comfort levels. To be eligible for a return, your Restonic mattress must be clean and undamaged. Please note that mattress returns and exchanges must be handled through our customer service and not social media. Failure to properly follow our return or exchange process may result in an inability to return or exchange your mattress.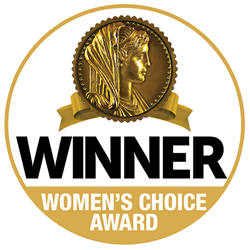 ---
Amazing Mattress with All The Perks

I tried this product and received a discount in exchange for my honest opinion. The Scott Living Shippable Sleep Mattress comes to your door in a flash and is designed to provide a comfortable, cool, great night's sleep. Whether you are on a platform, box spring, or adjustable base, the Scott Living Shippable Sleep Mattress is base friendly and can work with whatever you may be utilizing. The exclusive edge-to-edge technology provides maximum support and adjustability, great for deep comfort all over.

The Scott's Living Shippable Sleep Mattress was delivered very quickly. Upon bringing it into the home, it was very easy to unbox. The mattress expanded to full capacity immediately in a matter of minutes. The protective cover has a modern and unique design and is very soft to the touch. Upon feeling the top, it was soft, conforming, yet firm and supportive. There was zero smell to this mattress which was amazing because it was immediately ready to use!

This is my first memory foam mattress and the only thing I regret is not switching to one sooner (especially the Scott's Living Sleep Mattress). This first week of sleep has provided some of the best sleep I have had in a while. While I cannot speak to the longevity of it yet, it feels like high quality and it will last for years to come. The mattress conforms to your body, yet you can still easily move around without feeling like you have sunk into a hole. Upon waking up, my body feels rejuvenated and does not ache. I never woke up in a night sweat either. The mattress provides a cooling feature that allows you to rest throughout the entire night.

I would highly recommend the Scott Living Shippable Sleep Mattress to anyone, any age, as long as your desire a great night's sleep. We sleep 1/3 of our life, so you should be getting the best night's rest you possibly can, and this bed is a great way to start. This is a high quality mattress that can be at your door within days and you can start feeling the same great morning wake-ups that I have felt over this last week!

Was this review helpful?

It's the best nights sleep I've had in years. I hate to get out of bed in the morning. It's the perfect firmness to keep me rested all night. Paired with the Restonic power bed frame, it can't be beat.

Was this review helpful?

Still Recommend 2 Years Later

I have had this mattress for 2 years now and I still recommend it to people. I miss my bed when I stay anywhere else. It is the perfect firmness with enough give to be the coziest place to end your day and not want to get out of in the morning.

Was this review helpful?

The mattress is wonderful. Feels

The mattress is wonderful. Feels like it wraps its arms around you. I hate to leave it in the morning.

Was this review helpful?

Only had it for three

Only had it for three days but so far, it's been great to sleep on

Was this review helpful?

I've already recommended to friends.

I've already recommended to friends.
I was definitely due for a new mattress.

Was this review helpful?

Great comfort

Was this review helpful?

Good Mattress

Was this review helpful?

Love the comfort

Love it…have slept very well since I got this mattress

Was this review helpful?

nice supporting mattress

Was this review helpful?