What Women Really Want?
---
A good night's sleep in a comfy bed, maybe?
Restonic is pleased to announce that we've been awarded the Women's Choice Award for the 4th consecutive year. Our ComfortCare Signature Hybrid mattresses earned a 96% after-purchase satisfaction rating from female consumers – and we couldn't be more thrilled.
Restonic was the first mattress brand awarded this accolade in recognition of salesperson product knowledge, women-friendly customer service, high level of product satisfaction, and other aspects that women value and trust in a brand. We've been making mattresses for a long time (more than 75 years) and it's nice to know we're doing a few things right.
75 years of supporting dreams
Getting a healthy night's sleep might be the most important thing we do at the end of every day. Just one night of disrupted sleep can weaken our immune system and lead to needless accidents – not to mention giving us a bad case of the munchies. Sleep controls almost all of our bodily functions.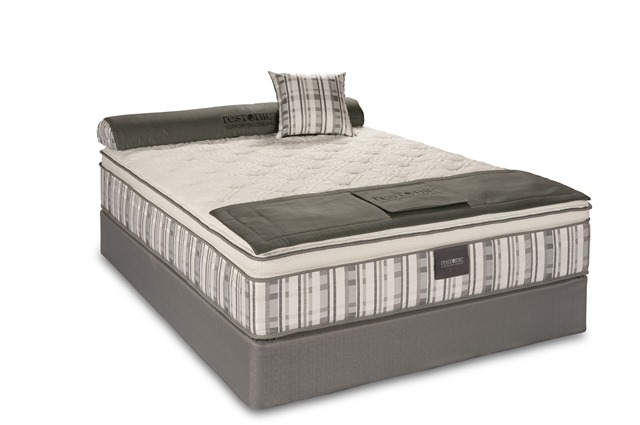 Most of us don't think about our mattress until sleep becomes a challenge. And it doesn't take much research to prove that what's inside your mattress can make the difference between a healthy, focused and strong you and a tired, grumpy and sick you. Pretty important, right?
Restonic's ComfortCare Signature Hybrid mattresses feature individually wrapped coils with memory foam, latex and gel on top to create resilient comfort layers. These layers work together to provide significantly improved pressure point relief, which reduces tossing and turning. The coil base gives the hybrid its bounciness and contouring support.
We've invested a lot of time researching and testing and tweaking our ComfortCare Signature Hybrid mattresses. One thing we know for sure – everything inside a mattress must work with everything else to solve sleep challenges. A mattress is like a finely tuned engine – one misfired piston and the whole thing is useless.
What's inside our award-wining mattresses
Our flagship mattress, the ComfortCare Signature, features the following:
Outlast® – Outlast regulates the temperature within the bed (microclimate) and keeps it in the optimum range for a restful sleep
Delivers edge to edge temperature-neutral comfort
Offsets temperature fluctuations throughout the night
Reduces tossing and turning and allows for longer REM sleep
TempaGel™ by Restonic® – Restonic's gel infused memory foam
Reduces tossing and turning
Moderates temperature variances throughout the night
Buffers sensitive pressure points, which improves circulation
Individually wrapped coils – Individually wrapped, zoned, tempered coils
Furnishes stress-free spinal alignment
Reduces motion transfer between sleep partners
Equalizes pressure distribution across the entire body
Marvelous Middle™– Thicker gauge coils in the center third of the mattress
Delivers resilient, reliable support where it's needed most
Protects against sagging for a longer-life mattress
Improves circulation with equalized pressure distribution
Breathable Border – The Superedge Plus™ Foam Encasement Border and AirFlow™ Edge team up to deliver ventilated edge to edge support
Regulates temperature throughout the night
Increases the sleepable surface of the mattress
Encourages air circulation, regulating the bed's micro-climate throughout the night – which keeps bedding fresh
Buying a new mattress might be one of the most confusing and frustrating tasks on the planet and, unlike buying a new car, there's no shock and awe tour after the purchase. What's more, it's hard to compare one brand to another, one model to another. Our mattress buying guide articles can help you learn to be a better mattress tester:
Thank you to Women's Choice for this honor and for the opportunity to show off our ComfortCare Signature Mattresses!

Restonic Giveaways
Sign up for our newsletter
Eager for more sleep info you can really use? Join our communities on Facebook and Twitter and let's continue the conversation.
We'd love to hear what you have to say!
This blog does not provide medical advice. It is intended for general informational purposes only and does not address individual circumstances. It is not a substitute for professional medical advice, diagnosis or treatment and should not be relied on to make decisions about your health. Never ignore professional medical advice in seeking treatment because of something you have read on Restonic.com. If you think you may have a medical emergency, immediately call your doctor or dial 911.