---
Party, sleep and hangover guide for St. Patrick's Day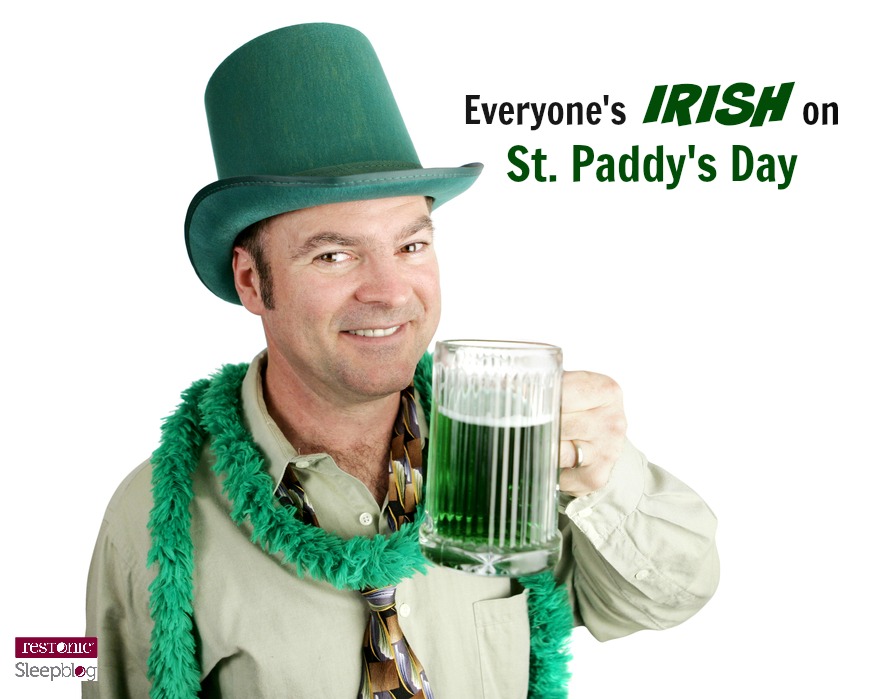 Got your Irish on? Today is St. Patrick's Day and people all around the world are donning green and celebrating, showing off their Irish pride. It's funnest day of the year to eat, drink and be merry but what spurred all this rejoicing?
St. Patrick is the patron saint of Ireland. Legend has it he drove all the snakes out of Ireland. While he didn't actually drive all the snakes out (that's purely folklore, natch), he did do a lot of good across Ireland during his life, making him a beloved hero of sorts.
As you well know, here in the United States, St. Patrick's Day is a day of celebrating, usually with adult beverages such as beer and whiskey. If you're heading to a pub after work this evening to partake in these celebrations and still have to work tomorrow, here are a few tips to avoid the St. Patrick's Day hangover and make it through the work day:
Watch what you drink – Alcohol and sleep are uneasy bed partners. Pace yourself and moderate your alcohol intake this evening or March 18th is going to be an ugly day. If you can, drink a mixed drink so the alcohol is diluted with other liquids. Try something like the Classic Whiskey Smash. See the recipe below.
Hydrate – Between drinks and before bed, drink a glass of water. It will help fight dehydration caused by alcohol. Also tomorrow, drink a glass water with each coffee (coffee also dehydrates) to keep energy-fueling nutrients flowing through your body. Otherwise, you'll be dehydrated, more fatigued and unable to concentrate.  
Nibble throughout the day – Eating smaller meals, more frequently tomorrow will help boost your energy. Also, avoid sugary foods and focus on proteins, vegetables and whole grains. They'll give you the most bang for your buck in terms of lasting energy.
Caffeine – Caffeine can help you power through tomorrow. Just cut off your in-take by midafternoon or you're not going to sleep well again tomorrow night.
Take a walk – Exercise is a great way get your blood flowing and clear out the cobwebs of the night before. Just don't overdo it. Try a short brisk walk to give you a jump start before work or during your lunch break for an afternoon pick-me-up.
Get some shut eye – Napping for 20 minutes mid-afternoon can recharge and power you through the rest of your day. We're big fans of the 20 minute lunch break power nap.
Now that you know how to pay the fun tax of St. Patrick's day, let's have a little fun with the perfect mixed drink to kick off the festivities!
Classic Whiskey Smash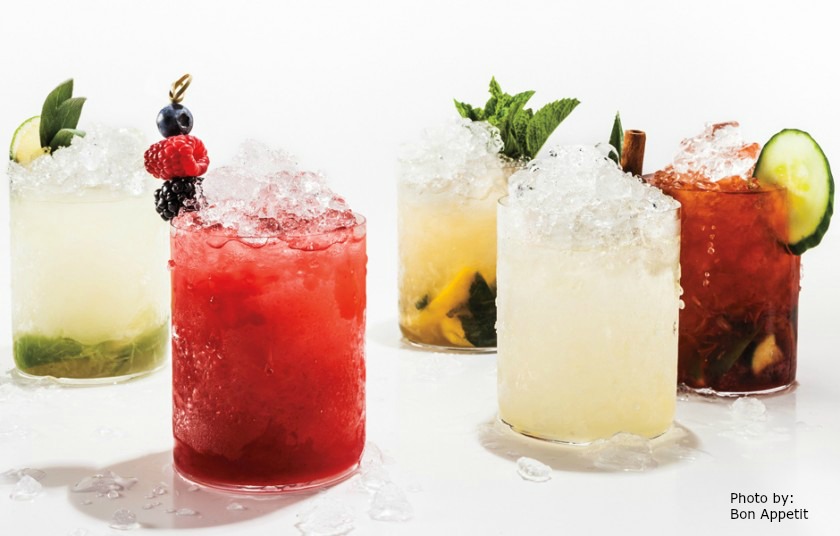 Ingredients
SERVINGS: MAKES 1
7 fresh mint leaves
1 lemon half
1 tbsp. simple syrup
1/4 cup bourbon
Crushed ice
Preparation
Using a muddler or the handle of a wooden spoon, mash 7 fresh mint leaves, 1 lemon half, quartered lengthwise, and 1 Tbsp. simple syrup (click for recipe) in a 16-oz. mixing glass or a cocktail shaker 4–5 times just to release juices and oils. Add 1/4 cup bourbon. Transfer to an Old Fashioned glass. Fill halfway with crushed ice, stir, and then mound more crushed ice on top. Garnish with mint sprigs. Read more at BonAppetit.com
May the road rise up to meet you.
May the wind always be at your back.
May the sun shine warm upon your face,
and rains fall soft upon your fields.
And until we meet again,
May God hold you in the palm of His hand.
~ Old Irish Blessing ~
Eager for more sleep info you can really use?
Join our communities on Facebook and Twitter and let's continue the conversation.
We'd love to hear what you have to say!
This blog does not provide medical advice. It is intended for general informational purposes only and does not address individual circumstances. It is not a substitute for professional medical advice, diagnosis or treatment and should not be relied on to make decisions about your health. Never ignore professional medical advice in seeking treatment because of something you have read on Restonic.com. If you think you may have a medical emergency, immediately call your doctor or dial 911.
Get better sleep, today