---
A Beautiful bedroom begins with what you love
For most people, a well-designed bedroom feels "right" when it's focused on personal comfort, reconnection and sleep. Interior designers agree, creating a bedroom that's both practical and pretty involves a lot of following your heart. And it takes time – but it's worth taking a little extra time – to ensure your bedroom truly is your sanctuary.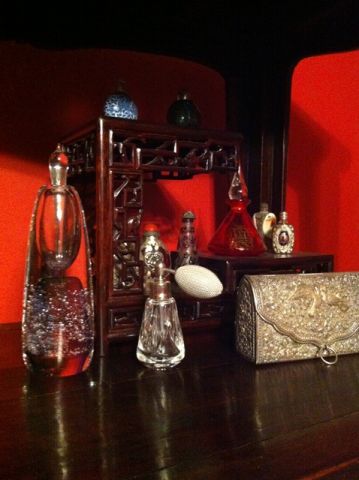 As part of a new series – Bedroom Therapy – we're snooping in the inner sanctuaries of interior designers and design enthusiasts. Prepare yourself for inspiring bedroom therapy from Ruth Olbrych, creator, collaborator and connector at Zaar Design Center and Antiques by Zaar. "I make time each morning to anchor my day with meditation," said Ruth. "My bedroom – filled with things that tell the stories of my life – is my sanctuary."
Color my bedroom colorful
For some people, soft pastels soothe the soul. But Ruth feels most at home with bold, powerful colors on her walls. "After living with antique white walls for over a year, I indulged my need for color in the bedroom with red walls," shared Ruth. "A rich color palette creates a feeling of warmth and hominess for me. I have an affinity for the color red, thanks to my husband and a very special – very private – memory."
Ruth describes her design style as eclectic with heavy Asian influence. She says it reflects the many places she's called home: Ontario, Canada (where she grew up), Port au Prince, Haiti (where she met her husband) and Boston, Thailand and Taiwan – just some of places she's lived. "My bedroom design is motivated by the need to be surrounded by things that remind me of special times in my life," she said. "I've learned to follow my heart and trust that it will all come together. And it always does."
Here are a few things Ruth holds close to her heart – and will always have a place in her bedroom: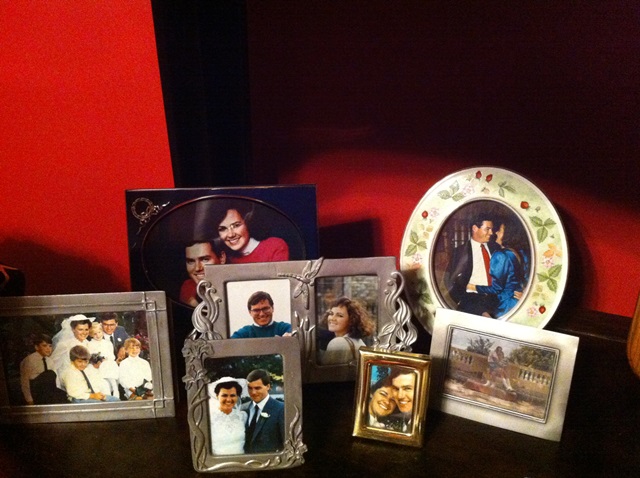 Crystal lamp – Growing up, Ruth's family moved a lot and this lamp always had a special place in her Mom's bedroom. As an adult, Ruth has also moved around a lot and it's made it through each move, unscathed. "My mother knew I loved this lamp and I'm thankful she gave it to me when I was so young so she could enjoy my enjoyment of it."
Canopy bed – "This purchase was inspired by one of my favorite inns – and I'll love it more when I find the right gauzy drapes to hang from it."
Snuff bottles – "I collected these during my travels through Asia."
Armoire – "Bought by my husband when we moved to Maine from Asia, this treasure is the precursor to the birth of our company, Antiques by Zaar."
Photos – "My photo collection is truly a stroll through my life."
Poetry books – "My collection of love poems reminds me that I'm the recipient of many blessings because of the people in my life who love me."
While Ruth craves color on her walls and personality in the artifacts she surrounds herself with, she's less than enamored with window coverings and describes them as inconsequential to the warmth of a home. "I only installed window coverings in our last house just before we sold it."
What stays out of Ruth's bedroom…
Ruth says she uses her bedroom mostly for sleep (and the other *S* thing done there). Electronics and TV are not welcome here. "The last thing I do each night is write in my daily journal," she explained. "I've been doing this for almost 8 years now and my day doesn't feel complete until I've emptied my thoughts here."
For her mattress, she prefers one that's not too hard and not too soft. "We had a waterbed for years because of my husband's chronic back issues," she said. "When it sprung a leak, I had an excuse to replace it – and I replaced it with a king size mattress."
In the morning when Ruth wakes up, she makes her way to a special chair on her verandah to begin her day with a cup of decaf coffee. She makes her bed after coffee but on the weekends she leaves it unmade and a little messy – to remind her to enjoy the break from the routine of the week.
We like the way you think, Ruth.
Eager for more sleep info you can really use?
Join our community Facebook and let's continue the conversation.
We'd love to hear what you have to say!
This blog does not provide medical advice. It is intended for general informational purposes only and does not address individual circumstances. It is not a substitute for professional medical advice, diagnosis or treatment and should not be relied on to make decisions about your health. Never ignore professional medical advice in seeking treatment because of something you have read on Restonic.com. If you think you may have a medical emergency, immediately call your doctor or dial 911.
Get better sleep, today