---
It's a beautiful day for a picnic, don't you think?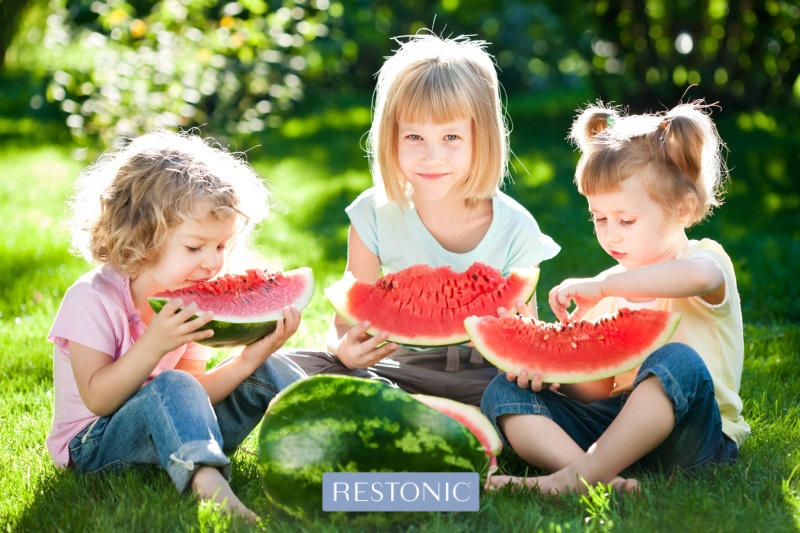 July 4th is almost here and we all know what that means. Not only do we get to take time out of our busy schedules to celebrate the Declaration of Independence for the United States, we get to enjoy a family picnic and BBQ. Talk about a perfect day!
While delicious is always at the top of the picnic-must-have list, we know you've got your eye on healthy too. After all, it's a long summer and you want to start it out energized and ready for all the excitement ahead. That means choosing ingredients that rev you with healthy energy during the day and don't stand in the way of a good night's sleep later, right?
We're betting our first Frisbee toss that these drool-worthy recipes are going to please everyone on your invite list. And that you'll be happy to offer seconds to all, knowing that you're filing your family with healthy, wholesome food. Before the recipes, feel free to steal these tips to ensure a happy, bug-free picnic day. Great picnics begin with these tricks
Go bug-free. Place cupcake liners on the top of your drinks to keep unwanted pests out.
Avoid a soggy bottom. Put a shower curtain under your blanket to avoid moisture from the grass soaking through.
Protect the spices. Don't bring your salt and pepper mills to your picnic party – grass, sticky fingers and spillage spell disaster. Empty tic-tac containers and fill with just enough salt and pepper, label and you're ready to go.
Stack your food. Between bowls, plates and utensils things can get messy and the dishes will pile up. Prep kababs for each stage of your picnic; salad kabab, burger kabab and a fruit kabab for dessert.
Ice your fruit. Ice cubes melt and will create an unwanted flood in your cooler. Freeze fruit the night before to keep your food cold and serve as a cool treat in the afternoon.
Create a unique centerpiece. Spruce up your picnic by hollowing out a watermelon and place fresh-picked flowers in the middle. The fruit can be kababed and shared with your partner. Ohh la la how romantic!
Save your utensils. Don't spend time searching for your utensils in the grass, use a clothespin to attach them to a paper bag.
Think recycling. Avoid dirty dishes or buying paper ones by using empty egg cartons for plates and bowls. You can put condiments in the slots and sandwiches on the other side. Cardboard egg cartons are compostable, which is good for you and good for the environment too.
Keep em' together. Ever prepped sandwiches to be let down when they've fallen apart once you settle into your picnic spot? Wrap your sandwiches in greaseproof paper to keep all the delicious fillings inside.
Our favorite July 4th recipes to spice up your favorite summer picnic day
You can't have a picnic without fantastic, mouth-watering recipes. We trolled the interwebs for the best picnic recipes so don't look any further than below.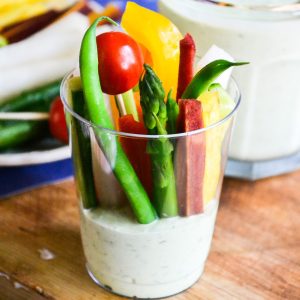 Green goddess veggie dip cups. Uh oh. You've been put on appetizer duty, but you're not much of a cook. No worries, veggies-in-a-cup will fit the bill and make you look pretty darn impressive, too. This crowd pleaser is easy to make and a breeze to tote to your picnic. We've got a feeling that these brightly colored crunchy cups are going to end up on regular rotation at your house. Want to up the health factor? Swap out the Green Goddess dressing for hummus. This savory middle-eastern dip is a source of tryptophan, an amino acid that helps relax you into sleep, making it a perfect bedtime snack too. Get the recipe: theviewfromgreatisland.com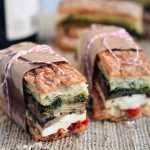 Eggplant, prosciutto & pesto pressed sandwiches. We love this recipe because of its versatility ( you can switch it up and use a lot of different kinds of cheeses, veggies, and meats) but it's also darn delicious just the way you see. Pull all your ingredients together, press them down, wrap them up, weight them and then cut into small portions when you're ready to serve. Perfecto, right? Get the recipe: hostthetoast.com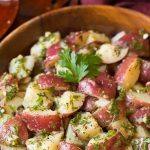 Garlic-herb potato salad. Tired of the same old potato salad? Lighten things up with this delicious new take on a traditional favorite. Ditch the mayo for a tangy garlic-herb vinaigrette and make prep easier with baby red skin potatoes (no peeling needed). Be prepared for this one to become a family favorite. Want to up the health factor? Throw some fresh basil into your herb dressing. Basil is known to alleviate stress, which in turn will make everyone happier. Get the recipe: cookingclassy.com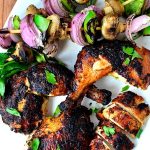 Root beer can chicken. How about a new take on an old picnic standard? Yep, we're talking the chipper chicken. Breading and frying is so last year. Instead, try this super juicy and flavorful take on beer can chicken. A whole bird is rubbed with an assortment or aromatic spices then slow roasted on your grill atop – you got it – a can of root beer. This recipe is perfect both for BBQs and picnics alike and is an ideal make-ahead dish. Want to up the health factor? Add cumin to your dry rub. This spice is rich in iron and manganese and is often used to manage insomnia. And we all know napping after a picnic lunch is the perfect picnic pastime. Get the recipe: iowagirleats.com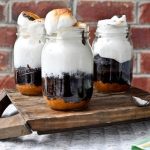 S'mores cake in a jar. Buttery graham crusts covered with fluffy double chocolate chip cake and pillowy marshmallow toppings perfectly browned and bubbly you can taste the campfire and smell the midnight summer breeze. Need more convincing? We think not. Get the recipe: howsweeteats.com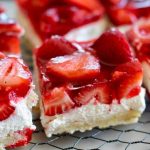 Strawberry cheesecake bars. Your picnic menu wouldn't be complete without fruit. We love strawberries but they're best enjoyed when topping creamy cheesecake bars on a crunchy shortbread crust. Sweet, juicy and so delicious. Best to make extra because these treats are going to go fast. Want to up the health factor? Strawberries (and other berries) contain vitamin B6 which kicks up the sleep-regulating hormone melatonin high gear, making this the perfect bedtime snack any night. Get the recipe: theseasidebaker.com
Not to be a Debby Downer but remember to plan your July 4th picnic accordingly so you can still maintain your sleep routine. Enjoy your 3 day weekend!
Rest well & wake up ready to go!
Better sleep gives rise to better mornings, bringing your goals into focus and dreams within reach. Hungry for more sleep info? Dig into these posts:

Eager for more sleep info you can really use?
Join our community Facebook and let's continue the conversation.
We'd love to hear what you have to say!
This blog does not provide medical advice. It is intended for general informational purposes only and does not address individual circumstances. It is not a substitute for professional medical advice, diagnosis or treatment and should not be relied on to make decisions about your health. Never ignore professional medical advice in seeking treatment because of something you have read on Restonic.com. If you think you may have a medical emergency, immediately call your doctor or dial 911.
Get better sleep, today