---
Holiday hotel
It's that time of year once again when your house is a (happy) revolving door of family and friends. Time to pull out the guest towels, fancy soaps and clean out the spare room that has become home to boxes of summer clothes that haven't quite made it to storage yet.
Uncle Phil's favorite snack? Check. Bringing up the extra chairs from the basement? Check. Guest room prepped? Before you check this task off your list, let's take a look at ways you can make sure your guests feel comfortable and have everything they need for a wonderful visit AND a great night's sleep.
Creating a comfy sleepover
If you have a permanent guest room, you might find it doesn't get used very often. Before your guests arrive think about airing out the mattress by taking off the sheets for a few hours or overnight. Put on fresh, clean sheets and perhaps add a special touch by using a linen spray to give a soft soothing scent. Lavender is a perfect sleep-friendly choice.
Don't have a designated guest bed? This Christmas might be a great time to purchase a new mattress because, of course, the holiday season comes with holiday deals. Treat yourself with a brand new sleep set and prep your current mattress for your guests.
Knowing everyone's individual comfort needs can be impossible, but you can be prepared to give them options on top of the usual sheets and comforter accommodations. Providing extra blankets and pillows in the room can help to ensure your guests have a comfortable and good night's sleep.
Finding and creating storage options
Think of your guest bedroom as a home away from home for your guests. Clear a few drawers for their personal belongings and clothes and think about making room in the closet with extra hangers to let them hang items they want to avoid getting wrinkled. Making space on night stands will let your family and friends have a place for their glasses, phones and books from home.
No closet space? No problem. Utilizing a garment rack can provide a space for clothing to be hung and when your visitors leave you can store it in your basement or attic. A garment rack can be a great storage saver to hang your off-season clothes when you don't need it for guests.
Removing your personal items from the room your guests are staying in can provide more space as well as limit the risk of expensive or fragile things getting broken, because let's be honest accidents happen when you have a full house. Simplify your need for guest storage and fill some plastic bins with stuff from your drawers, closet and night stand to put away until you can reclaim your house again.
Anticipate your guest's needs
When preparing for family and friends to stay at your home over the holiday, put yourself in their position and anticipate what they may need during their visit.
You can offer some hospitality while decluttering your home at the same time by having a stack of books on a shelf or dresser with a little note that says "Feel free to read me and take me home!" If they start to read a novel, they can take it with them to finish.
Provide a few choices of local magazines and a town map. If you find yourself with house guests you may not be able to entertain for a few hours, give them access to publications or even websites that highlight fun things to do in your town. Want to go high tech all the way? Leave a tablet in your guest's room with pre-loaded apps and web pages for them to peruse for local entertainment.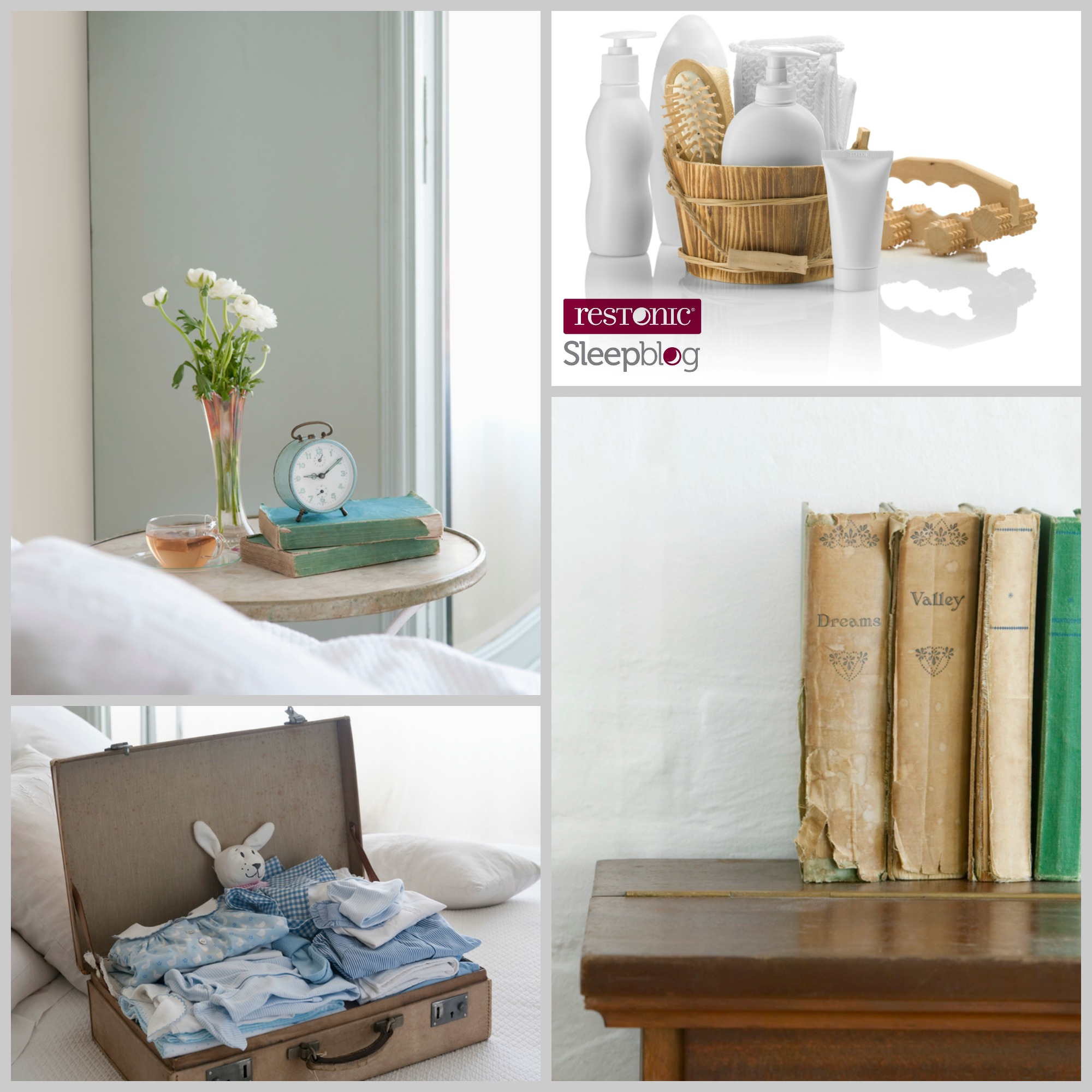 Often when I stay at a friends or family's home there are some things I find I need that may be overlooked. Here is a quick list of simple necessities every guest will be happy to have access to:
Wastebasket
Night light
Alarm clock/clock radio
Open outlets for them to charge their electronics
Iron
Sleep fresh and so clean
Your visitors need to eat, sleep and, of course, let's hope they shower. Multiple guests means multiple towels. To limit towel confusion, color code each guest's towels. Provide every person their own color towels (body towel, hand towel, face towel) leaving them in their rooms so they have access to them as soon as they may need them. And make sure there are hooks available so they can hang the towels for reuse.
You also may want to think about putting together a necessity basket with all toiletries we find ourselves forgetting when traveling. Here are the some of the basics to give you some ideas:
Toothbrush, toothpaste, floss, mouthwash
Shampoo and conditioner
Soap
Lotion
Razors
Comb
Tissues
Cotton swabs
Lint roller
You can find these items in the travel isles at your local store or dip into the hotel treasures we collect while traveling. Don't lie, we all do it. And don't forget to add some of your own flare when being an awesome host with a flower arrangement or a scented candle. Guest room prepped? Check!
Eager for more sleep info you can really use?
Join our communities on Facebook and Twitter and let's continue the conversation.
We'd love to hear what you have to say!
This blog does not provide medical advice. It is intended for general informational purposes only and does not address individual circumstances. It is not a substitute for professional medical advice, diagnosis or treatment and should not be relied on to make decisions about your health. Never ignore professional medical advice in seeking treatment because of something you have read on Restonic.com. If you think you may have a medical emergency, immediately call your doctor or dial 911.
Get better sleep, today