---
No time to make breakfast? Think again!
Between the alarm buzzing and getting out of the door on time, breakfast might not cross your mind. We're no stranger to the importance of eating a good breakfast, but where's the time? Of course, we wish pancakes, omelets and French toast were on the daily menu – without the fuss and mess. What if you can have the breakfast you dream of by incorporating 10 easy hacks?
We're going to make breakfast easy. Here's 10 tips and tricks to make your morning meal tastier and faster. Now that's what sweet dreams are made, right?
10 breakfast hacks for a great start to your day
• Mash it up – Forgot the jam at the grocery? No problem! Grab berries and bananas from the fridge and mash them up. Sprinkle some sugar, taste it and spread it.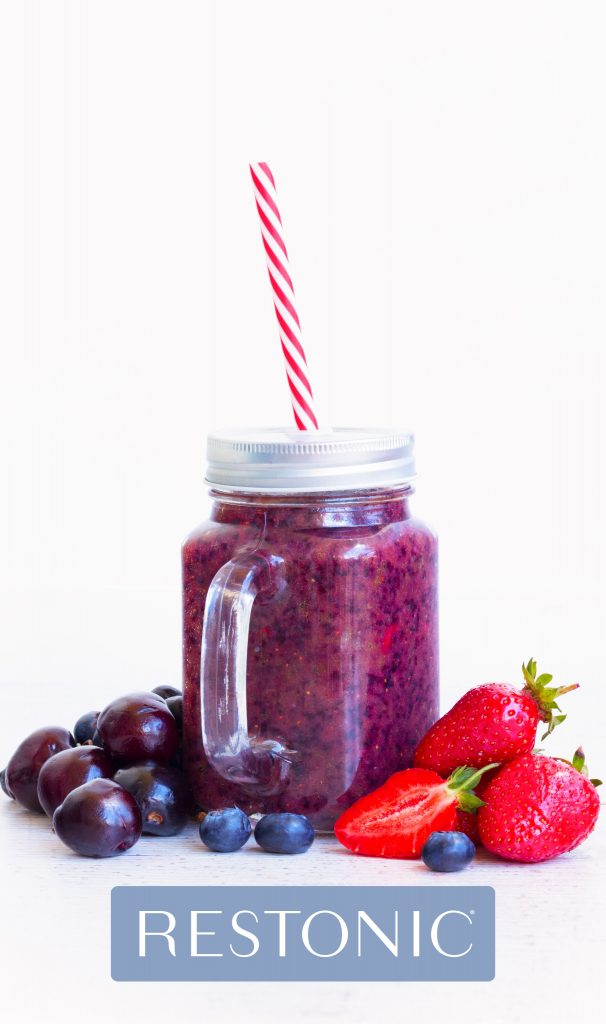 • Pre-prep smoothies – On the weekend, chop some fruit and seal in a sandwich bag, along your favorite toppings, (nuts, chia seeds, etc.). Blend it up and smoothie on the go!
• Simmer eggs in leftovers – If you made a delicious veggie stir-fry or even pizza. Add some scrambled eggs to the mix and enjoy a hot, quick breakfast.
• Stop cooking oatmeal – Sometimes the 3-minute microwave time is too long. Grab some oats and pour in apple juice, almond milk and refrigerate the night before. In the morning, stir in yogurt and bon appetite.
• Salsa scramble – Grab salsa from the fridge and mix it with scrambled eggs. Add fresh veggies or hot sauce for an extra morning kick.
• Bottle pancake mix – Mixing pancake batter when in a hurry can take forever. While meal prepping, make your pancake batter and store in an empty ketchup bottle. In the morning, pancakes will be ready in minutes.
• Eliminate cereal dust – Can't stand cereal dust when pouring that last bowl? Keep the annoying crumbs out by straining your cereal.
• Determine egg freshness – Forgot when you bought those eggs? Check freshness by placing an egg in a cup of water. If it sinks, fresh; if it floats, it's not.
• Grate butter – Spreading hard butter on toast while in a hurry can be a struggle. Grate the butter in a bowl and it will instantly be easier to spread on you morning toast.
• Framble your eggs – Don't fuss with scrambled eggs. Instead of whisking, melt butter in the pan, crack the eggs and enjoy the flavors of the yolks and whites together.
Turn breakfast hacks into quick recipes
You saw how easy you can jumpstart your day with breakfast hacks. Now it's time to put those hacks to the test with 3 delish recipes. Don't let your stomach grumble, time to power up with breakfast.
60 second chocolate chip muffins
Ingredients
• 1 teaspoon coconut oil
• 2 tablespoon banana
• ½ teaspoon vanilla
• 2 tablespoons flour
• 1 tablespoon beaten egg
• 3 tablespoons chocolate chips or blueberries
Showtime
In a small/medium ramekin add oil. Then add banana, egg and vanilla and stir together until combined. Next add in the dry ingredients. Mix together until combined and stir in chocolate chips. Microwave for 60 seconds! That's it! Top with banana ice cream, peanut butter, milk or more chocolate chips! It's a great anytime breakfast. Recipe via Snapguide.com
On the go cereal bars
Ingredients
• 1 serving cereal of your choice
• 2 tablespoons mini marshmallows or other toppings such as honey, nuts or fruit.
Showtime
Spray a microwave safe bowl along the inside with cooking spray. Combine cereal and marshmallows in the bowl. Microwave for 30 seconds. Mix together cereal and marshmallows until they are combined. Let the mixture sit in the bowl for 1 – 2 minutes so the marshmallows can harden up. Take your hands and run them under water to keep the mixture from sticking to your hands. With your hands grab the cereal mixture and start to form into a rectangle. If they are not sticking together let the marshmallows harden more or run your hands under water again.
Slow-cooker French toast
Ingredients
• 2 loaves Pillsbury™ refrigerated French loaf, baked according to package directions
• 1 1/2 cups whole milk
• 6 large eggs
• 1 cup heavy cream
• 1 tablespoon vanilla
• 1 teaspoon cinnamon
• 1/2 cup pure maple syrup
• 1/3 cup brown sugar
• 4 tablespoons butter
• 2 cups pecan pieces
Showtime
Spray a 4-5 quart slow cooker with nonstick baking spray. Cut baked Pillsbury™ French bread loaves into 3/4-inch cubes. Spread on a clean baking sheet. Bake in an oven preheated to 225°F for 30-40 minutes, or until bread is dried out and crisp. Place the bread into your prepared slow cooker. In a blender, combine milk, eggs, cream, vanilla, cinnamon, and maple syrup. Drizzle entire mixture over the bread in the slow cooker. In a small bowl, use a fork to combine the brown sugar, butter, and nuts. Sprinkle mixture over the top of the bread. Set slow cooker to low. Cover and cook for 4-5 hours. 20 minutes before serving, remove the lid of the slow cooker and allow the French toast to cool and set. Serve with fresh berries and a drizzle of maple syrup, if desired. Recipe via Tablespoon.com

Eager for more sleep info you can really use?
Join our communities on Facebook and Twitter and let's continue the conversation.
We'd love to hear what you have to say!
This blog does not provide medical advice. It is intended for general informational purposes only and does not address individual circumstances. It is not a substitute for professional medical advice, diagnosis or treatment and should not be relied on to make decisions about your health. Never ignore professional medical advice in seeking treatment because of something you have read on Restonic.com. If you think you may have a medical emergency, immediately call your doctor or dial 911.
Get better sleep, today