---
Want to keep your New Year's resolutions? Let sleep help!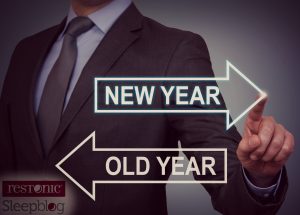 A few days into 2017 and we're wondering how your resolutions are holding up? Don't roll your eyes at us – it's not too late to start. Whether you're hoping to lose those extra pounds before spring, declutter your home or relax more often, it all starts and ends with one thing. Sleep!
With less than 7 – 9 hours of sleep per night, you're more than likely to binge on junk food, gain weight and be less productive the next day. Granted, getting a good night's sleep and conquering your new resolutions is much easier said than done but it's possible to turn it all around. Ready for a new you in the new year? We have you covered with tips to conquer your resolutions.
If your goal is to lose weight – try sleep
A majority of your life is spent in the bedroom – approximately

7-9 hours every 24 hours – almost a full third. What if you could follow through on your resolution by creating a weight loss routine that you can literally take to bed? Try these 3 tricks to slim down in the new year:
Try foods with tryptophan –

Tryptophan, an amino acid found in turkey and lamb, is a well-documented sleep superhero. Turkey contains less fat and calories when compared to chicken and beef, which makes it easier to digest so your tummy can sleep when you do.

Hit pause on Netflix –

Don't get freaked out too much, but 

research studies

have found that for every 2 hours spent staring at the TV, your risk for diabetes, heart disease, and even early death increase. And it can also lead to weight gain – yikes! Try an evening walk, reading a book or family game night to relax after dinner.

Celebrate the New Year with love –

When it comes to weight loss, studies have shown that an hour of sex can burn 150 calories and reduce late-night snack cravings. When it comes to sleep, making love helps release cortisol, a stress-inducing hormone. Surges of

cortisol

leaves the body feeling more relaxed and results in a better transition into sleep.
Ready to ditch the pounds in 2017? Check out these posts for maintaining a healthy lifestyle in and out of the bedroom:
If your goal is to declutter – start in your bedroom
A new year is a perfect time to organize and reclaim your space, especially in the bedroom.
Your bedroom is your most private and personal sanctuary, intended for sleep and the other "S" thing you do there. But if your drawers are overflowing, the floor is in disarray and clutter covers your bed, you'll wake up frazzled and more tired than before you went to bed. Try these 3 tips for decluttering your bedroom:
Swap monsters for essentials –

Look under your bed – not for monsters but for all the empty space. Maximize every inch of your room by storing shoes, purses and extra linens under your bed.

Double furniture as storage –

 If 2017 is the year to redecorate your bedroom, pay attention to furniture with built-in storage solutions. A headboard that doubles as a bookshelf, customized closet storage or a cedar chest that doubles as end-of-the-bed seating.

Hang your accessories –

 A jewelry box is a great place for stylish accessories but a piece of unfinished barn board strung with hooks for your jewelry can serve as trendy wall art.  
If you're ready to stop hoarding check out these additional posts for decluttering and organizing:
If your goal is to de-stress your life – get more sleep
When a new year begins, we want to feel fresh and that means washing away the negative stresses of life. After all, stress is a fixture of our lives – some of it good, some of it strong enough to hurt. You know the kind we're talking about. That tightness that begins in your gut and travels to your fingernails and earlobes like an electric snake. It makes you snap at loved ones and in some cases, leaves you sobbing and unable to make a rational decision. Slow down in the new year by tweaking your sleep schedule with these 3 hacks:
Slow your evenings –

Slowing your evening helps prepare your body for sleep. Try limiting TV time an hour before bedtime and moving electronic distractions away from your bed. Your mind will be ready to relax and transition into sleep.

Learn to say no –

Try not to feel obligated to always go to happy hour or to your friend of a friend's child's dance recital. Sticking to your nighttime routine is crucial for de-stressing and getting the sleep you need.

Nap –

Easier said than done, right? Quick 20-minute snoozes daily will get you through some stresses and helping to balance your to-do list and won't disrupt your normal sleep pattern.
Say adios to stress in 2017 with better sleep and some additional posts:
Keeping your new year's goals can be tricky especially when your daily life takes over. But when you think about it, getting a good night's sleep can be beneficial for everything you do – from eating healthier to exercising and relaxing. Time to conquer 2017 with a new you! Check out more hacks for getting a better night's sleep:
Eager for more sleep info you can really use?
Join our communities on Facebook and Twitter and let's continue the conversation.
We'd love to hear what you have to say!
This blog does not provide medical advice. It is intended for general informational purposes only and does not address individual circumstances. It is not a substitute for professional medical advice, diagnosis or treatment and should not be relied on to make decisions about your health. Never ignore professional medical advice in seeking treatment because of something you have read on Restonic.com. If you think you may have a medical emergency, immediately call your doctor or dial 911.
Get better sleep, today