---
An after-dinner treat that won't affect your sleep
If you're like us, you probably enjoy a little sweet treat before bed. What if your dessert could help you fall asleep and stay asleep? Double the sweet!  Could it be true?
Get ready to get excited because yes, it is true. What you eat before bed can affect your quality of sleep. But have no fear, you can still enjoy dessert. Bananas, cherries, mango, grapes, oranges and dark chocolate are all sleep inducing foods. We've found some recipes that include not only some of these dream makers but a few other ingredients that won't hinder you drifting off into dreamland.
Dark Chocolate Chunk Oatmeal Cookies with Cherries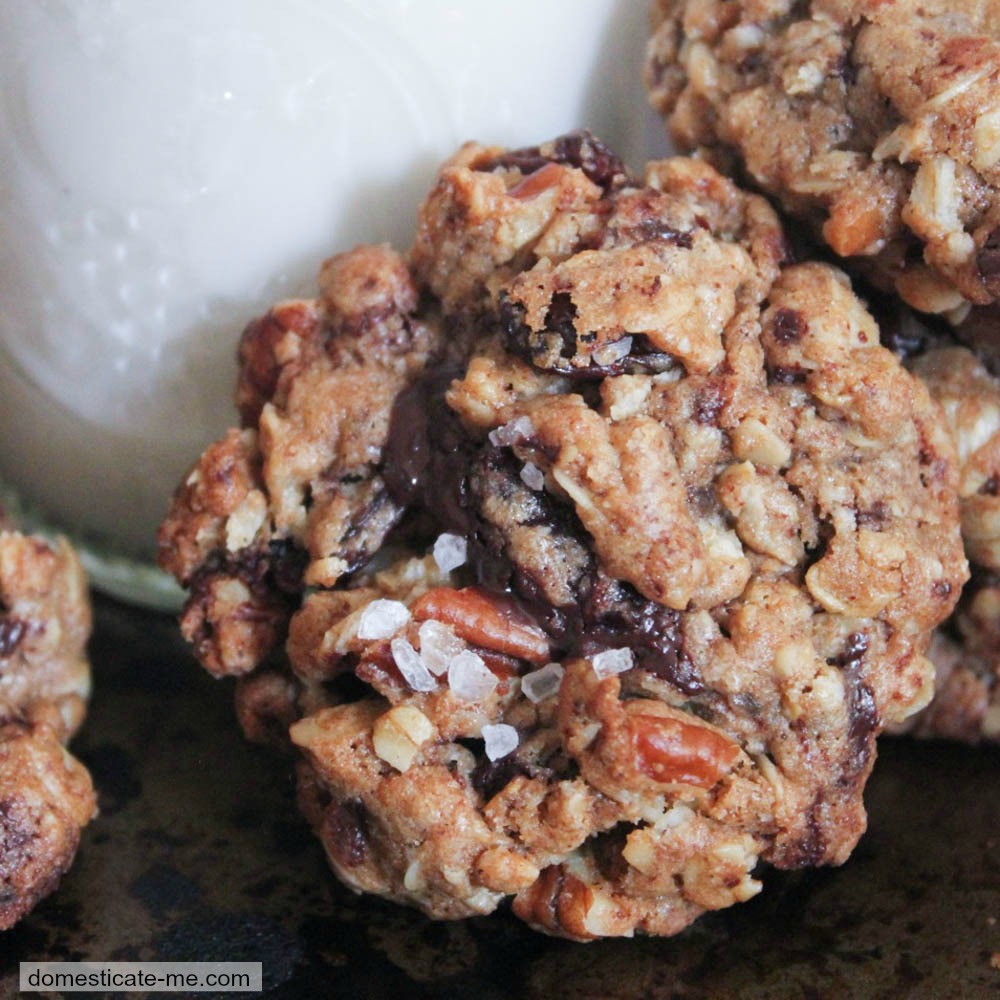 Yield: about 20 cookies
Ingredients:
½ cup coconut oil (in solid form)
2/3 cup brown sugar, packed
½ tsp. pure vanilla extract
1 large egg
¾ cup whole wheat flour
½ tsp. baking soda
½ tsp. ground cinnamon
1¼ tsp. sea salt, divided
1½ cups rolled oats
3.5 oz. dark chocolate (1 bar), chopped (you can also use dark chocolate chips if you prefer)
½ cup dried cherries
½ cup pecans, chopped (optional)
Instructions:
Add the coconut oil, brown sugar, vanilla extract and egg to a large mixing bowl. Cream them together until smooth. If you have a stand mixer, you may use it. You can also use an electric hand mixer, or a regular old whisk. Just make sure that you get the mixture as smooth as possible. You may notice there are some lumps of coconut oil. Use a spatula to smoosh them out.
In a separate bowl, whisk together the flour, baking soda, cinnamon, and ½ teaspoon of sea salt.
Stir the flour mixture into the coconut oil/sugar mixture until just combined. Add the oats, chocolate chunks, cherries and pecans (if using) and mix until well incorporated.
Cover the dough with plastic wrap and pop it in the freezer for at least 20 minutes. Yes, you can skip this step, but your cookies will end up slightly less thick.
Pre-heat the oven to 350 degrees. Line two baking sheets with parchment or silpats.
When the dough is cold, scoop tablespoon sized balls onto the prepared baking sheets 2-inches apart. Sprinkle each ball with a few flakes of the remaining sea salt.
Bake your cookies for 13-15 minutes (the exact cooking time will vary slightly depending on your oven and how cold your cookie dough is when it goes in) until they are slightly golden. Remove them from the oven and let them sit on the hot baking sheet for five minutes before transferring them to a wire rack to cool.
Notes:
Sometimes the cookies star to get slightly misshapen while they cook. You can remove them from the oven after about 8 minutes and gently nudge them back into a round shape with the back of a spoon.
Recipe via Domesticate-me.com
Again, we've done some research and put together a Pinterest board of delicious, sleep happy desserts for you.
Eager for more sleep info you can really use?
Join our communities on Facebook and Twitter and let's continue the conversation.
We'd love to hear what you have to say!
This blog does not provide medical advice. It is intended for general informational purposes only and does not address individual circumstances. It is not a substitute for professional medical advice, diagnosis or treatment and should not be relied on to make decisions about your health. Never ignore professional medical advice in seeking treatment because of something you have read on Restonic.com. If you think you may have a medical emergency, immediately call your doctor or dial 911.
Get better sleep, today