---
Tap into your artistic side, just like George Vanderbilt did, with a great night's sleep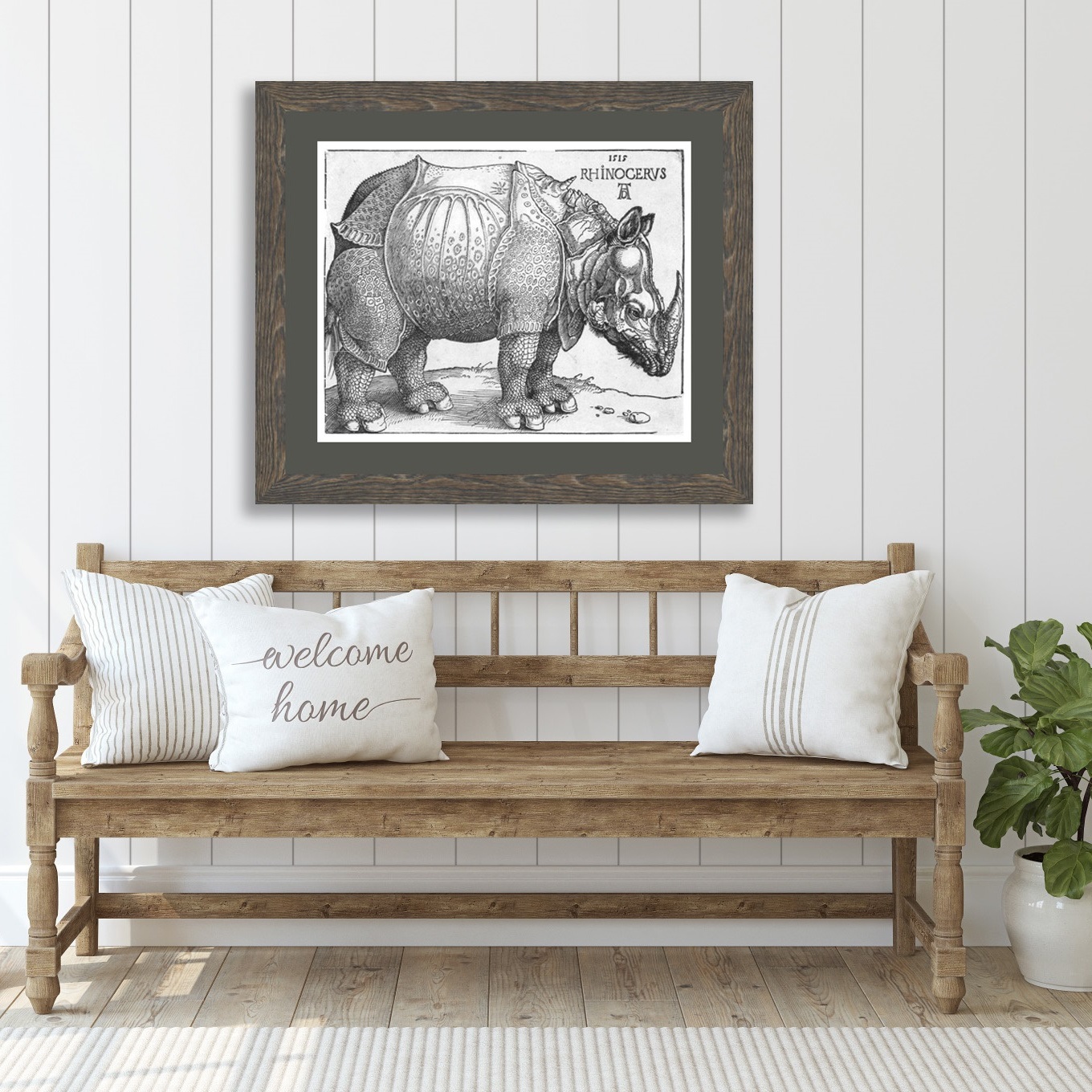 If you visit beautiful Biltmore® in Asheville, North Carolina, leaving with great memories is one of the things you can look forward to. And of all the picturesque things to see and explore at America's Largest Home® – both inside and out – the bedrooms never fail to astound. A tour through the house will allow you to wander through George and his wife, Edith's, gorgeous bedrooms as well as a bevy of exquisite bedrooms designed for family and friends. Among them are six stunning bedrooms named after prominent artists.
The bedrooms of Biltmore are filled with unique pieces of art, antiques and many treasures that George Vanderbilt either inherited or collected from his worldwide travels. Early on in his life, he developed an appreciation for art, thanks to his parents. His childhood home, 640 Fifth Avenue in NYC, was a work of art itself and filled with more than 200 paintings on display. The youngest of eight children, George inherited the Fifth Avenue house when his mother died in 1897 (his father had passed away earlier).
When Vanderbilt began decorating his country estate, which was completed in 1895, he brought some of those pieces with him, adding them to his own considerable collection. From top dealers in Paris, he purchased artwork by big names like Renoir, Monet, Daumier and Maufra. He also developed a love for the prints from Albrecht Dürer, a late medieval printmaker. While parts of the Dürer collection are displayed today in the Morning Salon and Music Rooms of Biltmore House, Biltmore Museum Services believes they were originally displayed in what is now the Library Den. This includes Dürer's Rhinoceros and the monumental "Triumphal Arch of Maximillian I." George Vanderbilt also commissioned portraits by some of the most notable artists of his time: James McNeill Whistler and John Singer Sargent. 
The artist bedrooms of Biltmore
It's not surprising that Vanderbilt named a number of bedrooms in his beautiful new home after notable artists.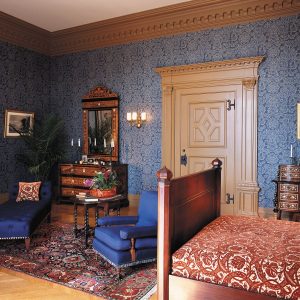 The Claude Room was named for Claude Gellée (also Lorrain), a master of 17th-century landscape painting who influenced the next generation of artists, like J.M.W. Turner. In this room, you'll find elaborate furniture like an early 18th-century Italian commode, a beautiful English chest of drawers and an Italian Baroque-style kneehole desk in ebony and rosewood inlaid with ivory and mother of pearl.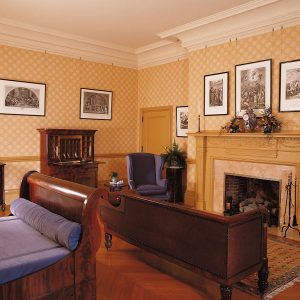 Vanderbilt's love of Italian culture is also acknowledged with the Raphael Room, named for Renaissance artist Raphael Sanzio (1483 – 1520) of Urbino, Italy, and features several prints after Raphael's work.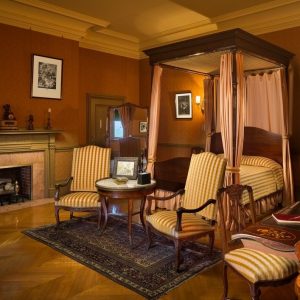 The Earlom Room was named after English painter and engraver Richard Earlom whose works were coveted and collected by Vanderbilt. Nine of the artist's engravings are on display in this bedroom.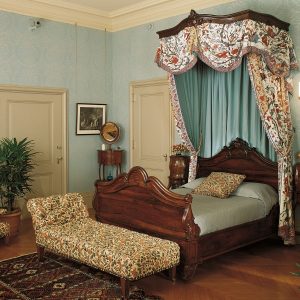 Vanderbilt's familiarity with prominent English artists also shows up in the Morland Room, inspired by George Morland (1762-1804), a popular genre artist whose whimsical works inspired the Rococo Revival style in which the room is furnished. The canopy above the bed, as well as the matching upholstery throughout the room, were originally a hand-painted Indian chintz fabric decorated with animals, flowers, and hunting scenes. No doubt George and Edith Vanderbilt's honeymoon in Stresa, Italy, influenced their choice of fabric. The Biltmore archives show the villa where they stayed had very similar fabric panels.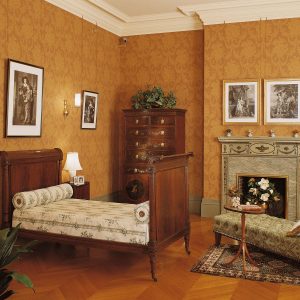 Dutch master Anthony Van Dyck (1599-1641) also has a bedroom named in his honor, the Van Dyck Room. It features an eclectic assortment of 19th-century American furniture and a Colonial Revival motif. Wallpaper and paint were replicated from original samples and the green cotton damask was reproduced based on historical designs.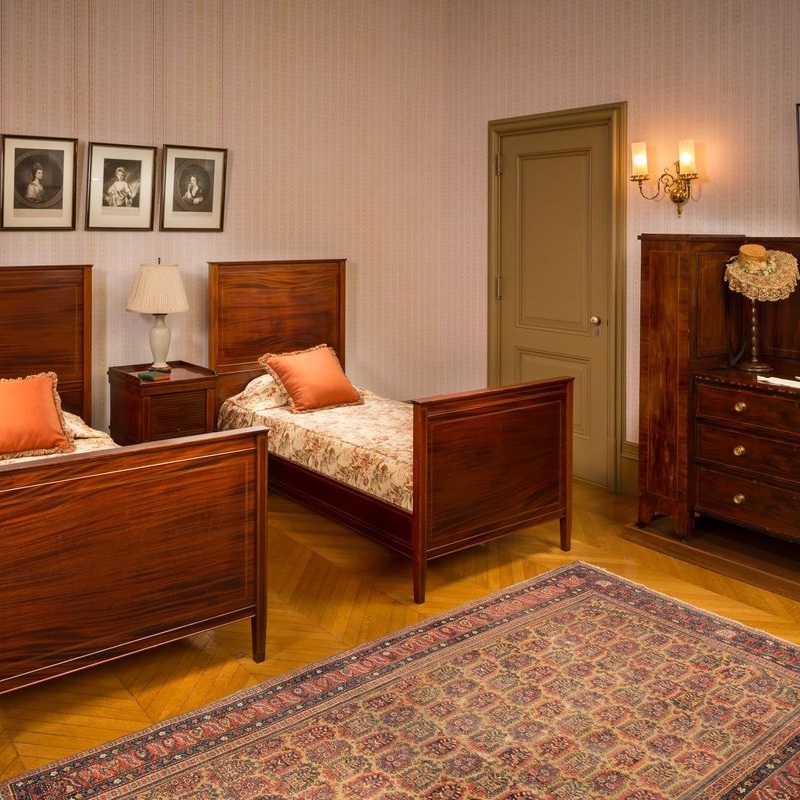 And finally, James Watson (1740-179), who was said to be the favorite engraver of 18th c. portraitist Sir Joshua Reynolds, was likely the man who sparked Vanderbilt to create the Watson Room. Watson's mezzotints, several of which were neoclassical in style, helped shape the décor look of this elegant space.
From these six, very unique and distinct bedrooms at Biltmore, there is a lesson to be learned about the importance of designing comfortable, welcoming bedrooms that tap into the creative spirit. Whether it's from an artist or from history, the spaces where we sleep are integral to emotional and physical health. In turn, sleep plays a key role in our creativity.
Sleep – the creativity connection

A solid night of sleep is the fuel our brains need to see things in new ways. Research shows that while we snooze, the brain is an active hub of tracking, filing and integrating information we gathered throughout the day. This processing time allows us to pull unrelated concepts from our memory and make sense of them. It also helps us be better problem-solvers and creative thinkers in stressful situations.
Experiments have shown there is a direct link from sleep to problem-solving. Studies published by Cardiff University found that the two main phases of sleep – REM and non-REM – are equally important and work together so we can come up with solutions to complex situations. Every 90 minutes or so we go through a cycle of these two types of sleep.
Non-REM sleep replays memories to consolidate information and make it part of our existing knowledge base. Some scientists believe that dreaming is the conscious manifestation of this replaying and building of memories. It's something that is being studied more closely at University of Nottingham. Using artificial intelligence to learn and behave like a sleeping brain, researchers are examining the stages we experience for abstraction and linking things together.
At the core of what's being learned is good quality sleep truly matters. We need it to also clear out brain fog and toxins, and to makes us feel well. A well-rested person is more optimistic in their attitude toward life and more able to let their creative spirit soar. Whether you're painting a modern masterpiece, designing beautiful spaces for your own home, or trying to think your way to solving puzzles, it's best to sleep on it – soundly.
Rest well & wake up ready to go!
Better sleep gives rise to better mornings, bringing your goals into focus and dreams within reach. Hungry for more sleep info? Dig into these posts:
Biltmore® and images of Biltmore House are trademarks of The Biltmore Company, and are used by Restonic® under license. ©2021 all rights reserved.

Eager for more sleep info you can really use?
Join our community Facebook and let's continue the conversation.
We'd love to hear what you have to say!
This blog does not provide medical advice. It is intended for general informational purposes only and does not address individual circumstances. It is not a substitute for professional medical advice, diagnosis or treatment and should not be relied on to make decisions about your health. Never ignore professional medical advice in seeking treatment because of something you have read on Restonic.com. If you think you may have a medical emergency, immediately call your doctor or dial 911.
Get better sleep, today