---
What goes into designing your perfect sleep space? A lot of you, your interests and passions!
With one-third of your life devoted to sleep, it makes sense to ensure your bedroom is a comfortable, welcoming space, from a supportive mattress to sumptuous bed linens to pleasing decor. To achieve that, everything in your bedroom should reflect your personality. If you feel at-home in your bedroom, it goes without saying that you'll elevate your chances of a great night sleep.
At the historic Biltmore in Asheville, North Carolina, George Vanderbilt and later his new wife, Edith, designed a home where they could relax and recharge. Their bedrooms especially showed who they were as people, what was important to them, their passions and pastimes.
George Vanderbilt's bedroom personality
When designing his bedroom, George Vanderbilt opted for a masculine aesthetic, highlighted by bold colors and dark wood, which shows his appreciation of European culture, fine art and antiques. The bed, sofa, chairs and tables in the room are all 17th century Portuguese Baroque style. Two chests in the room are Italian Renaissance style, likely purchased through European antique dealers.
The walls of his room are truly elegant – gilded burlap –  which gives them a regal appearance and adds visual interest because of the interplay of light. On them, he displayed his passion for collecting prints, purchased mainly from Wunderlich, a London retailer of printed material. They show a variety of subjects and artists. Portraiture in the room depicts notable subjects, including English, Spanish and German kings.
Visitors to Biltmore today will also see George's bedroom decorated with plaster casts replicating friezes from the Parthenon in Greece. The plaster casts were produced by Eugene Arrondelle, the overseer of the reproductions workshop at the Louvre in Paris. There are also sculpture bronzes by Meunier and Mene. The overall feel of the bedroom is one of sophistication. It shows George's respect for antiques and different furniture styles throughout history, melding of classical and modern styles.
Edith Vanderbilt's bedroom personality
As you would expect of the time period, Edith slept in a separate bedroom. Because of social customs of the time, George Vanderbilt's (male) servants and Edith Vanderbilt's (female) servants would never see the spouse of the opposite gender during the private moments of dressing or undressing.
When construction on Biltmore was completed, Edith and George had not yet married. Her bedroom, not far from George's, was originally built with George's mother, Maria Louisa Kissam Vanderbilt, in mind. While it may seem strange to us today for a mother and adult son to be in such proximity, it was common in houses expecting frequent guests for the extended family to have private familial spaces that might consist of bedrooms and sitting rooms.
Work on the paper mache decorations for Edith's bedroom began in late 1895 and was not completed in time for the formal opening of Biltmore House. Anticipating the room to be for herself, George's mother presided over the work. Sadly, the room was not ready for furnishings until February 1897 – three months after her death.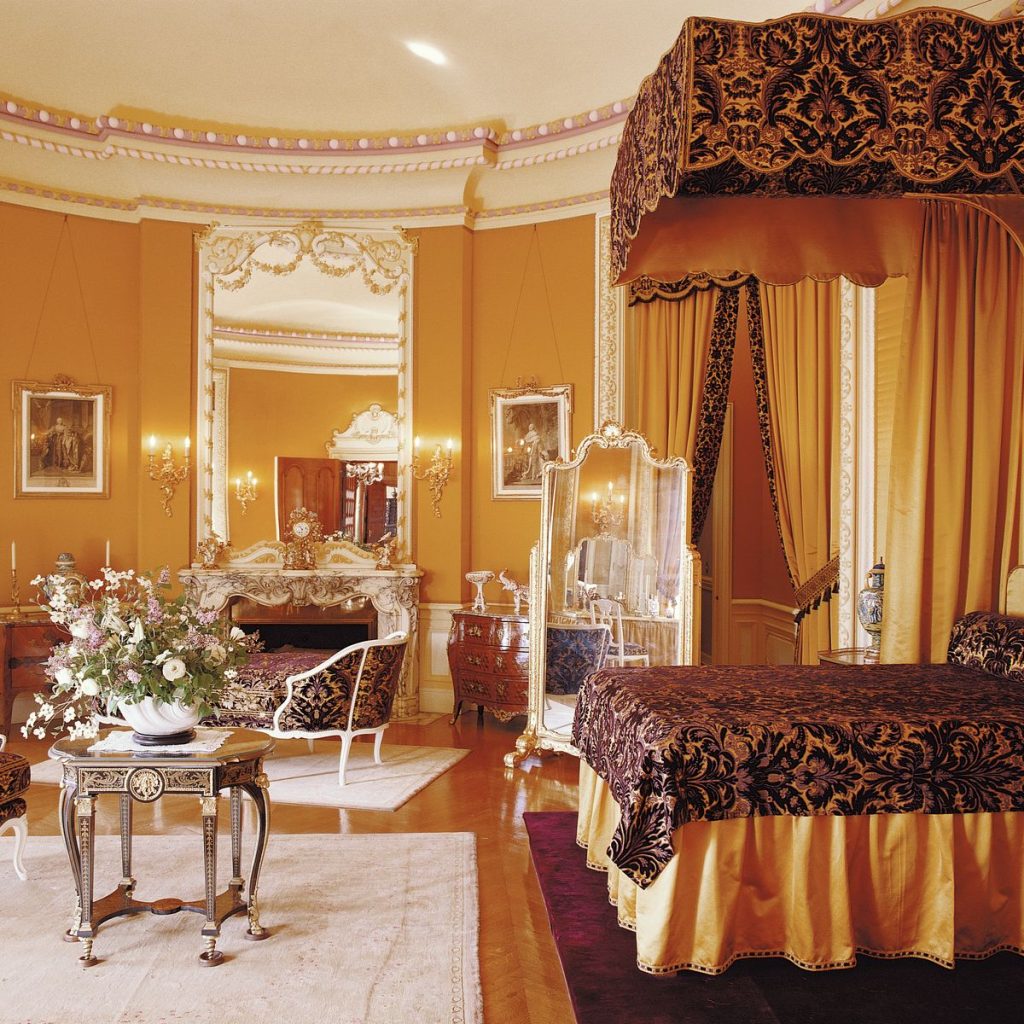 Furnishings for the bedroom were ordered by George Vanderbilt from Morant & Company of London. He chose items such as purple velvet and yellow silk curtains and valances, chairs and a chaise longue in figured velvet, an Axminster rug, a dressing table and a gilt cheval glass mirror. He likely made his selections thinking about a future wife in mind.
Since the decoration happened prior to their courtship, Edith did not have any input into the colors or design of her bedroom. But archivists at Biltmore have no documentation indicating she made any significant changes to her room throughout the years.
Edith's bedroom was decorated in a feminine Louis XV style, reflecting the popularity of French interiors at the turn of the 20th century. This look isn't seen elsewhere in Biltmore, which shows that George was thinking of the tastes of the bedroom's potential tenants. His instincts were correct. Edith may have enjoyed this style of furniture because it reminded her of her childhood in France with her sisters. Her bedroom, as well as George's, features stiff, fairly heavy bedding in silk and cut velvet, in accordance to the fashion of the day and possibly their own preferences.
In his placement of the bedrooms, architect Richard Morris Hunt also considered the importance of natural lighting – both bedrooms are west facing. The Blue Ridge mountains provide a stunning view from the windows – morning and evening – as well.  The overall design of Biltmore demonstrates that beautiful bedrooms are made up of carefully thought out details and personal touches.
Tips on making your bedroom a reflection of you
The Vanderbilts did a wonderful job of bringing personal touches to their bedrooms and made them cozy, comfortable spaces. You can take adopt that approach too. Here's how:
Choose a décor theme that resonates with you. Are you a minimalist type of person? Or does your style gravitate more toward bohemian, shabby chic, farmhouse casual or urban modern?
What's your favorite color? Though it may not work as a dominant wall color, accents can incorporate the shade you love. Think accessories like pillows and small decorative items or draperies and carpeting.
Get cozy and add textures you love. Drape a mohair blanket over the arm of a chair, a furry rug, bring in velvet curtains and finishes that make you feel like you're in a comfy cocoon. Can't stand the thought of throwing out an old sweater you've had for ages? Consider repurposing the fabric into small, decorative pillows.
Display what you love. Perhaps you love hats, teapots, or vintage handbags. Get your collections out of the closet and onto shelves for you to admire during quiet, private times.
Showcase your passion. Do you love sports, travel, music, Frida Kahlo, astronomy or Ancient Roman history? Don't be bashful about celebrating your interests. Put framed posters on your walls, hang shadowboxes with related trinkets, create a pile of coffee table books on a favorite subject, or create word art to fill up empty spaces.
Keep your loved ones close. Take the time to print off those digital photos of your friends and family (or pets) stored away on your phone, and put them into frames next to your bedside, on a dresser, or on shelves. They serve as wonderful reminders of the people who mean the most to you.
Don't scrimp on elements that help you sleep. Light and sound have a huge impact on sleep quality, so you'll want to address both wisely. Add various types of light sources to suit different needs, whether it's a table lamp with soft light for reading in bed or a bright overhead fixture so you can tell the difference between black socks and blue ones in the morning. At night, block out ambient light and sound with blackout drapes.
Rest well & wake up ready to go!
Better sleep gives rise to better mornings, bringing your goals into focus and dreams within reach. Hungry for more sleep info? Dig into these posts:
Biltmore® and images of Biltmore House are trademarks of The Biltmore Company, and are used by Restonic® under license. ©2023 all rights reserved.

Eager for more sleep info you can really use?
Join our community Facebook and let's continue the conversation.
We'd love to hear what you have to say!
This blog does not provide medical advice. It is intended for general informational purposes only and does not address individual circumstances. It is not a substitute for professional medical advice, diagnosis or treatment and should not be relied on to make decisions about your health. Never ignore professional medical advice in seeking treatment because of something you have read on Restonic.com. If you think you may have a medical emergency, immediately call your doctor or dial 911.
Get better sleep, today