---
Enjoy the flavors of Biltmore® at your breakfast table
During George and Edith Vanderbilt's time at Biltmore, breakfast was an opportunity to come together to break the night's fast with a nourishing meal before embarking onto the busyness of the day. Their home, America's Largest Home®, in Asheville, North Carolina was built in 1895 in French Renaissance-style and set a standard for gracious hospitality that's legendary to this day. Guests and family came to stay and play, enjoy the extensive grounds, the indoor pool, a well-stocked library, elegant rooms, and a welcome as inviting as the house itself.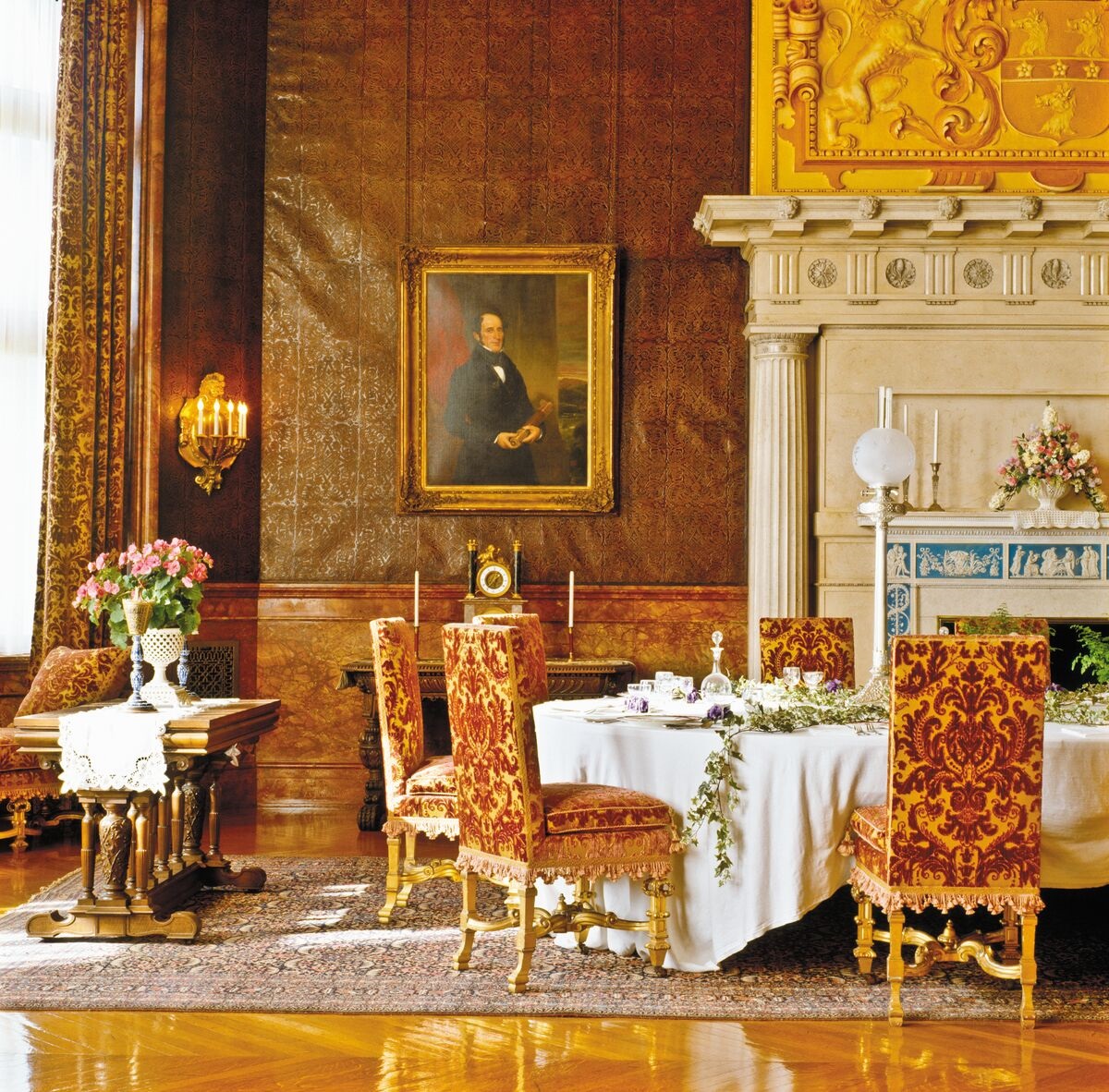 The Breakfast Room, one of our favorite rooms in Biltmore House, is wrapped in embossed leather and features a grand fireplace at its heart. George enjoyed traditional fare for breakfast – omelets, shirred (baked) eggs, fried ham, bacon and potatoes, often accompanied a café au lait. Perhaps the most casual meal of the day, guests helped themselves to a generous buffet laid out on the sideboard. Offerings likely included an assortment of meats, eggs prepared several ways, baked goods such as biscuits or scones, fish or other seafood, seasonal fresh fruits and vegetables from the estate farms. Coffee, cocoa and, of course tea, would have also been served.
It's hard to imagine anyone not wanting to begin their day in the Breakfast Room but some guests opted to break their fast in the privacy of their room. Given the beautifully appointed guest rooms, we can understand the difficulty of that choice. Each of the 35 bedrooms were artfully decorated with lavish drapery, ornate finishes, fine china, luxurious linens and well-appointed furnishings, which made them comfortable spots for sleeping and casual dining as well.
While most of us don't live in elegant mansions like Biltmore, we can borrow breakfast inspiration from the Vanderbilt way of living. On days when you're not rushing out the door, take time to set your breakfast table with fine china, an eye-catching tablecloth and fresh flowers. Then enjoy one of these breakfast recipes, generously shared by Biltmore chefs.
Egg White Omelet
3 Egg Whites
1 Tbsp diced Onion
1 Tbsp diced Bell Pepper
1 Tbsp cooked Spinach
1 Tbsp diced Tomato
1 Tbsp Vegetable Oil
Salt and Pepper to taste
Heat oil in a small, nonstick pan and add all vegetables except for the tomatoes. Sauté the vegetables for 1 minute. Add egg whites, salt, and pepper and continue to cook over high heat, stirring for the first 30 seconds to help the eggs cook faster. Once the eggs have cooked for about 2 minutes, flip the omelet over in the pan and continue to cook for approx. 2 minutes. Fold eggs in half and serve
Citrus Yogurt
32oz container of Plain Greek Yogurt
1 Orange, zested and juiced
1 Vanilla bean
½ cup honey
½ cup Milk
Cut vanilla bean lengthwise and scrape the seed out, using the back of your knife. Add vanilla bean, seeds, yogurt, honey, orange juice and zest to the bowl of a mixer and blend on low speed for approx. 30 seconds. Make sure to scrape the sides of the bowl to make sure it mixes evenly. With the mixer running on low, stream in the milk and let mix for approx. 1 minute. Scrape the bowl again and mix for an additional minute. Serve immediately with your favorite fruit.
Red Quinoa Muesli
1 cup flaked oats
¼ cup Red Quinoa
¼ cup Orange Juice
1 cup Oat Milk
¼ cup Dried Apricots, small diced
¼ cup Walnuts, Toasted and Chopped
1 orange, segmented
1/8 cup Local Honey
¼ cup Black Sesame Seeds
1 Pinch Salt
Combine oats, red quinoa, oat milk, and orange juice the night before and allow to sit in the refrigerator overnight. In the morning, fold in the rest of the ingredients.
This recipe can easily be customized by adding fresh or dried fruit and nuts. Other ancient grains can be added or removed to create infinite breakfast combinations. If the honey is removed, this recipe is vegan.
Rest well & wake up ready to go!
Better sleep gives rise to better mornings, bringing your goals into focus and dreams within reach. Hungry for more sleep info? Dig into these posts:
Eager for more sleep info you can really use?
Join our community Facebook and let's continue the conversation.
We'd love to hear what you have to say!
This blog does not provide medical advice. It is intended for general informational purposes only and does not address individual circumstances. It is not a substitute for professional medical advice, diagnosis or treatment and should not be relied on to make decisions about your health. Never ignore professional medical advice in seeking treatment because of something you have read on Restonic.com. If you think you may have a medical emergency, immediately call your doctor or dial 911.
Get better sleep, today