---
Christmas chaos consuming your morning? Try a holly jolly breakfast!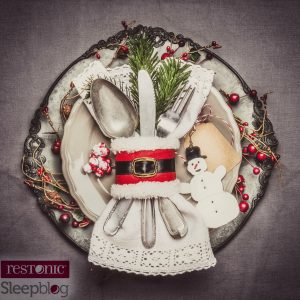 In the early hours of Christmas morning, Santa Claus will slide down your chimney, perfectly place all the presents under the tree and be on his holly jolly way to the next house…
Time to get back to reality. It's 2 am. You're frantically wrapping that Hatchimal, prepping Christmas dinner that you inadvertently signed up to host and trying to not make a peep so the kids stay dreaming of sugar plums – and maybe the Super Mario Run game. The pitter-patter of tiny reindeer will pounce on your bed in a few hours, begging to open presents and eat all the candy in their stockings. Too bad your Elf on the Shelf can't start the Keurig, right?
But don't let the chaos and early morning wake-up make you Grinchy.  You'll be sipping candy cane cocoa under the mistletoe in no time with these quick Christmas-themed breakfast recipes.  
Peppermint Mocha Donuts
The flavors of chocolate, coffee and peppermint shine in these delish donuts. These baked treats are quick and easy to make and perfectly festive before opening presents.
Ingredients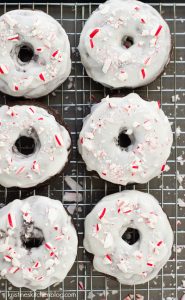 3/4 cup flour

1/3 cup cocoa powder

1 tsp. baking powder

1/2 tsp. baking soda

1/4 tsp. salt

1/4 cup granulated sugar

1 tbsp. brown sugar

1/4 cup milk

1 egg

1 tsp. vanilla extract

1 tbsp. unsalted butter, melted

1 cup powdered sugar

2 tbsp. milk

1/4 tsp. peppermint extract

2 tbsp. crushed peppermint candies
Showtime
Preheat oven to 350 degrees. Spray a donut pan with nonstick cooking spray. In a medium bowl, whisk together flour, cocoa powder, espresso powder, baking powder, baking soda, salt, and both sugars. In another medium bowl, milk, egg, and vanilla until smooth. Whisk in the melted butter. Pour the wet ingredients into the dry and stir together until just combined. Scoop the batter into a quart-size zip-top bag: Fold the top opening of the bag down and over itself and set the bag in a cup or mug, so that you can scoop the batter into one corner of the bag. Scoop batter into the bag, remove it from the cup and unfold the rim of the bag. Twist the top of the bag a few times so that it looks like a piping bag, and cut off the bottom corner of the bag. Pipe the batter into the six wells of the prepared donut pan. Bake donuts for 9-10 minutes, until they are set and tops bounce back when gently pressed. Let cool in the pan for 5 minutes while you prepare the glaze. Whisk together powdered sugar and milk until smooth. Whisk in peppermint extract. Remove donuts from pan to a wire rack set over a rimmed baking sheet. Warm the glaze in the microwave for 15 seconds. Gently dip the top half of each donut in the glaze and place on the baking sheet. Let the first layer of glaze set for a few minutes and then re-warm the glaze in the bowl, whisking again until smooth. Working with one donut at a time, use a small spoon to drizzle a second layer of glaze onto each donut, spreading it a little bit with the back of the spoon. Immediately sprinkle crushed peppermint candies over each glazed donut before moving on to the next. Recipe via KristinesKitchenBlog.com
Gingerbread Pancakes
The warming spices provide so much rich, wintery and cozy flavors. The excited kiddos will love these too.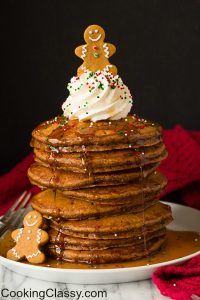 Ingredients
2 cups flour

1 1/2 tsp. baking powder

1/2 tsp. baking soda

1/2 tsp. salt

2 1/2 tsp. ground ginger

1 1/2 tsp. ground cinnamon

1/4 tsp. ground nutmeg

1/4 tsp. ground cloves

1 cup of water

1/2 cup molasses

2 large eggs

3 tbsp. unsalted butter

Maple syrup, for serving
Showtime
Preheat an electric griddle to 375 degrees. In a mixing bowl whisk together flour, baking powder, baking soda, salt, ginger, cinnamon, nutmeg and cloves for 20 seconds. Make a well in the center of the flour mixture and set aside. In a separate mixing bowl whisk together water, molasses, and eggs then mix in butter. While whisking, pour molasses mixture into well in flour mixture and mix just until combined. Butter griddle then immediately pour batter onto griddle about 1/3 cup at a time. Cook until the bottom is golden brown and bubbles start to appear on surface edges of pancakes then rotate and cook opposite side until golden brown. Serve warm with maple syrup. Recipe via CookingClassy.com
Stacked Cinnamon Roll Christmas Tree
This breakfast might look intense but we promise it's quick and easy. We suggest asking the kids to join in to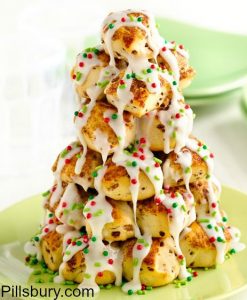 decorate.
Ingredients
1 can refrigerated cinnamon rolls with icing

sprinkles
Showtime
Heat oven to 400°F. Spray large cookie sheet with cooking spray. Separate dough into 8 rolls. Use kitchen scissors or knife to cut each roll into 4 pieces. Shape each piece into a small ball and place it on the cookie sheet. Place 10 balls in a single layer, clustered and touching together to form a round disk shape. Continue with a formation of 8 balls, then 6 balls, then 4 balls, 3 balls and finally a single ball. There will be a total of 6 disks, which will form the layers of the tree after baking. Bake 8 to 10 minutes or until browned. Cool on cookie sheet for 2 minutes. Meanwhile, transfer icing to a microwavable liquid measuring cup. Microwave uncovered on High 10 to 15 seconds or until pourable. Use a large, flat spatula to transfer the largest disk to serving platter or cake plate. Drizzle with a small amount of icing, then top with next largest disk. Drizzle with a small amount of icing. Continue with remaining disks, ending with a single ball. Drizzle remaining icing over the tree. After drizzling, immediately sprinkle with colored sugar. Recipe via Pillsbury.com
Candy Cane Cocoa
Introducing the perfect Christmas morning cocoa. Enjoy while opening presents and taking photos.
Ingredients
4 cups milk

1/4 cup chopped semisweet chocolate chips

4 peppermint candy canes, crushed
Showtime
In a saucepan, heat milk until hot, but not boiling. Whisk in the chocolate and the crushed peppermint candies until melted and smooth. Pour hot cocoa into four mugs and garnish with whipped cream and a marshmallow. Serve each with a candy cane stirring stick. Recipe via RealHouseMoms.com.
Merry Christmas from Restonic!
It's easy to get wrapped up in the shopping and gift giving but understanding the true meaning of Christmas and cherishing your loved ones will eliminate help eliminate stress and help you get a peaceful night's sleep. From our family to yours – Merry Christmas and Happy Holidays!
Eager for more sleep info you can really use?
Join our communities on Facebook and Twitter and let's continue the conversation.
We'd love to hear what you have to say!
This blog does not provide medical advice. It is intended for general informational purposes only and does not address individual circumstances. It is not a substitute for professional medical advice, diagnosis or treatment and should not be relied on to make decisions about your health. Never ignore professional medical advice in seeking treatment because of something you have read on Restonic.com. If you think you may have a medical emergency, immediately call your doctor or dial 911.
Get better sleep, today