---
Make the morning a little less hectic and a LOT more delicious!
The most important meal of the day is breakfast, so make it simple and easy. We always want those few extra minutes to lay in bed and collect ourselves before the whirlwind of a day begins. To help you get as much sleep as possible, we've found some easy mason jar breakfast recipes to help get your day started with healthy already checked off.
The basics
The best thing about any mason jar breakfast is that the ingredients are pretty basic. You can prepare breakfast for the entire week saving you money and time. I have listed the four ingredients most commonly used to create a healthy and quick breakfast.
Add the milk – You can use regular milk or give Almond Milk a try. Almond milk has many benefits, from keeping your skin healthy and glowing and like regular milk helps your bones remain strong.
Drop in some yogurt – Greek yogurt not only helps with digestion but is full of protein and a great ingredient to start off your morning. Whether it's plain or flavored, Greek yogurt will help keep you full and feel satisfied longer.
Grab some oats – You have some options here, instant oatmeal to speed the process up or some steel-cut oats. Either way, your body will benefit from this super healthy ingredient. Oatmeal is filled with fiber, assisting your digestive system and controlling your cholesterol.
Throw in some fruit – Fruit will bring your morning mason jar to the next level. It's rich in vitamins and natural sugars, not to mention it tastes great too! By adding fruit to these jars you will also boost your mood. Blueberries, for example, provide your body with antioxidants and Vitamin C to help prevent illness.
The recipes I put together are simple and easy for you to grab and go. I also put a spin on the traditional eggs and bacon breakfast. It's time to take the lid of and give these recipes a try.
Creamy Pumpkin Spice Overnight Oats
Fall is coming and so are pumpkin-flavored beverages and treats.
Ingredients
1/4 Steel-cut oats
1/4 Pumpkin puree
1/2 Almond milk
Dash of pumpkin spice (cinnamon, ginger & nutmeg)
Showtime
Mix the ingredients in a bowl and then pour it into a mason jar. Cover with lid and let it sit overnight. In the morning microwave for 1 minute to eat or eat cold! Masonjarbreakfast.com
Nutella Breakfast in a Jar
Start your morning off with a sweet hazelnut treat.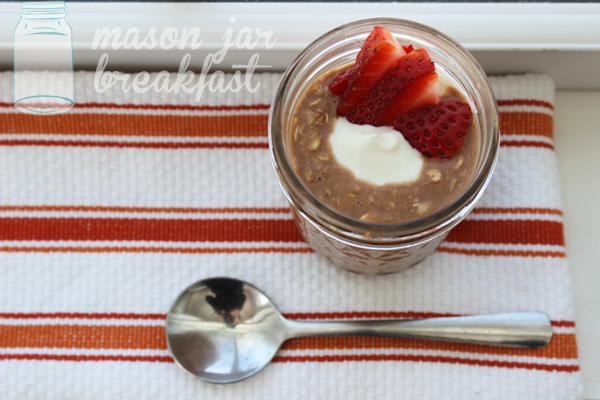 Ingredients
1 tbsp. Nutella
1/4 Oatmeal (half-pint jar)
1/2 cup almond milk
Strawberries
Yogurt (if desired)
Showtime
Combine oatmeal, almond milk, and Nutella. Mix ingredients until the Nutella is completely integrated. Top with strawberries and refrigerate overnight. Feel free to top it off with yogurt and strawberries. Masonjarbreakfast.com
Bacon & Eggs in a Jar
Just because you're eating out of a mason jar doesn't mean you have to say goodbye to bacon and eggs. I've tried this myself and I must say it puts a whole new delicious twist on breakfast.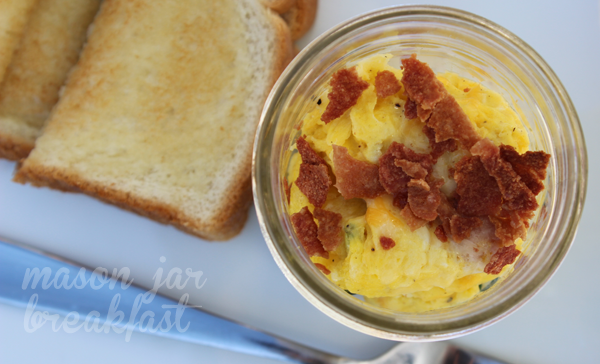 Ingredients
2 Eggs
Fresh spinach
Shredded cheese
Bacon
Dash salt & pepper
Showtime
The first step is cooking the bacon. Then you mix the eggs, salt & pepper, spinach, and cheese together in a bowl. Pour mixture into a mason jar and cook in the microwave from 1:30-2:00 minutes (checking often). Be aware that the egg mixture will puff up during cooking but deflate when out of the microwave. Top with some additional cheese & bacon crumbles (you can also you bacon bits to save some extra time). Recipe via masonjarbreakfast.com

Eager for more sleep info you can really use?
Join our communities on Facebook and Twitter and let's continue the conversation.
We'd love to hear what you have to say!
This blog does not provide medical advice. It is intended for general informational purposes only and does not address individual circumstances. It is not a substitute for professional medical advice, diagnosis or treatment and should not be relied on to make decisions about your health. Never ignore professional medical advice in seeking treatment because of something you have read on Restonic.com. If you think you may have a medical emergency, immediately call your doctor or dial 911.
Get better sleep, today