---
When you're looking to look your best, begin with your nighttime routine
At the end of day, our comfy bed beckons. And our desire to crawl into that cozy cocoon of blankets can dissuade us from spending precious minutes taking care of our skin. While tempting to just go to bed, it's not worth it. Nighttime is the ideal time for our skin to take advantage of our body's nighttime repair mechanisms, which kick into high gear during deep sleep.
And who doesn't want to wake up feeling good and looking good by adopting a few quick and easy skin-boosting bedtime habits? That's why it's called 'beauty sleep,' right? Consider these expert tips from leading dermatologists to show you how to get yours.
Step 1 – begin by washing your face
The one piece of advice that seems universal among skin doctors is to wash your face before bed. Dr. Cynthia Bailey, a dermatologist in Northern California and founder of DrBailySkinCare.com, says: "It's important to cleanse your face with a product that's matched to your skin type to remove makeup, sunscreen and the day's grime and oil. This helps to prevent clogged pores and the build-up of dead skin cells that cause lusterless skin tone."
On those late nights when getting to a sink to wash your face is just too much fuss, just use pre-moistened facial cleansing wipes designed to sweep away debris and dirt. Choose a brand that removes eye makeup too – and keep a package by your nightstand. Going to bed without a proper cleansing can lead to trouble, everything from acne to skin irritation.
Step 2 – add a layer of protection to your skin
Once you've gotten rid of any grime and makeup on your skin, it's time to create a healthy topical barrier with an application of moisturizer designed specifically for nighttime. Facial moisturizers meant for day tend to be lighter and may contain sunscreen, which you don't want or need for bedtime use. Those meant for evening tend to be heavier creams, formulated with ingredients designed to repair.
Dr. Tsippora Shainhouse, a dermatologist with Raapaport Dermatology in Beverly Hills, and a clinical instructor at the University of Southern California, recommends applying an antioxidant serum to help undo the damage (think UV rays and air pollution) that happens over the course of a day. "For irritated skin, put on a layer of soothing moisturizer with ceramides to add some hydration to the skin. It is best to apply this right after washing and patting dry, in order to hold that water in your skin."
Step 3 – focus on skin repair products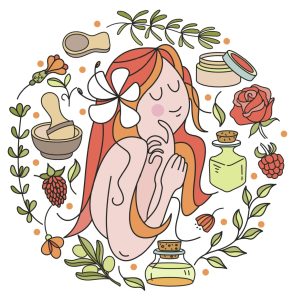 "In the evening, we can be more liberal with repair-focused products," says Miami-based cosmetic dermatologist, Dr. Christopher O'Connell. "And we don't need to worry about sun exposure, which can break down certain types of anti-aging creams that contain retinol (natural vitamin A) or retin-A (synthetic vitamin A). These are useful for improving the effect of sun damage, acne, fine lines and wrinkles. They must always be used at night."
With sun out of the mix, anti-aging products are at their most effective at bedtime and can tap into that all-important overnight period when the body focuses on repair and regeneration, including skin cell renewal. That's also prime time to get the most from your anti-aging serums, infused with skin-firming ingredients like collagen, and exfoliating products containing alpha-hydroxy acids (AHAs), effective for battling fine lines and smoothing skin.
And before you switch off your night light, apply a rich lip balm to prevent lips from drying out as you breathe from the mouth while sleeping. Skip any products that create a stinging sensation with potentially irritating ingredients like camphor, menthol or peppermint. Go old school and dab petroleum jelly on your lips for a seal that will last the night.
Step 4 – hone in on an effective eye treatment
Eye creams are very rich so they don't mix well with daytime makeup. Their emollients can cause a landslide effect, causing your mascara to gravitate to places you don't want it to be. A better option is to dab on eye creams at bedtime. The key is to dot them on gently using the tips of your ring fingers.
Come morning, whether you've slept well or had a restless night, the truth shows up around your eyes. Poor sleep leads to tell-tale signs like redness, puffiness and dark circles. Dr. Cynthia Bailey swears by chilled cucumber slices and bags of green or black tea, soaked post-brewing in ice water until cool. "Sit back with your head supported to a level that's above your heart, close your eyes and place the damp (not sopping wet) cucumber slices or tea bags on your eyes for 10 minutes."
On dark circles, smooth on a thin layer of concealer with a yellow undertone to counteract redness. Set with a powdered mineral makeup for longer lasting coverage.
Step 5 – make sure you're sleeping on a supportive, comfortable mattress
When it comes to getting a good night's sleep, faking it until you make it only gets you so far. Not sure if your mattress is sabotaging your sleep? If you sleep better away from home than you do in your own bed or if you wake up tired and achy more than a couple times a week, it might be time to go mattress shopping. The average mattress has an average lifespan of 7-10 years but that can depend on a variety of factors, such as how many people sleep on the mattress, the weight and height of those people as well as whether you use a mattress protector or not.
Rest well & wake up ready to go!
Better sleep gives rise to better mornings, bringing your goals into focus and dreams within reach. Hungry for more sleep info? Dig into these posts:

Eager for more sleep info you can really use?
Join our communities on Facebook and Twitter and let's continue the conversation.
We'd love to hear what you have to say!
This blog does not provide medical advice. It is intended for general informational purposes only and does not address individual circumstances. It is not a substitute for professional medical advice, diagnosis or treatment and should not be relied on to make decisions about your health. Never ignore professional medical advice in seeking treatment because of something you have read on Restonic.com. If you think you may have a medical emergency, immediately call your doctor or dial 911.
Get better sleep, today