---
There's a history lesson behind the bedroom doors of Biltmore – the history and evolution of mattresses!
These days, we're accustomed to beds and linens being available in standard mattress sizes, whether it's king, queen, double or twin. What's more, we can order them in the fabric we want, delivered to our homes the next day. While queen-sized mattresses are the most popular in the U.S. with more than half of the population sleeping on them, the history and evolution of mattresses in America tells a very different story.
Look no further than Biltmore in Asheville, North Carolina for an interesting story of how people slept a hundred years ago in the US. The stunning home, completed in 1895 for George Vanderbilt, is a prime example of how the history of mattresses doesn't follow a straight line. Before our modern system of standard bedding sizes, mattresses were custom-made to fit bed frames. And the beds of Biltmore are a shining example of how things were done back then. Each mattress was constructed in adherence to the very specific measurements of George Vanderbilt's extensive collection of beds used by his family and guests.
Many of the smaller mattresses were purchased by Maple and Co., the largest and most prestigious British furniture retailer and cabinet maker, which was in operation from 1840 to 1950. An advertisement featuring mattresses provides a glimpse into its early offerings for its clientele. Shoppers could choose from fine spring mattresses with horsehair-stuffed tops to palliasses (straw versions) to cotton and wool options.
A peek into George Vanderbilt's bedroom
The bedding in George Vanderbilt's bedroom today is a reproduction of the one original to this space. Its warm red tones set off the dark woods to give his bedroom a distinctly masculine and restful feel. Those familiar with George know that he had a passion for the finer things in life, especially beautiful ones from Europe. It's not surprising then to note that his bed was made in Portugal in the 17th century, sourced from French antique dealer Léon-Roswag,
As was the custom back in the day, married couples did not share a common bedroom. While they likely shared a bed at times, each partner had their own private space for sleeping, dressing and relaxing in the evening or morning. That was also true for George and his wife, Edith.
As Edith was considered tall for her era (5'9"), her bed is a unique size. It measures 57" x 77 ¾". It's slightly smaller than a queen but larger than a double bed – ideal for a woman of average size during the time. Beds tended to be shorter as most people slept partially upright, propped up on pillows in a reclined seat rather than flat on their backs.
Edith's bedroom furnishings were originally intended and designed for George Vanderbilt's mother who passed away shortly before George and Edith married. He purchased the purple and gold cut velvet fabric, as well as the bedroom furniture, her bed and settee for example. George and Edith Dresser married in June 1898 and she moved into Biltmore – and her elegantly-decorated bedroom – a few months later in October.
Edith Vanderbilt's bedroom restoration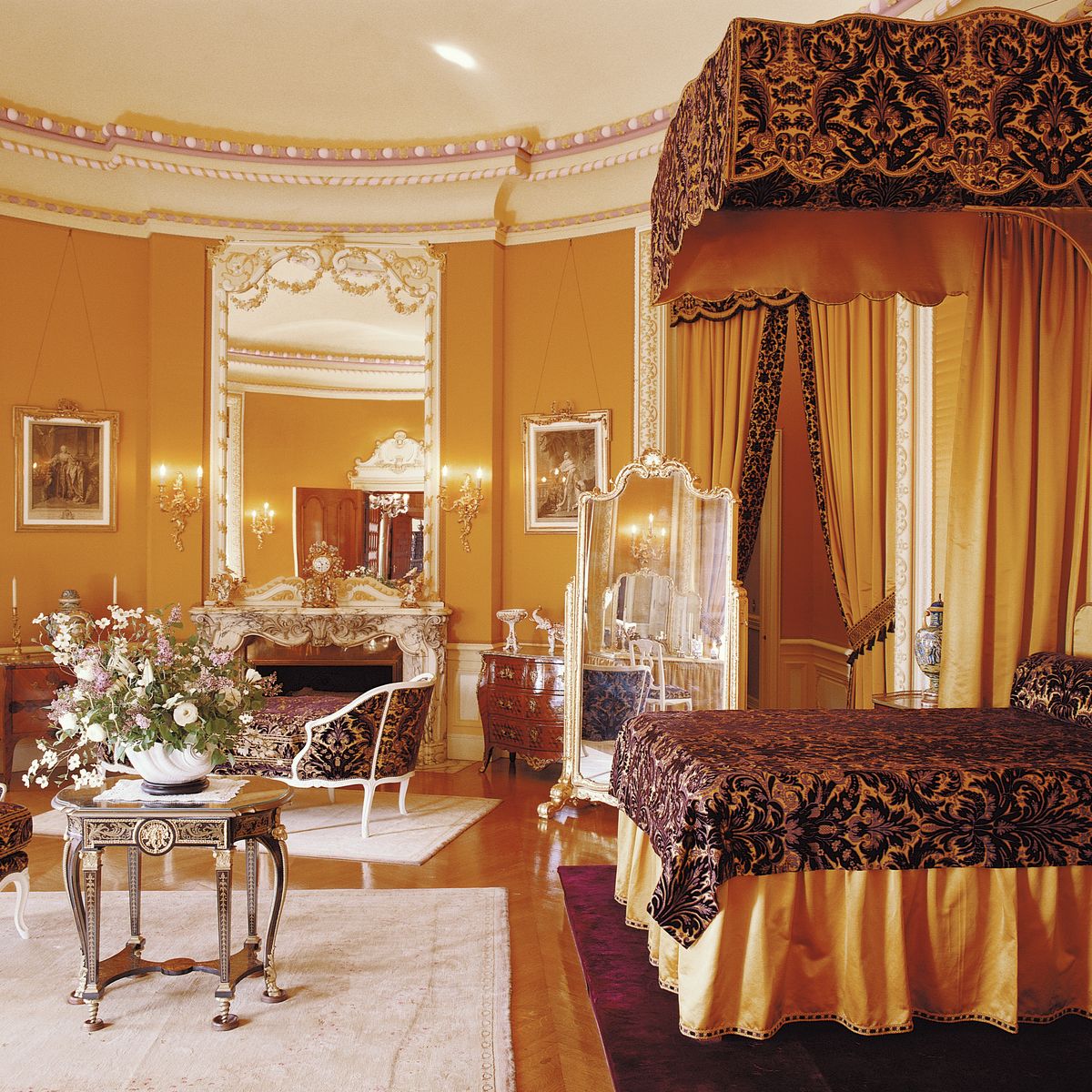 Time can be tough on delicate materials. In 1990, the decision was made to restore Edith's bedroom to address concerns about the appearance of the fabric wall coverings and upholstery, including the bedding. Biltmore contracted with Tassinari and Chatel in Lyon, France. This extraordinary company was established in 1680 during the reign of Louis XIV. It went on to provide fine woven materials for the Palace of Versailles, home to Louis XVI and his wife, Marie-Antoinette, Catherine II of Russia, and Napoleon.
This was the same atelier that had woven the upholstery fabric for the furniture ordered by George Vanderbilt from Morant and Company when he was furnishing Edith's bedroom in 1897. The company was able to reproduce the fabric exactly, including using the original looms and weaving the complex pattern by hand – an incredible achievement.
Throughout the house, unique bed sizes with custom mattresses continue – with not a single one that is consistent with today's standard measurements. A few examples unique Biltmore bedrooms include:
Raphael bedroom: 47 5/8" X 42 ½", wider than a twin but only long enough for a young child
Morland and Watson bedrooms: 61" X 87", slightly wider than a queen but longer than a king
Van Dyck: 44 ½" X 87", slightly wider than a twin but longer than a king
Louis XV bedroom: a cradle that measures 49" X 26", believed to have been used for Cornelia Vanderbilt, and later, for two of her own children – all of whom were born in the bedroom.
Odd bed sizes aside, there are other noteworthy characteristics of bedding from 100 years ago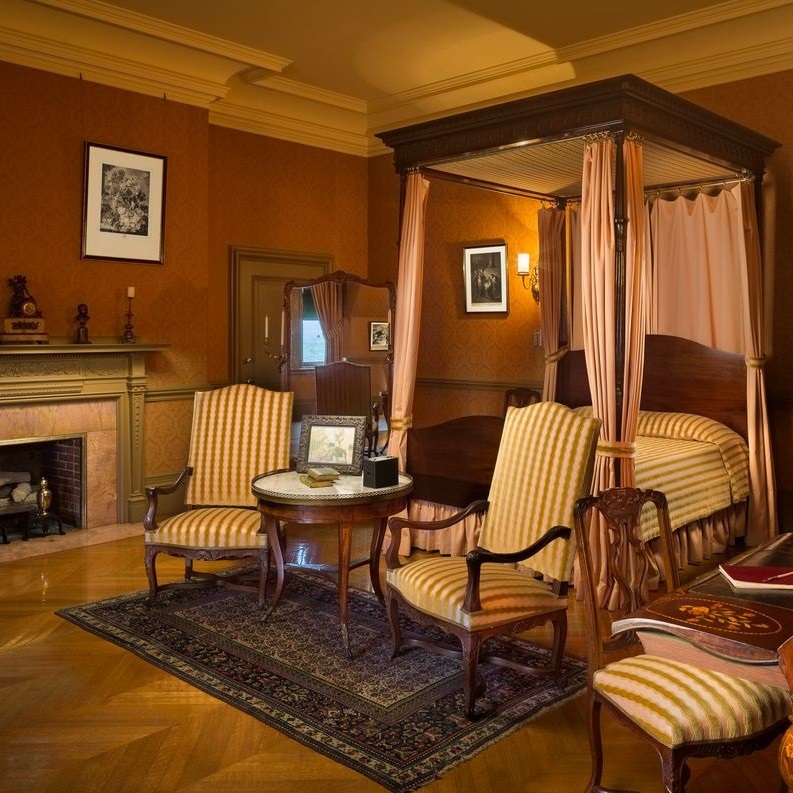 Beds at the turn of the 19th century would have been made with a mattress coverlet, since mattresses were often stuffed with abrasive materials that provided a perfect home for insects. You would definitely have wanted this barrier. Before anyone slept on the bed, it would have been covered with a top sheet, a cover, pillow cases and a decorative bedspread. The bedspread would have been removed or turned down prior to bedtime. Simpler homes may have substituted this highly decorative top layer for a warm quilt. More elaborate beds of the time included a canopy above the sleeper, although surrounding bed hangings had already gone out of style.
For anyone familiar with Biltmore, it was very much on trend when it came to the latest fashions in home décor, from the draperies and furniture, to the bedframes and mattresses. It's just one of the reasons why it remains one of the most beloved historic homes in America.
Rest well & wake up ready to go!
Better sleep gives rise to better mornings, bringing your goals into focus and dreams within reach. Hungry for more sleep info? Dig into these posts:
Eager for more sleep info you can really use?
Join our communities on Facebook and Twitter and let's continue the conversation.
We'd love to hear what you have to say!
This blog does not provide medical advice. It is intended for general informational purposes only and does not address individual circumstances. It is not a substitute for professional medical advice, diagnosis or treatment and should not be relied on to make decisions about your health. Never ignore professional medical advice in seeking treatment because of something you have read on Restonic.com. If you think you may have a medical emergency, immediately call your doctor or dial 911.
Get better sleep, today