---
Modern holiday schedules give way to strategies for better sleep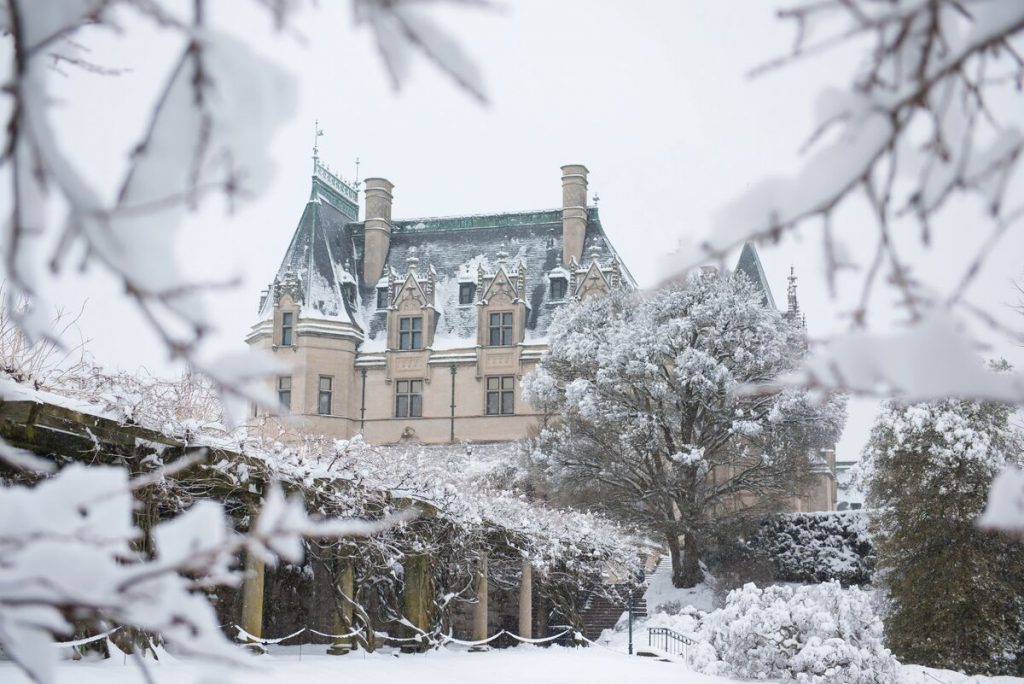 The holiday season brings promises of fun – colorful, light-filled events, time to spend with family, parties, food, presents and more. But planning all those activities (think shopping, wrapping, cooking and hosting) can lead to a great deal of stress and anxiety. While it's important to prioritize your schedule and learn to say no to some things, it's equally important to say yes to healthy sleep.
What's so important about sleep, you ask? Not only can sleep deprivation lead to increased stress above what you're already experiencing, it can also lead to serious health concerns. According to the National Heart, Lung and Blood Institute, "Sleep deficiency can lead to physical and mental health problems, injuries, loss of productivity, and even a greater risk of death."
Surviving the hustle & bustle of the holidays isn't a new challenge
The holiday season at Biltmore Estate in Asheville, North Carolina, has bustled every year since George Vanderbilt first opened his home to family and friends in 1895. George's mother, his siblings and their spouses and nieces and nephews gathered at Biltmore for that first Christmas. They exchanged gifts on Christmas Eve and enjoyed a beautifully decorated 40-foot evergreen in the Banquet Hall while a three-piece band played festive tunes. Gift boxes on the tree showed special care and attention as they were wrapped with crocheted snowflakes, feather butterflies, paper maché angels and silk banners.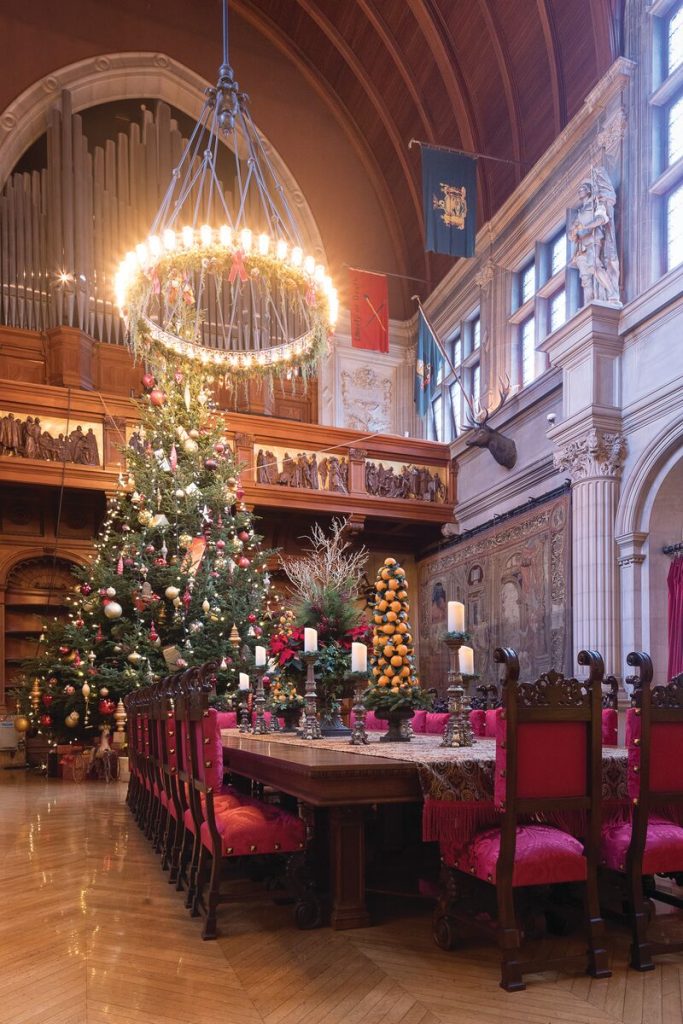 On that first Biltmore Christmas, more than 200 estate workers and their families were invited to celebrate with George and the Vanderbilt family. He gifted his employees with fruit and candy, and a special present for each child. Decorations on the gifts included mistletoe and holly.
As might be expected, George hired additional staff when hosting large house parties. During the 1895 opening, he hired three men as waiters on Christmas Day, in addition to his regular staff. He also hired a barber for 11 days, an additional cook for 29 days, and three different people for the extra holiday washing, ironing, and housework at Biltmore. Their employment only lasted through December 29 though.
After George married Edith, she took over the holiday planning, beginning at Christmas 1898. It can be imagined that this was a particularly stressful time since it was her first season as hostess of the grand home and she surely wanted to make sure everything was perfect. Biltmore archives show that she planned a celebration featuring traditional dances and songs, which must have delighted her husband, George.
Even though Edith had staff to help with holiday plans and preparations, there was still much to think about and consider in approving and implementing plans, issuing invitations, not to mention assuring everyone enjoyed themselves. Though most of us live in homes smaller than Biltmore Estate, modern-day hosts and hostesses face similar challenges – made even more stressful by demanding jobs and busy household schedules.
No surprise that sleep often plays a distant second fiddle to modern-day to-do lists.
How to calm your racing mind during the holidays
If, when you lie down for the night, you find your mind racing with all your must-dos this holiday season, there are some things you can do to calm the chaos and get the sleep you need. Dr. Susan Biali Haas outlines several steps for pushing the mind clutter to the side:
Limit phone usage after 9 pm. While it may be tempting to do some online shopping, check email, pin holiday meal ideas to Pinterest or create some invitations, it's best to turn the phone off for the night. Dr. Haas says "The light from the phone is stimulating to the brain and can suppress melatonin release, the natural sleep hormone."
Read something – not on a screen – before bed. Reading work emails, news headlines or to-do lists can create a swirling vortex of stress. Find a book that's light reading, one that helps ease you into feeling drowsy.
Exercise earlier in the day. If you work out close to bedtime, you may feel too wound up to sleep. The same goes for challenging conversations. If you have something important to discuss with a family member or colleague, tackle it earlier in the day.
Dim the lights in your bedroom. Turn off bright overhead lights and use a lower wattage bedside lamp. Add some soft music and you'll set the scene for calmly drifting into sleep.
Asses your worries. Journaling is one way to excise a stressful problem from your head and onto a page, which may help you find a solution. If you find you're struggling to calm your mind, Dr. Haas also recommends seeking a professional counselor to help you problem-solve.
Reserve your bed for sleep. Don't multi-task in your bedroom – your bed is not an ad-hock desk. Emails, Netflix and pinning all the pretty things on Pinterest doesn't relax you or make you more productive. If sleep is a challenge for you, try using your bed just for sleep (and the other "S" thing we do there) and see if that helps.
Limit caffeine. Whether you need to eliminate caffeine from your diet, or simply avoid that extra cup of coffee in the late afternoon and evening, less caffeine will help you wind down at night and fall asleep more easily.

Enjoying the splendor of Christmas through family traditions
One of the greatest joys of the holidays is the traditions we enjoy year after year with those we love. While your holiday traditions may include fun activities like "Secret Santa," the Vanderbilts celebrated traditions by opening their home to a large gathering of friends, family and employees and their families.
Their young daughter, Cornelia, also learned the importance of welcoming each guest personally to the estate. The Raleigh Times printed an article in 1906 about how Cornelia, then six years old, greeted guests with a handshake and a greeting of Merry Christmas. The next year, The Baltimore Sun reported that "Miss Cornelia Vanderbilt turned on the switch that lighted the big tree and was hostess at the [employee] children's party, leading all the games." Years later, Cornelia continued the holiday traditions when she became the hostess of Biltmore House.
George often delighted guests with a range of outdoor activities as well. Newspaper accounts detailing guests visiting between Christmas Day and New Year's Day in 1895 predicted these guests would spend time "in coaching parties, hunting, fox chasing, quail shooting, and fishing." They were also welcome to stroll through the gardens and conservatory.
Famous writer, Edith Wharton, wrote about her experience celebrating the holidays at Biltmore. "Yesterday we had a big Christmas fete for the 350 people on the estate – a tree 30 feet high, Punch & Judy, conjuror, presents & 'refreshments.' It would have interested you, it was done so well and sympathetically, each person's wants being thought of, from mother to last baby. In this matchless weather the walks through the park are a joy I should like to share with  you – great sheets of fruited ivy pouring over terrace walls, yellow stars still shining on the bare branches of nudiflora, jasmine & masses of juniper, heath, honeysuckle, rhododendron & laurel making an evergreen cover so different from our denuded New England lanes."
Sounds like the perfect atmosphere to enjoy before heading to one of the guest rooms on the estate and retiring for an evening of uninterrupted sleep.
From our family to yours, we hope you find peace, happiness and joy this holiday season – along with healthy sleep to ensure you enjoy it all.

Rest well & wake up ready to go!
Better sleep gives rise to better mornings, bringing your goals into focus and dreams within reach. Hungry for more sleep info? Dig into these posts:
Biltmore® and images of Biltmore House are trademarks of The Biltmore Company, and are used by Restonic® under license. ©2020 all rights reserved.
Eager for more sleep info you can really use?
Join our communities on Facebook and Twitter and let's continue the conversation.
We'd love to hear what you have to say!
This blog does not provide medical advice. It is intended for general informational purposes only and does not address individual circumstances. It is not a substitute for professional medical advice, diagnosis or treatment and should not be relied on to make decisions about your health. Never ignore professional medical advice in seeking treatment because of something you have read on Restonic.com. If you think you may have a medical emergency, immediately call your doctor or dial 911.
Get better sleep, today