---
In search of the perfect breakfast pancake recipe
The mere mention of the word pancakes makes eyes light up with delight – they're the epitome of morning comfort food. Whether you're eating them in a robe and lounging in bed, or devouring them for dinner, pancakes are a feel-good food. This thin, round, flat delightful disc musters memories and easily gets our stomach grumbling.
But making pancakes can be difficult to follow. But we've found some simple-to-follow pancake recipes, complete with syrup and fun toppings.
Chocolate Chip & Candied Bacon Pancakes with Nutella Syrup
A meal for the days when calories just don't matter – or when you want to sweeten up someone's morning.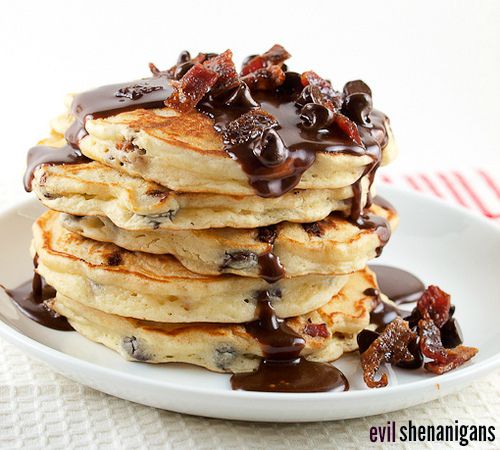 Candied bacon
• 6 strips thick cut bacon
• ¼ cup packed light brown sugar
• ¼ tsp. cinnamon
• ½ tsp. cocoa powder
• ¼ tsp. smoked paprika
Syrup
• ½ cup Nutella
• ½ cup maple syrup
• 2 tsp. unsalted butter
• ½ tsp. vanilla
Pancakes
• 2 oz. cream cheese, softened
• 2 tbsp. butter, softened
• ½ tsp. vanilla
• 2 eggs
• 1 1/2 cups buttermilk
• 2 cups all-purpose flour
• ¼ cup of sugar
• 2 ½ tsp. baking powder
• ½ tsp. salt
• ¾ cup semi-sweet chocolate chips
Showtime
Heat the oven to 375 F. Lay the strips of bacon a wire rack with about 1/2- inch of space between them. In a small bowl combine the brown sugar, cinnamon, paprika, and cocoa powder until well combined. Sprinkle the mixture evenly over the bacon. Bake for 15 to 20 minutes, or until the bacon is crisp and the topping is bubbling. Once cool roughly chop. Set aside. In a small saucepan combine the Nutella, maple syrup, butter, and vanilla. Place the pot over low heat, stirring constantly, until the butter is melted and the mixture is smooth. Set aside. Heat a flat griddle, or another large, smooth-bottomed skillet, to medium-low heat. In a medium bowl cream together the cream cheese, butter, and vanilla until smooth. Add the eggs, one at a time, and whisk until evenly incorporated. Add the buttermilk and whisk until well combined. In a large bowl combine the flour, sugar, baking powder, and salt. Whisk to mix. In a large bowl combine the flour, sugar, baking powder, and salt. Whisk to mix. Stir in the chopped bacon and the chocolate chips. Make a well in the center and pour in the wet ingredients. Stir until just combined and no large lumps of dry flour remain. Spray the griddle with non-stick cooking spray and scoop the batter, by the 1/3 cup, on to the heated griddle. Cook for 2 to 3 minutes on the first side, or until the batter begins to puff, the edges are no longer shiny, and the cooked side is golden brown. Flip and cook for 1 to 2 minutes on the second side, or until the pancakes spring back when gently pressed in the center and are golden brown. Serve warm with a drizzle of the syrup. Recipe via Evilshenanigans.com
Double Stuff Oreo Pancakes
A pile of chocolate pancakes "stuffed" with thick Oreo whipped cream. These probably should be saved for dessert – but dessert for breakfast might be fun.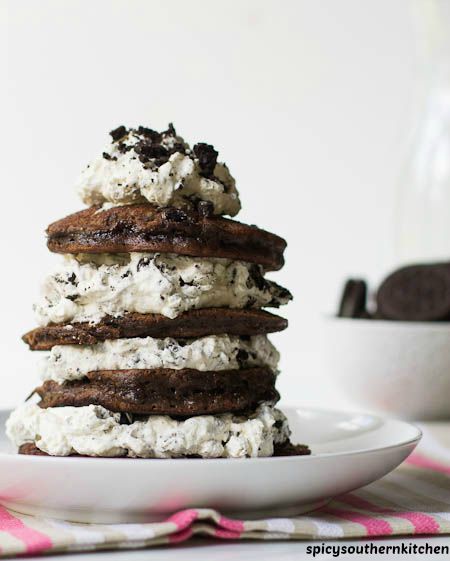 Ingredients
• 1 ¼ cups all-purpose flour
• 1 cup cocoa powder
• 1 cup white sugar
• 1 cup light brown sugar
• ½ cup crushed oreos
• 1 tsp. baking powder
• ½ tsp. baking soda
• ¼ tsp. salt
• ½ cup whole milk
• ½ cup buttermilk
• 2 large eggs, lightly beaten
• 3 ½ tbsp. vegetable oil
• 1 tsp. vanilla extract
Showtime
In a large bowl, combine flour, cocoa powder, both sugars, crushed Oreos, baking powder, baking soda, and salt. Whisk to combine. In a medium bowl, combine milk, buttermilk, eggs, vegetable oil, and vanilla extract. Whisk together well. Pour wet ingredients into dry and stir just until combined. Heat a griddle pan or large nonstick skillet over medium heat. Lightly butter or oil griddle before pouring pancake batter. Pour about ¼ cup batter for each pancake. Cook until set on the bottom, flip and cook until set all the way through. If they start to get too brown, turn the heat down a touch. To make Oreo cream, place heavy cream in a mixing bowl. Using an electric mixer fitted with the whisk attachment, beat cream and gradually add in confectioners' sugar. Add vanilla. Once cream gets nice and thick (careful not to overbeat or it might go from creamy to grainy), remove the bowl from mixer and stir in crushed Oreos. To serve, spread Oreo Cream between pancakes and on top. Recipe via SpicySouthernKitchen.com
Vegan Pineapple Upside Down Banana Pancakes
Ingredients
• soy or almond milk
• whole-grain flour
• baking powder
• salt

• Canola oil
• bananas
• Pineapple rings
Showtime
First up, mash the bananas. Combine them with a little bit of the almond milk and blend. Mix the bananas and milk with the dry ingredients. I used whole wheat pastry flour which tends to be a bit "softer" and not as dense as traditional whole wheat flour. Because of this, I only needed a little less than two cups of milk. I would suggest starting with 1 ½ cups and going from there. Once the batter is mixed, heat a skillet or griddle over medium-low heat. Add a little canola oil then throw the pineapple rings on to caramelize them. You do want to make sure that your pineapple rings are thin. Pour a bit of batter right in the center and just slightly over the outer rings of the pineapple. Let cook until bubbles form and the batter is almost set. Then flip it! Pile those babies up and cover them in syrup. Recipe via Tastykitchen.com
Buttermilk Pancake Layer Cake with Malted Pecan Buttercream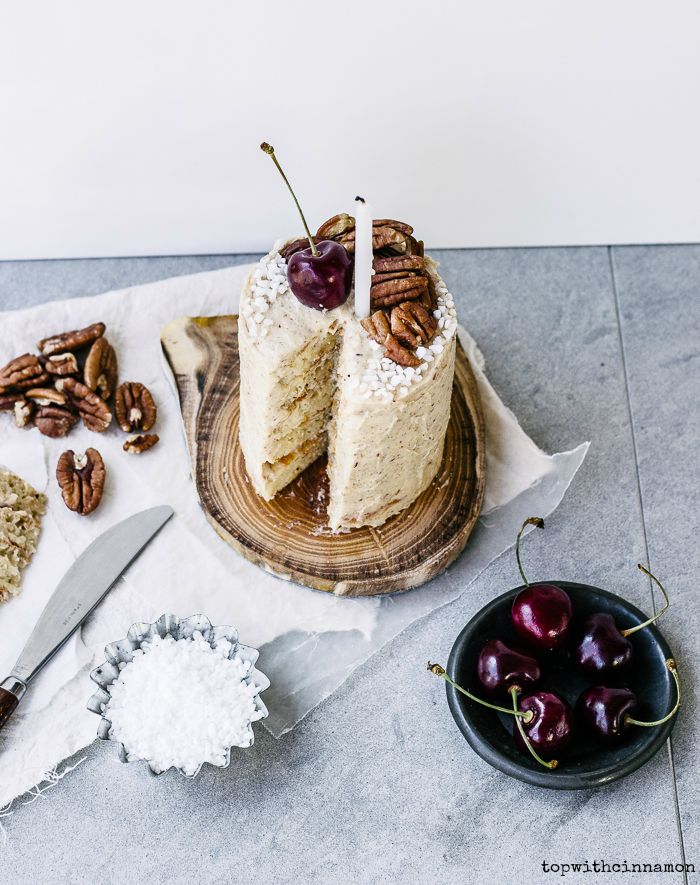 Pancake batter
• 1 1/4 cups all-purpose flour
• 1 tbsp. baking powder
• pinch of salt
• 3/4 cup buttermilk
• 1 egg
• 1 tsp. vanilla extract
• 1 tbsp. coconut oil
• 1 tbsp. agave syrup
Frosting
• 1/4 cup butter, softened
• 3 oz. powdered sugar
• 3 tbsp. pecan butter (or v. finely chopped or ground pecans)
• 1/2 tsp. vanilla bean paste (or 1 tsp vanilla extract)
• 2 tbsp. malted milk powder
• 1-2 tbsp. milk
Showtime
Make the pancakes by combining the first 3 ingredients in a bowl. Make a well in the center and add the rest of the pancake ingredients. Stir together until just combined. Pour heaped tablespoons of batter into a large, non-stick frying pan preheated with a little oil. Cook over medium-low heat until bubbles form + burst on the surface of the batter. Flip the pancake using a metal spatula and cook on the other side until golden brown, then remove from the pan and transfer to a cookie tray. Repeat until all the batter has been used up. Make the frosting by creaming all the ingredients together in a medium bowl. Add 1 tbsp of milk at first and if you need it, add the second tbsp. Stack the pancakes, with layers of frosting in between, then frost the outside of the cake if you want to. Recipe via TopwithCinnamon.com
Eager for more sleep info you can really use?
Join our communities on Facebook and Twitter and let's continue the conversation.
We'd love to hear what you have to say!
This blog does not provide medical advice. It is intended for general informational purposes only and does not address individual circumstances. It is not a substitute for professional medical advice, diagnosis or treatment and should not be relied on to make decisions about your health. Never ignore professional medical advice in seeking treatment because of something you have read on Restonic.com. If you think you may have a medical emergency, immediately call your doctor or dial 911.
Get better sleep, today