---
'Twas the Night Before Christmas
'Twas the night before Christmas when all through the factory
Mattresses were being made, every stitch more than satisfactory.
All the coils and foams were hand placed with care,
In hopes that the sleep fairies would soon be there.
Restonic was thinking about all those sleepless in their beds,
With visions of new mattresses dancing in their heads.
Tossing and turning, rolling over lumps and gaps,
If only they had a Restonic mattress for those long winter naps.
When out on the loading dock there rose such a clatter,
All the Restonic workers ran to see what was the matter.
Pulling up to the door was the Restonic truck,
But it wasn't the usual driver, they couldn't believe their luck.
The top of the trailer fresh with new-fallen snow,
And from the front of the cab, there was a magical glow.
When what to the worker's eyes should appear,
But a miniature sleigh and 8 tiny reindeer.
With a little old driver, so lively and quick.
They all knew in a moment it must be St. Nick.
He said, "The sleepless need new mattresses and so I came."
And he whistled and shouted and called them by name: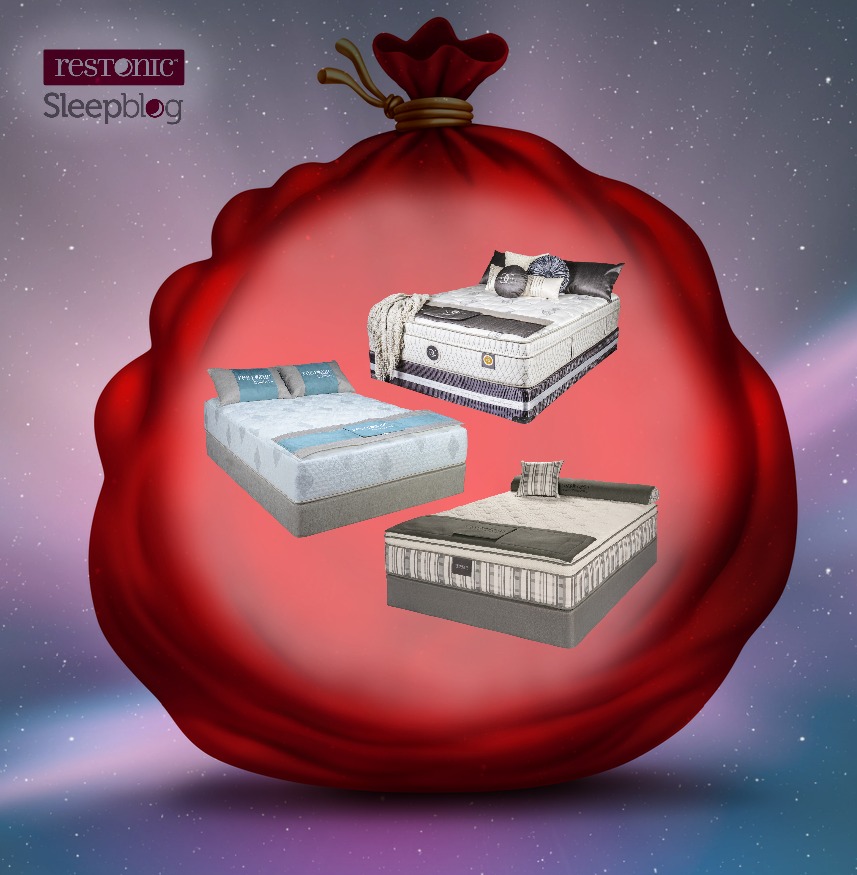 Now ComfortCare! Now Healthiest!
Now firm and cushion top!
On TempaGel and Latex!
On hybrid, no time to stop!
To the top of the truck, lined from wall to wall,
Now keep piling them in, pile away, pile away all!
As they wondered if the loaded truck could fly,
With all those mattresses, could the reindeer mount the sky?
So up to the top of the factory, the truck flew,
With the sleigh full of toys and St. Nicholas too!
And then in a twinkling, they heard on the roof
The prancing and pawing of each little hoof.
Even with the snow falling fresh on the ground
They knew the new mattresses were now out-bound.
The beds were perfectly dressed from headboard to foot,
Though the chimneys made Santa dirty, the beds were free from soot.
With magic they were bundled in his bag he had flung on his back,
And a wiggle of his nose emerged from his pack.
The mattresses – how they twinkled! Placed next to the tree, how merry!
A new Restonic what a treat! Like a sundae topped with a cherry!
Each bed and box spring wrapped with a bow,
With soft, fresh sheets as white as the snow.
All those in their old beds, they were hardly asleep,
Santa had to be quiet trying not to make a peep.
Twisting and turning on their belly, back and side,
He knew very soon with their Restonic fast asleep they would glide.
Some mattresses were soft and plump like they were made by Restonic elves,

Others were firm, each specific for what the people fancied themselves.
If they needed just a wink of shut-eye or a new place to lay their head
Come Christmas morning all the restless would have a Restonic bed.
With all the new mattresses delivered the factory was done with its work,
All the Restonic workers headed home with a smirk.
With Christmas Eve coming to a close,
They knew how happy those sleepless would be when they rose.
Off in the distance, the Restonic team heard a whistle,
They saw Santa and his reindeer flying like the down of a thistle.
And they heard him exclaim right before he drove out of sight,
"From Restonic, Happy Christmas to all, and to all a good night!"
Eager for more sleep info you can really use?
Join our communities on Facebook and Twitter and let's continue the conversation.
We'd love to hear what you have to say!
This blog does not provide medical advice. It is intended for general informational purposes only and does not address individual circumstances. It is not a substitute for professional medical advice, diagnosis or treatment and should not be relied on to make decisions about your health. Never ignore professional medical advice in seeking treatment because of something you have read on Restonic.com. If you think you may have a medical emergency, immediately call your doctor or dial 911.
Get better sleep, today