---
Excuse me, but you can't nap here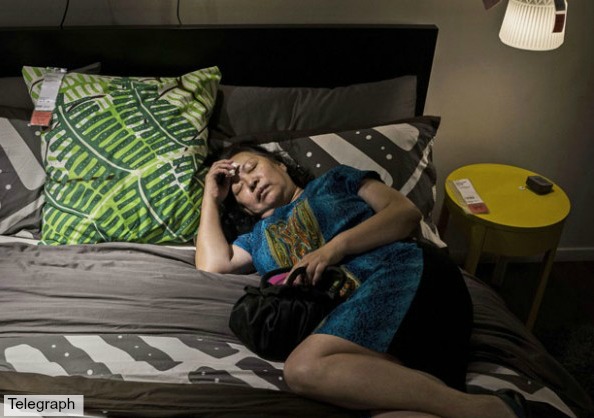 We've all been there – shopping at Ikea and thinking, "Hmm, that looks cozy. I wish I could take a nap on this couch to see if I like it." Well up until now, Chinese Ikea stores have allowed customers to curl up and catch some shut eye anywhere in the store they wanted. It's a weird phenomenon of sorts – Chinese customers feel perfectly comfortable napping in the middle of the store. A little weird, right?
At first Ikea encouraged it, stating that if some quick shut eye in the middle of one of their stores helped sell more furniture, they were for it. They've since changed their tune. The Beijing store is no longer allowing horizontal life pauses in their store. The store manager's defense – it's off-putting to other customers and clutters the store. Ya think?
Soldiers don't get enough shut eye
New research suggests that improving the quality and quantity of U.S. military members' sleep following deployment could help reduce other health problems, including depression and post-traumatic stress disorder, reports the University Herald. Sleep disturbances are a common reaction to stress and are linked to a host of physical and mental health problems. Most sleep problems often follow a chronic course, persisting long after service members return home from combat. Not exactly good news for those protecting our country.
Sleep friendlier skies are coming
Boeing is getting serious about making it easier for travelers to get comfortable while flying. They've developed a sleep-assistance device for those of us who fly coach, in what they are calling a "Transport Vehicle Upright Sleep Support System". It's a somewhat ridiculous looking device that straps to the front of the seat and allows the passenger to lean forward. As the Telegraph asks, "Will this bizarre device make it easier to sleep on a plane?" The jury is still out on this one…
Getting you out of bed sooner
Are you a snooze button addict in the morning? How many times do you hit it before you get out of bed? While there are lots of crazy alarm clock designs out there that make it harder to hit the snooze button, the latest one – the Chipper – uses a sensor strip that only silences your alarm once you're physically out of bed. Talk about a wakeup call. Gizmodo reports that a group of Cal Poly in San Luis Obispo, CA students developed the motion-sensored alarm clock. We'll pass but thanks.
At Restonic, we're passionate about helping you achieve the best night's sleep imaginable. Here are our latest SleepBlog posts with some tips on how to do just that:
Eager for more sleep info you can really use?
Join our communities on Facebook and Twitter and let's continue the conversation.
We'd love to hear what you have to say!
This blog does not provide medical advice. It is intended for general informational purposes only and does not address individual circumstances. It is not a substitute for professional medical advice, diagnosis or treatment and should not be relied on to make decisions about your health. Never ignore professional medical advice in seeking treatment because of something you have read on Restonic.com. If you think you may have a medical emergency, immediately call your doctor or dial 911.
Get better sleep, today