---
Recipes for America's favorite breakfast food, from protein-packed to kid-pleasing!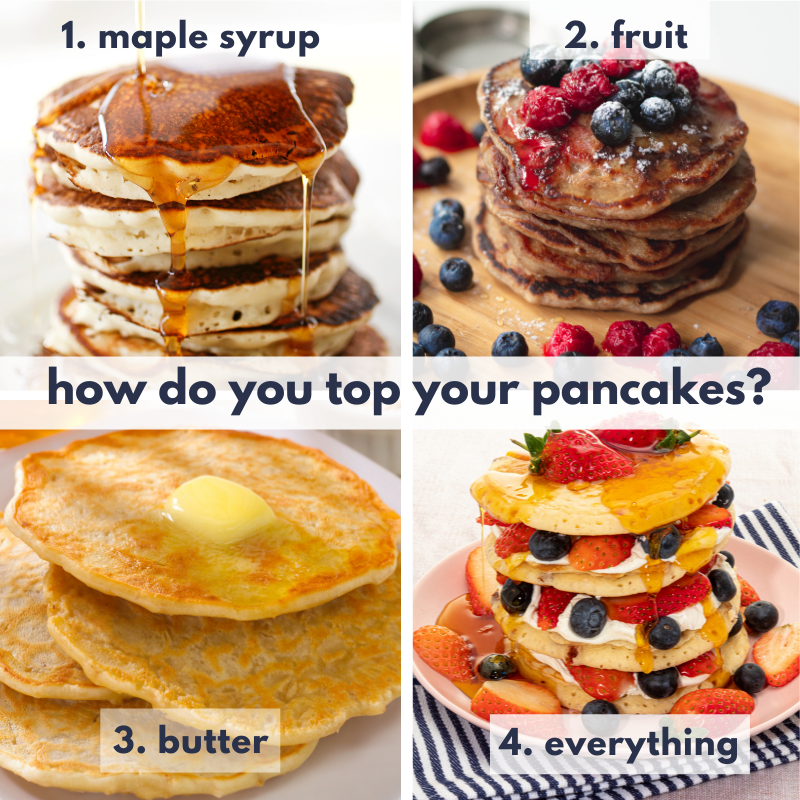 Pancakes are one of the world's oldest and most beloved breakfast foods. Their history goes back 30,000 years ago when Stone Age people made flour out of readily available ingredients like cattails and ferns. It is believed the ingredients were combined with water and baked on a hot rock. The Romans and Greeks ate pancakes with honey, while the Elizabethans enjoyed them with spices, sherry, apples and rosewater.
Pancake Day – also known as Shrove Tuesday – celebrates the decadent goodness of pancakes. For many, it's a last hurrah as we launch into 40 days of Lent. Religious or not, pancake lovers today are happy to see one of their fave foods in the spotlight. Though they might have different names around the world – crepes, flapjacks, griddle cakes, hot cakes, slapjacks, pikelets (Australia), pannukakku (Finland), tiganites (Greece), and ponnukokur (Iceland) – they're almost universally flat and cooked on a grill.
Of course, you don't have to wait for a specific day or even time of day to enjoy pancakes. Devotees eat them around the clock. Dwayne 'The Rock' Johnson cheat meal of choice is a pancake stack he makes with good old-fashioned Aunt Jemima mix, then adds milk chocolate chips. Comedian and late night host Jimmy Kimmel has been known to cook up a batch for his daughter in the shape of Peppa Pig by adding food color to the batter and using a squeeze bottle to artfully design the edible images.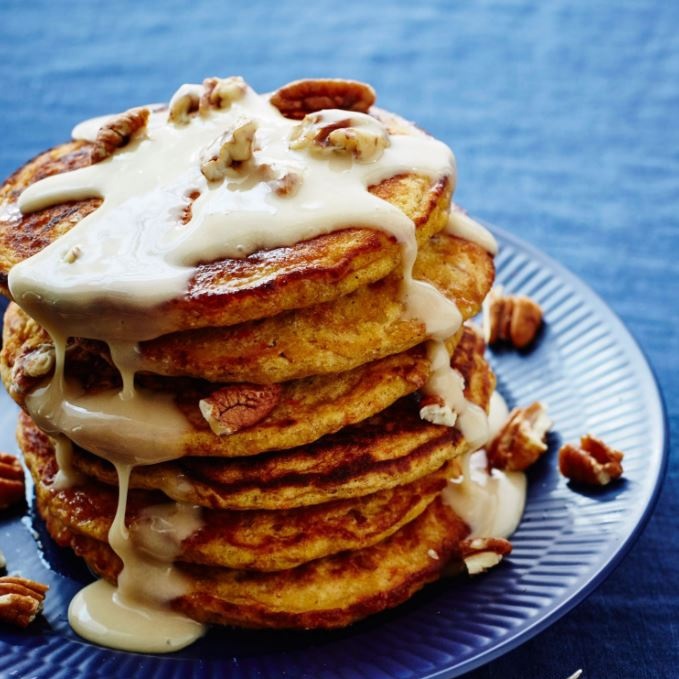 Meanwhile, some celebs mix healthy with indulgence. Chef Bobby Flay makes nutritious-sounding carrot cake pancakes, but then slathers them with a maple cream cheese glaze. Style icon Kylie Jenner whips up banana pancakes to start her fashionable mornings. Here's her not-so-secret recipe:
1 mashed banana
1 cup Bisquick mix
½ cup vanilla almond milk
1 egg
1 tablespoon of brown sugar
½ teaspoon of vanilla
Mix together and drop onto a hot pan until the batter bubbles, then flip.
It's clear that the stars have their own personal pancake style, but what about the rest of us? The good news is that no matter what kind of diet you follow, allergies or individual preferences you might have, there's a perfect pancake just for you just waiting for you to rise and shine, then make it.
For the just-go-for-it, diet-be-damned types
If you're not interested in counting calories or carbs, or anything else for that matter, then you'll want to pull out all the stops for your pancakes. Perhaps you'd like to combine your two breakfast loves – doughnuts and pancakes – with these sweet and holey cakes. Or just take a shortcut into pure decadence with chocolate pancakes served with chocolate syrup.
For the active, well-used gym memberships crowd
If one of your top priorities in your workouts is to build lean and mean muscle mass, you'll want to make sure your diet has plenty of good quality protein. That doesn't mean you have to skip pancakes before your morning workout. Just put together a pile of Coconut Bliss Pancakes from Lucy Dunne, an online personal trainer and founder of Dunnebells.
Don't skip breakfast, she cautions. "It kickstarts your metabolism so that it starts working in your favor," she says. "Consuming breakfast once you wake up will help you burn calories throughout the day and give you the energy needed to do things in a much more focused state. If you can sneak in some added protein into your breakfast meal, this will ensure you feel full for longer and make better food choices for the remainder of the day."
For vegans and gluten-free diet followers with a sweet tooth
Jill Nussinow is the registered dietitian, author (Vegan Under Pressure) and culinary educator behind The Veggie Queen blog. She offers this recipe for Sourdough Sweet Potato Pancakes with a nutritional punch, courtesy of sweet potatoes, blackberries, plant-based milk and brown rice. The good news is you can freeze the extras so that when you're short of time in the morning, you can take the frozen versions and pop them in a toaster.
For parents with fussy eaters
It's amazing how kids will take an interest in food when it has a cute factor. Pinterest is chock full of inspiration on how to create pancakes in animal shapes, from lions and owls, to monkeys and polar bears. Let your inner artist shine through batter artfully crafted pancakes.
If time is of the essence, skip right to food coloring to make pancakes in an array of rainbow hues, add sprinkles, chocolate, mini M&Ms into the batter, or use silicone pancake molds placed right in the pan to create adorable patterns. Get the kids involved in making these colorful Funfetti Pancakes from scratch. Top with more sprinkles and whipped cream.
For those who prefer savory over sweet
Not all pancakes need to be sweet. If you're more of a salty-cheesy person, you've got some great options. A classic potato pancake (latke) works well as a breakfast staple, especially when served alongside a generous dollop of sour cream. In Korea, there are many types of jeon, filled with kimchi, vegetables or fish. If you have Eastern Europe roots, you've probably enjoyed blintzes and blinchiki, made with savory ingredients like smoked salmon, cheese or even caviar. In Italy, you may come across farinata, which uses chickpea flour and olive oil to create crispy pancakes.
If these represent your personal pancake style, try the Cheese and Scallion Savory Pancakes from Martha Stewart. Crown them with strips of bacon, yogurt and more chopped scallions.
Bon Appetit!
Great moments in pancake history
How did pancakes become one of America's most beloved comfort foods? Looking back, here are some milestones in the humble pancake's rise to fame.
The first mention of pancakes occurs in 600 BC in a poem written by a Greek poet.
In 1445, the residents of Olney, the women of a small village in the U.K. begin an annual pancake race, which involved them running to the church while holding a skillet with a pancake.
Move over brandy and wine. While they used to be common liquids in pancake batters, cream and milk took over in the 1700s. We're thankful for that!
In 1931, Bisquick turned making pancakes a jiffy reality for housewives of the time. The Aunt Jemima mix was first to market though in 1890 by the R.T. Davis Milling Company.
Two brothers from California ensure pancake devotees can find their food of choice around the clock with the introduction of the International House of Pancakes (IHOP) in 1958.
Created in 1994 in Manchester, England, the world's biggest pancake weighed in at a whopping 6,614 pounds and measured 49 feet in diameter. Note: To officially qualify as a pancake, it has to be flipped and be edible.
In 2009, Italian chef Aldo Zilli set a world record by flipping a pancake 117 times in 60 seconds.
Rest well & wake up ready to go!
Better sleep gives rise to better mornings, bringing your goals into focus and dreams within reach. Hungry for more sleep info? Dig into these posts:

Eager for more sleep info you can really use?
Join our community Facebook and let's continue the conversation.
We'd love to hear what you have to say!
This blog does not provide medical advice. It is intended for general informational purposes only and does not address individual circumstances. It is not a substitute for professional medical advice, diagnosis or treatment and should not be relied on to make decisions about your health. Never ignore professional medical advice in seeking treatment because of something you have read on Restonic.com. If you think you may have a medical emergency, immediately call your doctor or dial 911.
Get better sleep, today