---
Delicious breakfast ideas (and recipes!) that don't require silverware
It's morning. You have a house full of people to cook breakfast for but don't want all the dishes. What's easy to grab and go without making a mess in the car or on the bus? Muffins can be scrumptious and health and a great option for those moments when you just don't have enough time to sit and enjoy a family breakfast.
Not your typical muffin recipe
When you think of a muffin breakfast, there are endless concoctions. Whether you enjoy protein muffins or ones filled with fruit and sugar, they always taste great. I decided to look for some muffin recipes that were a little out of the box. A typical breakfast feast contains eggs, bacon, hash browns, and French toast. I found a simple easy way to combine all of this in 3 easy muffins. If you don't like bacon, that's okay too just add some veggies or go without.
Bacon & Egg Muffins
Now we know that eggs are a basic ingredient when it comes to making muffins. But I bet you never saw a muffin like this.
Flavorings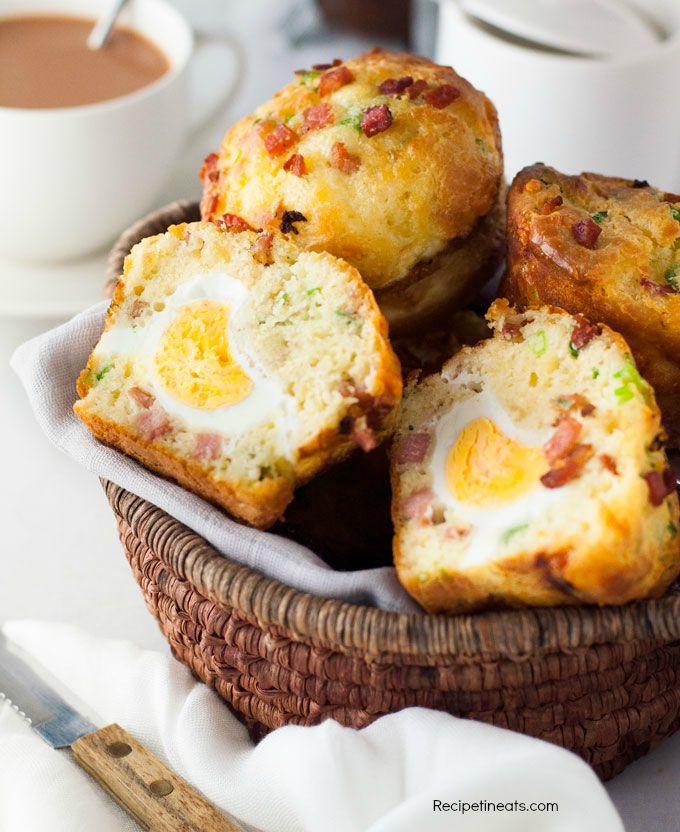 4 oz bacon, chopped
½ cup scallions / shallots, chopped
1 cup grated cheddar cheese (or any other flavored melting cheese)
Dry Ingredients
1¼ cups plain flour
1 tsp. baking powder
¼ tsp. baking soda
Wet Ingredients
½ cup milk
½ tsp. white vinegar OR ½ cup buttermilk
½ tsp. salt
5 tsp. sour cream (full fat)
2 tbsp. vegetable oil or melted butter
1 egg
Muffin
4 eggs
1 tbsp. melted butter (optional, for brushing)
Showtime
Preheat oven to 350F, then spray the muffin pan with oil or grease with butter. Cook the bacon in a nonstick frying pan until lightly brown or cooked to your liking. Remove and place on a paper towel to rid any excess fat or grease. Set aside to cool. Place the dry ingredients into a bowl, mix and set aside. Pour the wet ingredients in a bowl. Add in bacon that has been crushed into pieces. Mix in the dry ingredients, careful to not overmix. Mix in the shredded cheese and scallions. Place 3 tbsp of the batter into the muffin tins. (if you are using a 4 tin muffin pan) Make a divot in the batter (so the egg yolk settles in the middle) Crack an egg into each hole. Divide the remaining batter between each hole to cover the egg. Bake for 20 minutes or until golden brown. Then brush muffins with melted butter. (optional) Let sit for 5 minutes before moving to a cooling rack. Best served warm. Read More: Recipetineats.com
Cheese & Bacon Hash Brown Muffins
Forget cooking hash browns on the stove or in the 9×13 baking pan. These mini muffins will make eating hash browns fun and require no silverware.
Ingredients
2lbs. potatoes
2 ½ tbsp. olive oil
1 cup grated cheese
3 bacon rashers finely deiced
¾ tsp. salt
Pepper
1 tbs.p parsley, finely chopped (for garnish-optional)
Showtime
Preheat oven to 350F. Heat ½ tbsp of olive oil in a pan over high heat. Add the bacon and sauté until crispy. Remove and drain on a paper towel. Peel and grate the potatoes and place them in a colander. Rinse under cold water for a few seconds (to remove starch which helps make them fluffy inside and also stops the potatoes from browning). Working a handful at a time, squeeze out the excess water and place it into the bowl. Add most of the bacon (reserve some to garnish), 2 tbsp olive oil, salt, pepper, and cheese. Mix well to combine Spray a 12 hole muffin tray with oil. Place a 1/2 cup (packed) of the mixture into each hole. Pat down lightly with the back of a spoon. Bake for 30 minutes until dark golden brown on top. Let stand for a few minutes before turning out from the muffin tray. Garnish with parsley and remaining bacon, and serve immediately. Read More: Recipetineats.com
Pull-Apart Bacon French Toast Muffins (bacon optional)
Forget cooking hash browns on the stove or in the 9×13 baking pan. These mini muffins will make eating hash browns fun and require no silverware.
Ingredients
5 cups of bread cut into 2cm/1″ cubes (fresh or stale)
3 rashers bacon, diced
Oil spray
Egg Mixture
3 eggs
1¼ cups milk (low or full fat)
1 tsp. sugar
2 pinches salt
Showtime
Combine the Egg Mixture ingredients in a bowl and whisk with a fork until combined. Add bread cubes and mix well to each piece of bread is well coated with the Egg Mixture. If using fresh bread, set aside for 10 to 30 minutes in the fridge. If using stale bread, set aside for 20 minutes to overnight. If you're in a rush, use your hands to gently squeeze the cubes to help them absorb the egg mixture faster. Preheat oven to 350F. Spray a medium fry pan with oil spray and heat on high heat. Add the bacon and cook until just starting to brown. Don't cook until it is very brown because otherwise, it will overcook in the oven. Remove bacon from fry pan and drain on absorbent paper. Spray 6 holes in a muffin tin. Mix the bread-egg mixture to evenly disperse the egg mixture that will have settled at the bottom of the bowl. Divide ? of the bread-egg mixture between the 6 muffin cups. Sprinkle with half the bacon, then press the mixture down with medium pressure using the back of a spoon. Top with the remaining bread mixture. Use your fingers to lightly compress them. Each muffin should be slightly mounded even after lightly compressing them. The bread cubes on top will puff back up when you bake it. Sprinkle with remaining bacon.
Bake for 15 to 20 minutes until the top is golden brown. Let rest for 5 minutes before removing from the muffin tin. Serve with maple syrup, if using. Read More: Recipetineats.com
Rest well & wake up ready to go!
Better sleep gives rise to better mornings, bringing your goals into focus and dreams within reach. Hungry for more sleep info? Dig into these posts:

Eager for more sleep info you can really use?
Join our community Facebook and let's continue the conversation.
We'd love to hear what you have to say!
This blog does not provide medical advice. It is intended for general informational purposes only and does not address individual circumstances. It is not a substitute for professional medical advice, diagnosis or treatment and should not be relied on to make decisions about your health. Never ignore professional medical advice in seeking treatment because of something you have read on Restonic.com. If you think you may have a medical emergency, immediately call your doctor or dial 911.
Get better sleep, today