---
How do you say hello to better mornings? A better breakfast, of course!
Don't make time for breakfast? Skip breakfast in favor of a double mocha frappachino extra whip? Tired of battling a case of the hangries (hungry and angry) by 11 am? Time to listen to your mom and get your breakfast on. Turns out there's a whole lot of research supporting her warnings that breakfast is the most important meal of the day.
Breakfast helps you lose weight
Studies show that people who eat breakfast tend to eat fewer calories per meal throughout the day. People who skip breakfast fight hunger all day and tend to nibble their way through those afternoon arsenic hours (that mid-afternoon slump that has you longing for a nap).
Researchers at the University of Missouri School of Medicine found that people who filled up on a high protein breakfast felt less hungry, ate less during the day and gained less body fat over a 12 week period compared to others who skimped on their protein. While the study involved teenage boys, the lesson is clear: start your day satiated and you're more likely to make healthy choices for the remaining meals.
Breakfast feeds your brain
Want to keep your brain in shape? Starting the day with a bowl of berries may help you avoid a smorgasbord of brain diseases as you age, say researchers from the Human Nutrition Research Center on Aging at Tufts University and the University of Maryland at Baltimore County. Berries may help to prevent cognitive decline because they recycle proteins that accumulate in the brain, making it susceptible to diseases like Parkinson's and Alzheimer's. Read more: WomensHealthMag.com.
Breakfast keeps you whole body healthy
When it comes to how long you're going to live, there's a lot of truth in the saying that genetics is a loaded gun – but environment and lifestyle are the triggers. You may carry genes for a multitude of diseases, but whether you get them or not is largely dependent on how you live your life. Skip breakfast one morning and your internal systems go into protection mode, conserving resources to keep you alive. Skip breakfast every day and your body is in a constant state of stress. Read more: Restonic.com.
With a growing body of research – and our moms – telling us how good breakfast is for us, it's amazing we even consider skipping it. Although most of us eat breakfast, 1 in 10 of us don't, according to a 2011 study by NPD Group, a market research company. While some breakfast skippers claim they're simply not hungry, many women who don't eat breakfast claim it's due to a time constraint, like being too busy, rushing to get out the door or running late. If you fall into this group, we've found a delish recipe that takes minutes to prepare and, even better, it can be eaten while you're running out the door.
5-Minute Breakfast Burrito Recipe
Ready in minutes, this Mexican-inspired breakfast wrap is a delicious balanced morning meal that's easy to grab and go. It weighs in at 250 calories and is loaded with 21g of protein.
Ingredients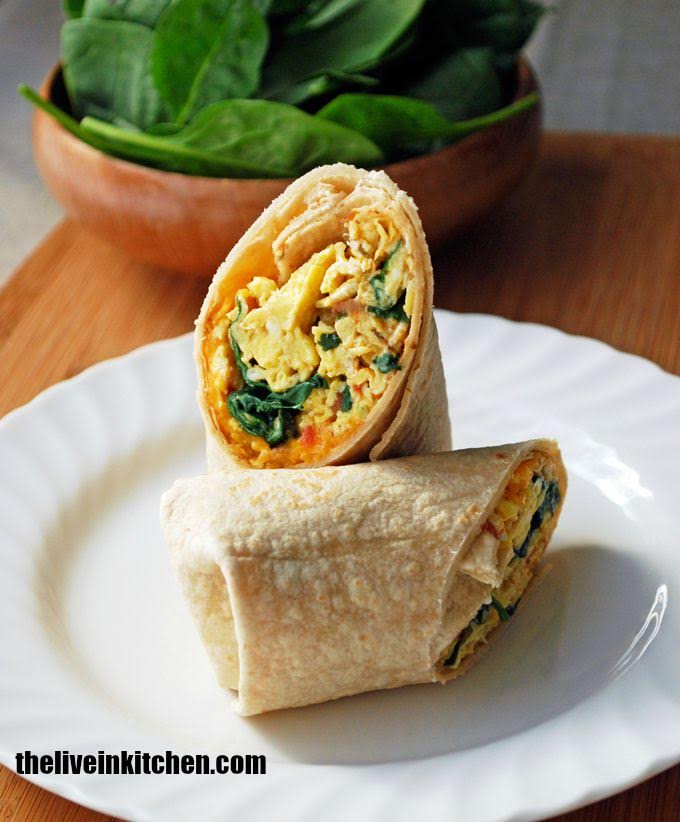 Cooking spray
2 large eggs, lightly beaten
1/4 cup baby spinach
1 tbsp. salsa
Salt
Pepper
1 high-fiber wrap (such as La Tortilla Factory Smart and Delicious Multigrain Wraps)
2 tbsp. shredded cheddar cheese
Showtime
Spray a low-fat cooking oil spray into a small skillet and place over medium heat. When warm, add eggs and spinach. Cook, stirring, until eggs are soft but fully cooked and spinach is wilted (approx. 2 minutes). Remove from heat and stir in salsa. Season to taste with salt and pepper.
Spread cheese evenly along center of tortilla and top with egg mixture. Fold in sides and then roll up tightly from bottom. Serve immediately. Yum! Recipe via TheLiveInKitchen.com.
More breakfast recipes to help get your day started:
Eager for more sleep info you can really use?
Join our communities on Facebook and Twitter and let's continue the conversation.
We'd love to hear what you have to say!
This blog does not provide medical advice. It is intended for general informational purposes only and does not address individual circumstances. It is not a substitute for professional medical advice, diagnosis or treatment and should not be relied on to make decisions about your health. Never ignore professional medical advice in seeking treatment because of something you have read on Restonic.com. If you think you may have a medical emergency, immediately call your doctor or dial 911.
Get better sleep, today