---
Following in the footsteps of George & Edith Vanderbilt, a generous gift giving tradition for this holiday season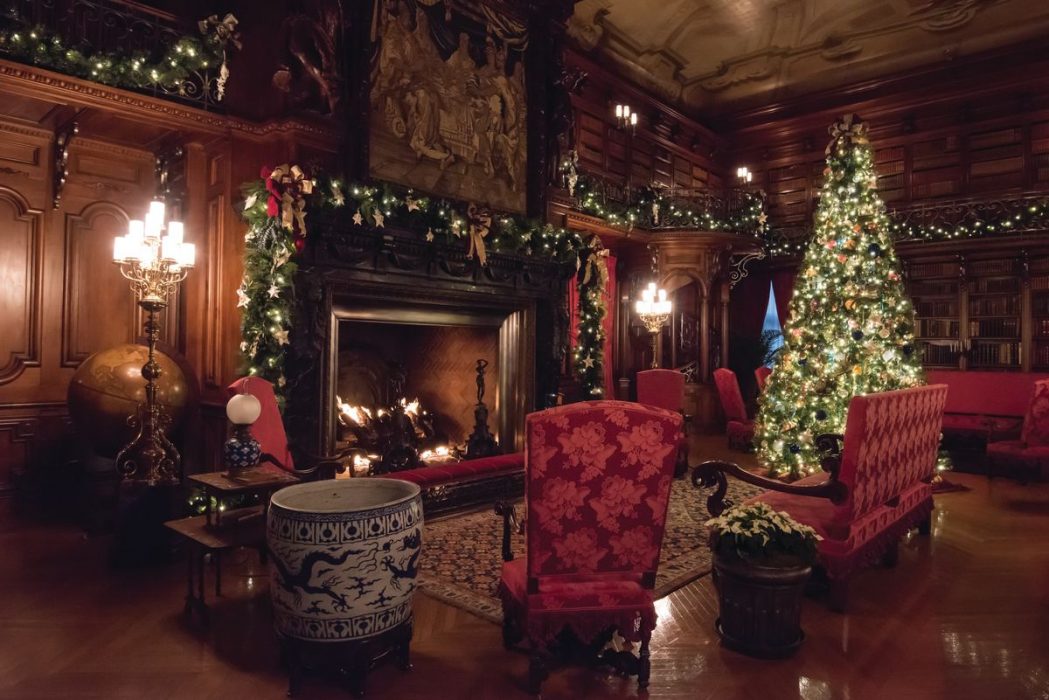 When George Vanderbilt first opened his 250-room estate in Asheville, North Carolina, a massive tree served as the focal point of the Banquet Hall. The hall and tree were both bedecked with glittering ornaments amid a sea of gifts. We imagine that squeals of delight echoed through the home as friends, family and estate workers joined him to celebrate that first holiday season at Biltmore.
An 1897 newspaper article listed some of the Biltmore holiday gifts given at the event: 60 pounds of hard rock candy, two crates of oranges, a dozen dolls, balls and an assortment of other toys. Guests also enjoyed dessert from 5 cakes and 12 and a half gallons of ice cream.
It was the beginning of a long standing Christmas tradition.
The hidden – awesome – benefits of gift giving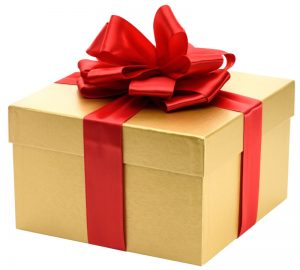 According to modern science, people who give gifts experience a myriad of benefits themselves. An article in Psychology Today outlines a variety of studies that support the belief that gift-giving leads to lasting improvements in people's overall happiness. In fact, studies on the happiness trifecta – dopamine, oxytocin and serotonin – show that when we give to others, we're happier. It's really that simple. As a bonus, increased serotonin is also linked to better sleep.
After George and Edith married in 1898, she continued the gift-giving tradition George had begun the previous year. Archives at Biltmore detail recollections of one of Edith's close friends, Anna Wheeler. She said, "Mrs. Vanderbilt kept a book in which the individual presents were recorded yearly; her idea was to avoid duplication, but it served another purpose in assisting [her] in the better knowledge of each family." She continued on, saying that Edith personally selected, labeled and wrapped all the gifts.
While Edith focused on toys and sweets for the children of the estate, she was mindful of offering more practical items to the adults. For Christmas gifts in 1898 (her first year as mistress of Biltmore House), Edith shopped at H. Redwood & Co. in Asheville and purchased mufflers and shawls to keep the recipients' warm, and cozy comforters for a soothing night's sleep.
Ready to create your own Biltmore-inspired holiday shopping list?
Following Edith's lead in providing practical and comforting items, consider some of our favorite Biltmore holiday gift ideas as you struggle with what to buy for Christmas for your family and friends.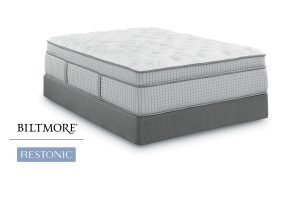 1. Biltmore Shippable Sleep Mattress by Restonic. Give your loved ones a taste of the supreme comfort the Vanderbilt experienced when you buy them a handcrafted mattress. This Biltmore model features edge-to-edge innerspring support and gel memory foam, contributing to restorative, healthier sleep. Shop the Biltmore Shippable Sleep Mattress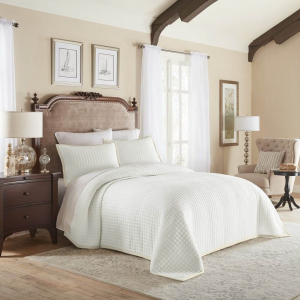 2. Biltmore Legacy Quilt Set. Inspired by the Vanderbilts' legacy of gracious living, the Biltmore Legacy Quilt Set offers velvety smooth comfort in every season. Crafted from cotton, with a cotton filling, it can be machine washed and gently tumble dried – along with the two included pillow shams. Relaxed yet sophisticated, this set is sure to quickly become your favorite. Shop the Biltmore Legacy Quilt Set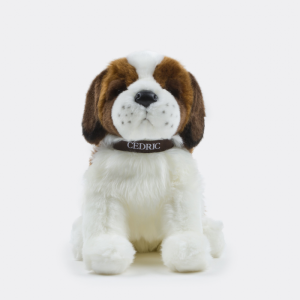 3. Cedric the St. Bernard Stuffed Animal. Cedric the St. Bernard was a beloved canine companion of George W. Vanderbilt and his family. Cedric first came to Biltmore in 1895 and was the first of many St. Bernards loved by the Vanderbilts. Our plush Cedric is playful and cuddly, just like the real dog – sure to become a constant companion for whoever adopts him. Shop Biltmore Toys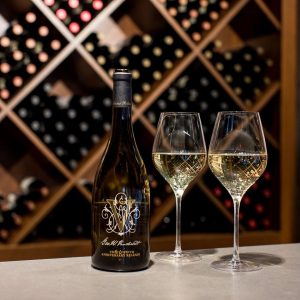 4. Vanderbilt Wine Club Membership. Uncork a new experience, relive special Biltmore memories or simply extend the Vanderbilt legacy of sharing the very best with family and friends. With exclusive access to a variety of wine-centric social events, and the opportunity to savor handcrafted award-winning wines, you'll also enjoy a special wine delivery four times each year. Shop Biltmore Wine Club Memberships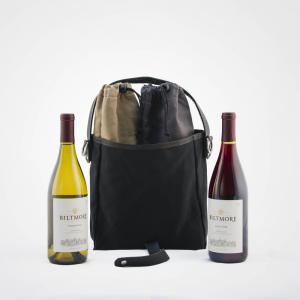 5. Biltmore Crush Wine Tote. Take home a special piece of the Carolina Mountains with our Biltmore Crush Wine Tote. Outfitted for travel, it's built to carry your essentials with versatility and ease – suddenly the world is your tasting room. Interchangeable insulated liners will keep your items cool and secure, while attachment points allow you to throw it over your shoulder. Pick and choose the style that works for your unique look. Shop the Biltmore Crush Wine Tote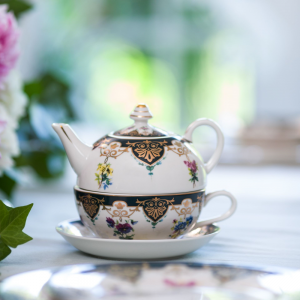 6. Vanderbilt Service™ for One. This beautiful tea set of dark turquoise porcelain is a reproduction of a Sävres pattern, circa 1888, that the Vanderbilt family once used at Biltmore and is now on display in the Oak Sitting Room. The china is a revival of rococo style, denoted by its curving design and sumptuous use of gilding and rich color. This porcelain tea set is part of a larger series of pieces created especially for Biltmore. Shop the Tea Service for One
7. Deck the Halls Cardinal Tea Towel. From the time George W. Vanderbilt first welcomed friends and family to Biltmore on Christmas Eve in 1895 to present day, Christmas at Biltmore has always been a glorious celebration. Bring home that festive feeling with this 100% cotton tea towel, handcrafted especially for Biltmore and perfect for your kitchen or bathroom. Shop Biltmore tabletop and serveware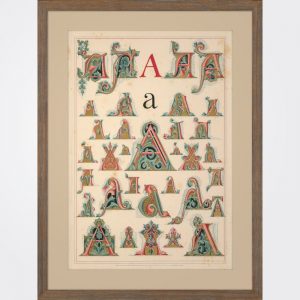 8. Alphabet Artwork. The Biltmore Initiale Collection, an 1864 typeface from the private collection of George Vanderbilt, is a testament to the exquisite features found in this era of details and workmanship. Beautifully handwritten letters and monograms were very popular during this time period and unique typefaces were a source of inspiration to turn to for elegant lettering of any kind. This high-quality print on premium archival paper with a 125-year lifetime rating, is framed with solid wood and suitable for any interior space. Shop the Biltmore Initiale Collection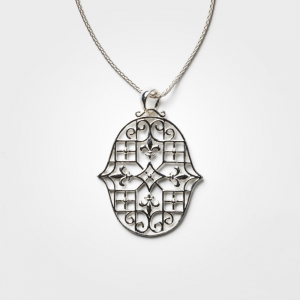 9. Fleur-de-Lis Necklace. Crafted specifically for Biltmore, the stunning shape and style of the Fleur-de-Lis pendant and earrings were inspired by the intricate fleur-de-lis carvings on the exterior columns of Biltmore House. Shop Biltmore necklaces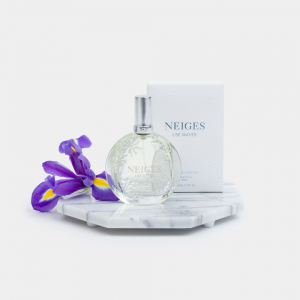 10. Biltmore Perfumes & Body Care. George W. Vanderbilt's love of travel took him all over the world, including Canada, a country known for its crisp air and French culture. Neiges perfumes, powders and body creams have a subtle, floral scent reminiscent of the Canadian winters. Used alone or layered, you'll enjoy the delicacy of this lingering scent as you go about your day. Shop Biltmore perfumes, powders and body creams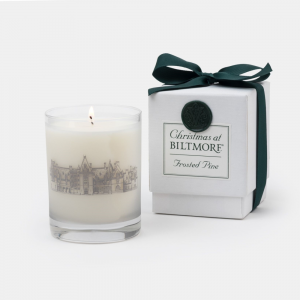 11. Biltmore Frosted Pine Candle. The Christmas at Biltmore® Frosted Pine Candle is a blend of crisp pine needles and fresh cut spruce with notes of woodsy cedar. An instant holiday tradition, the glass container features a silhouette of Biltmore House that brings you back to Biltmore again and again. It comes in a crisp white canvas box with a Biltmore wax seal and green bow, making it a perfect gift. Shop Biltmore candles
Maintaining holiday traditions throughout the years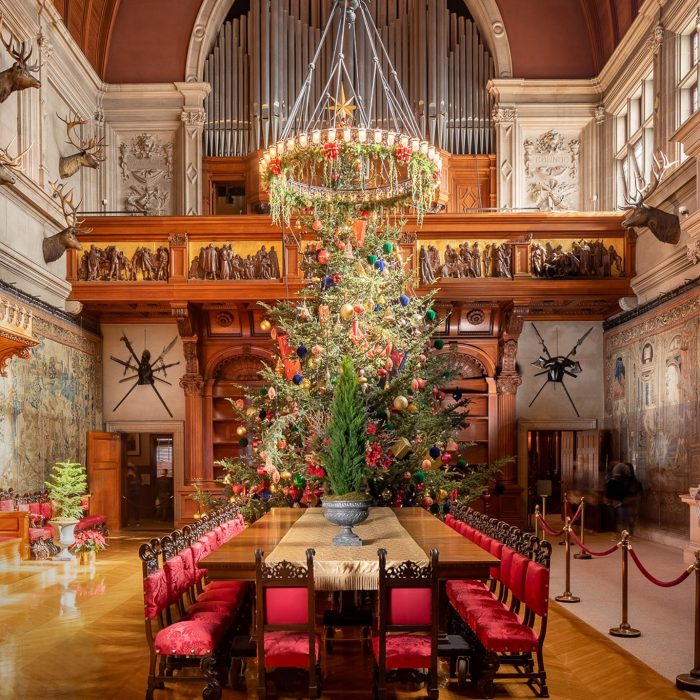 Even after George Vanderbilt's death in 1914, Edith continued the Biltmore holiday gift giving traditions. Daughter Cornelia also continued her parents' traditions after she married John Cecil in 1924. He was known to dress as Santa and emerge from the mammoth fireplaces at an appointed time to surprise children and pass out gifts.
This holiday season at Biltmore, Christmas season began on November 4 with a virtual tree raising of a 35-foot Fraser fir tree in the Banquet Hall. As always, it's a massive endeavor with Santa escorting the tree in by horse-drawn wagon. A large crew wrangles the tree into place, followed by staff who adorn it with lights and thousands of ornaments. If you missed the Virtual Tree Raising video when it premiered, you can view this short documentary: Biltmore Christmas Tree Raising
And just as George Vanderbilt showered employees with a holiday party and gifts beginning in 1895, today the estate continues to invite employees to a party where all of the children ages 11 and younger receive a specially selected present.
Rest well & wake up ready to go!
Better sleep gives rise to better mornings, bringing your goals into focus and dreams within reach. Hungry for more sleep info? Dig into these posts:

Biltmore® and images of Biltmore House are trademarks of The Biltmore Company, and are used by Restonic® under license. ©2020 all rights reserved.
Eager for more sleep info you can really use?
Join our community Facebook and let's continue the conversation.
We'd love to hear what you have to say!
This blog does not provide medical advice. It is intended for general informational purposes only and does not address individual circumstances. It is not a substitute for professional medical advice, diagnosis or treatment and should not be relied on to make decisions about your health. Never ignore professional medical advice in seeking treatment because of something you have read on Restonic.com. If you think you may have a medical emergency, immediately call your doctor or dial 911.
Get better sleep, today