---
In search of the ultimate waffle recipe? We found it (them)!
"We need to remember what's important in life: friends, waffles, work. Or waffles, friends, work. Doesn't matter, but work is third." Leslie Knope, aka Amy Poehler from Parks & Rec, had it right: waffles are begging for our attention. Yes, we respect the plain, well-made waffle. Crunchier than pancakes, but so fluffy. Their flat shape and deep square crevices implore us to fill them with delicious, syrupy toppings.
Of course, fresh fruits are at home atop waffles too, but unexpected flavors work their magic even better – cornbread, pumpkin and even hot fudge. If you're ready to ditch the Bisquick and give Mrs. Butterworth what she desires, check out these 4 waffle recipes that are sure to deliver sweetness, spice and everything nice.
Apple, Cheddar & Prosciutto Waffle Recipe
 Ingredients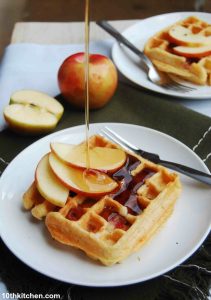 1 cup all-purpose flour
1 tbsp. sugar
1 tsp. baking powder
1/2 tsp. baking soda
1/2 tsp. salt
1 cup buttermilk
3  tbsp. unsalted butter, melted and cooled
1 large egg
1 apple of your choice, diced
1/3 cup sharp cheddar, grated
4-5 slices prosciutto
Vegetable oil for waffle iron
Showtime
Combine flour, sugar, baking powder, baking soda, and salt in a large bowl.  In a separate bowl, whisk buttermilk, melted butter and eggs to combine, then stir this into the flour mixture. Fold in apple and cheddar. Brush hot waffle iron lightly with vegetable oil and dump about 1/2 cup of batter into each mold (more or less depending on the size of your iron–I used a Belgian waffle one). Top each waffle with a folded prosciutto slice and close iron.  Cook waffles according to manufacturer's instructions until they're browned and cooked through. Continue until batter is gone–makes about 4-5 waffles (more if you use a smaller iron). Serves 2-3.
Chili & Cornbread Waffle Stack Recipe
 Ingredients
3/4 cup buttermilk
1/3 cup whole wheat flour
1/3 cup all-purpose flour
1/3 cup cornmeal
1/3 tsp. baking powder
1/4 tsp. baking soda
2 tbsp. sugar
1/4 tsp. salt
1 egg, beaten
1 tbsp. oil
2-3 cups canned chili
4 eggs
Showtime
Mix flours, cornmeal, baking soda, baking powder, sugar and salt in a mixing bowl. Add egg, buttermilk, and oil and whisk until just combined. If batter seems too thick, add a tablespoon or more of buttermilk. Heat a waffle iron and pour batter onto hot griddles. Cook until waffles are lightly crispy and golden brown on the outside. Keep in a warm oven until ready to serve. Warm up chili on the stove top. While the chili is heating up, place a frying pan over medium heat. Crack 1-2 eggs at a time into the pan (depending on the size of your pan), keeping them separate. Allow to fry for 3-4 minutes or until the surface of the egg whites are cooked through. The middle should still be runny. I didn't flip my eggs because they were cooked through already and I didn't want to break the yolks, but you could flip and cook on the other side if you're good at frying eggs. Stack waffles on a plate and top with a scoop of chili and a fried egg. Recipe via pinchofyum.com
Orange Cinnamon Belgian Waffles with Dark Chocolate Hot Fudge Recipe
 Waffles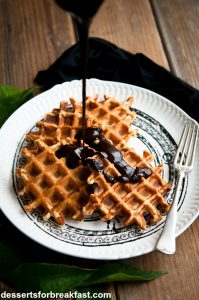 1 cup lukewarm whole milk
6 tbsp. butter, melted
3 tbsp. honey
3/4 tsp. salt
1 tsp. vanilla
2 large eggs
2 cups all-purpose flour
1 tbsp. ground cinnamon
1/2 cup freshly squeezed orange juice, slightly warmed
1/2 tsp. instant yeast
Hot fudge
1/2 cup sugar
1/4 cup cocoa powder
2.5 oz. dark chocolate, chopped
4 tbsp. (2 oz.) butter
1/4 cup heavy cream
1/4 cup whole milk
Showtime
Whisk together the sugar and cocoa powder and set aside. In a double boiler over simmering hot water, melt the chocolate and butter. Meanwhile, heat the cream and milk in a small saucepan over medium heat.  As soon as steam begins to rise from the milk, whisk in the sugar and cocoa powder until they are dissolved.  Keep this at a low simmer, and do not let boil. Once the chocolate and butter have melted in the double boiler, stir until smooth and then stir in the cocoa and milk mixture.  Whisk for 2-3 minutes until it is slightly thickened.  Pout into a heat-proof container and let cool. Rewarm in a double boiler or microwave as needed; otherwise, keep covered in the refrigerator. Recipe via dessertsforbreakfast.com
Cider Pumpkin Waffles with Toasted Pecan Butter Recipe
 Waffles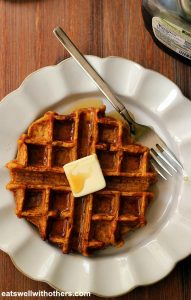 2/3 cup warm milk (any % milk will work)
2/3 cup warm apple cider
2 1/4 tsp. active dry yeast
1/2 cup pumpkin puree
6 tbsp. butter, browned
2 tsp. vanilla extract
2 eggs
1 1/2 cups white whole wheat flour or whole wheat pastry flour
1 tsp. cinnamon
1/4 tsp. nutmeg
1/2 tsp. salt
Toasted pecan butter
1/2 cup raw pecans
1 tbsp. brown sugar + 1 tablespoon pure maple syrup
1 tsp. vanilla extract
1 cup salted butter, softened
Spiced apples
2 tbsp. butter
1 1/2 cups honey crisp or pink lady apples, cored and chopped
1/4 cup brown sugar
1 tsp. cinnamon
1/4 tsp. nutmeg
1 tsp. vanilla extract
Showtime
In a small saucepan, melt the butter over low heat. Continue cooking until it turns an amber color and starts to smell nutty. Pour into a bowl to stop the cooking and let cool while you prepare the remaining ingredients. In a medium bowl, whisk together the flour, brown sugar, baking powder, baking soda, salt, cinnamon, cardamom, and ginger. In a large bowl, whisk together the brown butter, eggs, almond milk, lemon juice, vanilla, and pumpkin. Fold the dry ingredients into the wet ingredient until just combined. Heat your waffle iron and cook the batter according to the manufacturer's instructions. Continue making waffles until the batter is gone. Serve with maple syrup. Recipe via eatswellwithothers.com
Part of a delicious breakfast is following a sleep routine that allows your body to feel refreshed during the day.
Rest well & wake up ready to go!
Better sleep gives rise to better mornings, bringing your goals into focus and dreams within reach. Hungry for more sleep info? Dig into these posts:

Eager for more sleep info you can really use?
Join our community Facebook and let's continue the conversation.
We'd love to hear what you have to say!
This blog does not provide medical advice. It is intended for general informational purposes only and does not address individual circumstances. It is not a substitute for professional medical advice, diagnosis or treatment and should not be relied on to make decisions about your health. Never ignore professional medical advice in seeking treatment because of something you have read on Restonic.com. If you think you may have a medical emergency, immediately call your doctor or dial 911.
Get better sleep, today