---
The best breakfast is a chill breakfast
It's morning and everyone's hungry – but there's no time to fire up the stove and cook something healthy before sending them on their way. Right? Time to swap the stress for easy breakfast recipes that will make everyone's belly smile.
Birthday Cake Cream Cheese
If you're rushing to the beach or park with the kids, this quick breakfast is perfect to "celebrate" your toasted bagel. After all, who doesn't love birthday cake? Especially for breakfast!
Ingredients
1 (8 oz.) package cream cheese, at almost room temperature
1/2 cup powdered sugar
2 tsp. almond extract
2-3 tbsp. rainbow sprinkles
Showtime
In a medium bowl, fold the cream cheese, powdered sugar, and almond extract together with a rubber spatula, until combined. Fold in rainbow sprinkles. Transfer to an airtight container and serve immediately or refrigerate for up to 3 days. Breakfast idea via layersofhappiness.com
Tropical Papaya Boats
Ah, summertime. The perfect season to ditch the boring bowl of cereal and enjoy fresh exotic fruit instead. Packed with potassium and fiber, papaya is nutritious and delish – not to mention refreshing on a hot summer morning. Start your day off with this healthy breakfast idea.
Ingredients
1 ripe papaya or cantaloupe, halved, seeds removed
1 cup Banana Ice Cream or Flavored Yogurt
1 kiwi, skin removed and chopped
1/2 cup cherries, pitted and halved
1/4 cup blueberries
1 tbsp chia seeds
1/2 tbsp hemp seeds
Granola
Showtime
To assemble papaya (or cantaloupe) boats, simply fill the hollow centers with desired amounts of banana ice cream or coconut yogurt, fruit, nuts, and seeds! Enjoy immediately – best when fresh. Breakfast idea via minimalistbaker.com
Maple French Toast Oatmeal
Want to have your French toast and oatmeal together? Now you can have two classic breakfast food at once – no cooking required! This is a great grab-and-go healthy breakfast idea that you can prep the night before.
Ingredients
1 cup rolled oats
½ banana, mashed
½ tsp, cinnamon
½ tsp. vanilla extract
1 tbsp. maple syrup
1 tsp. flax seed
¾ cup milk
dash of cinnamon
Showtime
In a medium-sized container, mash banana. Then, mix in the rest of the ingredients and let soak for at least 2 hours or overnight. Serve with coconut whipped cream, sliced banana and a dash of cinnamon! Breakfast idea via fitfoodiefinds.com
Mango Lemonade Smoothie Parfait
Sweet lemonade for breakfast? Yes, please. This breakfast smoothie is perfect for relaxing on the sandy beach with a good book. What's more, we think this would make a sweet, refreshing treat any time of the day – which means you can have breakfast for dinner too.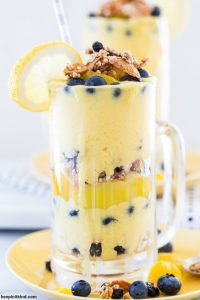 Smoothie

1 1/2 cups chopped frozen mango
2/3 cup water
1/3 cup lemon juice
1/4 cup cashews (if not using a high-speed blender, soak the cashews in water for 1 hour prior to blending)
1 tsp. lemon zest
Parfait
Blueberries
1 mango, peeled, pitted, and chopped
Lemon Blueberry Granola
Showtime
Combine all of the smoothie ingredients in a blender and blend until smooth.
In 2 jars or glasses, add about 1/4 cup of granola. Divide half of the smoothie between the 2 containers. Add a layer of blueberries and then a layer of chopped mango. Add another 1/4 cup of granola and divide the remainder of the smoothie between the two glasses. Top with more blueberries, mango, and granola. Serve immediately. Breakfast idea via keepitkind.com
No-Bake Breakfast Cookies
A healthy dessert for breakfast sounds like summer perfection, right? These bite-sized cookies are great for a road trip to the beach a city tour or Grandma's house – wherever your travels take you.
Ingredients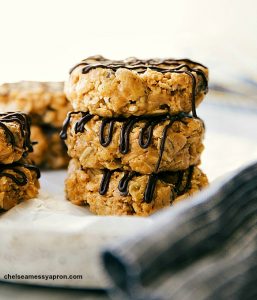 1/2 cup creamy peanut butter (I haven't tried a natural version with this recipe and can't vouch for it working)
2 tablespoons honey or agave nectar
1 teaspoon vanilla extract
Pinch of salt, optional
1/2 cup Rice Krispies cereal
1/4 cup flaxseed
1/2 cup old-fashioned oats, not cooked
Melted chocolate drizzle: 3 tablespoons milk or dark chocolate chips
Add-ins: raisins, chopped up nuts, mini chocolate chips (about 2 tbsp.)
Showtime
In a medium-sized bowl, combine the peanut butter, honey, vanilla, and salt. Microwave for 20-30 seconds and stir until combined. In that same bowl, add in the Rice Krispie cereal, flaxseed, and oats. Stir together until completely combined. Add in the optional add-ins if desired. Place in the fridge for 20-30 minutes for easier forming. Form balls with the mixture and then flatten the balls in your hand to create a cookie shape. If desired, melt 3 tbsp. of milk chocolate chips in the microwave. Put the melted chocolate in a small Ziploc bag and cut a small hole in the tip of the bag. Drizzle the chocolate across the cookies and let the chocolate harden. Store cookies in an airtight container for 4-5 days or freeze for up to 3 months. Breakfast idea via chelseasmessyapron.com.
We hope you try one or all of these delicious breakfast ideas. Enjoying time off in the summer for vacation is great but remember sleep is a priority. No matter if you're at the beach or camping, be sure to get your snooze on.
Eager for more sleep info you can really use?
Join our communities on Facebook and Twitter and let's continue the conversation.
We'd love to hear what you have to say!
This blog does not provide medical advice. It is intended for general informational purposes only and does not address individual circumstances. It is not a substitute for professional medical advice, diagnosis or treatment and should not be relied on to make decisions about your health. Never ignore professional medical advice in seeking treatment because of something you have read on Restonic.com. If you think you may have a medical emergency, immediately call your doctor or dial 911.
Get better sleep, today